#1 set of pics is my old school method.
#2 is the new method. updated jan16.
Before I get flammed for having a radar detector in a Jeep.
1. I have a few cars in the driveway, they both require a radar detector. Volvo C30 and Audi A3, both turbos. I always take the radar detector out of the car and use it in the Jeep, if I'm going to be on the highway. I already invested in it. So why not use it.
2. JK Wranglers can actually go above the speed limit.
3. I'm in PA. In PA the speed limits are 35,45,55, very rarely 65. I spend summer weekends on the Jersey beach in Ocean City, no where near the idiots from Jersey Shore, the show. In NJ, the limites are the same as PA. But the police radar gear is on 24-7, so they are very detectable. Sitting in a median, dunkin donuts, whatever, I am alerted with proper notice to get under the speed limit, keep the radio down, and the hope the passengers are not hanging out of the jeep.
While I don't recommend them to everyone, if you live in a specific state that uses old school radar equipment, a good radar detector could save you money in the long run. Jeeps attract attention. While you may not do 90 mph in a jeep, you prolly go above the limit at times. A cop would pull you over, if you are going 7 over in a heartbeat. You have the top down and appear to be having fun. They don't want you to have fun...
# INSTALL METHOD, CHEAP AND EASY:
Anyhow, I have a Valentine1. The visor mount doesn't work b/c it just slides off and it will not rest at the proper angle. I dug through my parts drawers and found this:
GILSSON GPS ANTENNA SUCTION CUP MOUNT. Found them on ebay just now for 7.99. I feel that the four small suction cups provide great support for a Wrangler.
Garmin GA25 GA26 TomTom GO One Gilsson Antenna Mount - eBay (item 380196041144 end time Jan-17-10 10:00:43 PST)
You can bend the mount backwards so that it works perfectly on a jeep windshield. Just get some velcro and you're good to go. If you have a V1, cut out a small area for the grooves, so it works properly in other vehicles. Install the velcro in your home and let it sit before using it in the cold.
Reminder, the bracket comes in the natural position for a car w/s. But if you bend it, it will work
You can customize it for any angle. Here is a pic of mine installed: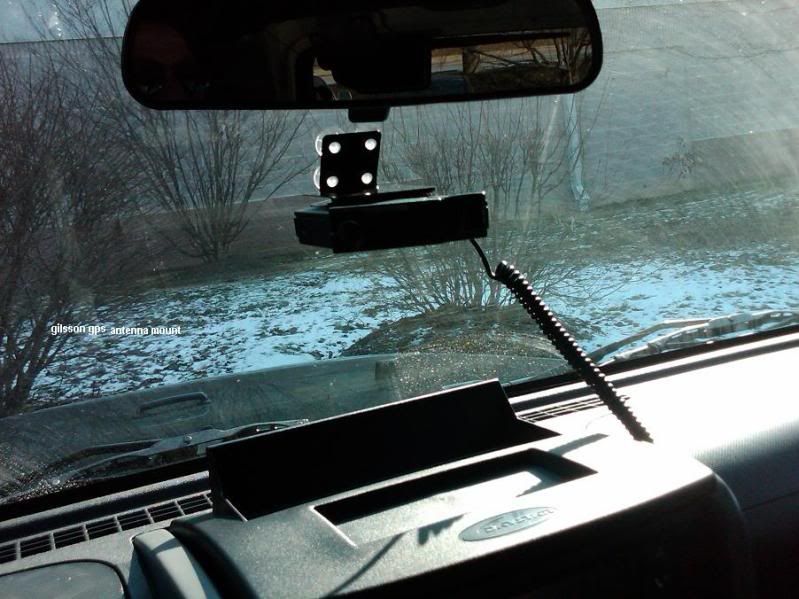 Since then, I removed the bracket, bent it a bit, so it does a better job of accepting the slightly round top of the V1. Pictured is the mount flat, and then bent to fit the V1 top.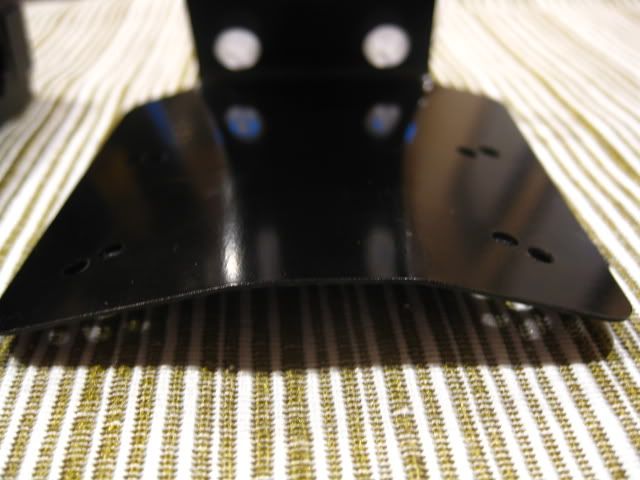 http://www.gilsson.com/images/awmglarge.jpg
#2 / NEW METHOD:
Big props and thanks to Xtremjeepn for inspiring me to do this install last night. When I have some time I'll rewrite this with even more informative tips. I really enjoy this mod.
1. Order extra V1 mount and remove suction cups.
2. Order hardwire kit with integrated mute switch (round).
3. Start to run your wire from the mirror down through p-side door and across back of dash behind glove box.
4. Run the power cord to the cig lighter. Tap into the blue and pink with a t-splice connector. This is a switched 12v source. DRIVE SIDE 12V. There is an inline fuse in the hardwire kit, so it's safe.
5. Run the ground (it's linked to the power cable, so you can't go too far with this) up to the Bottom-left bolt for your stereo or mygig.
6. Drill hole in interior dash panel for mute switch, run switch into hole and lock with included lock washer and nut.
7. Hold up your V1 to desired location and get an idea on where you want it. Remove the radar from the mount. Use a pencil and mark the holes. Drill the holes with a tiny drill bit, to get them started. Insert some small screws.
8. Put the mount on and make sure it all lines up. Put some 3m foam in between to provide a little cushion/dampening.
9. Temporarily install the radar on the mount, if it all looks good, remove unit and tighten screws.
10. Rock n roll.
Again, Xtremjeepn deserves the props for this install. I prefer my switch method b/c my gf likes to hit the mute button, if I'm not paying attention. Xtremjeepn went with a flat mute switch on the steering wheel. Good stuff.
I will leave the mount and switch in the jeep if I resell. Next guy is all hardwired up and ready to go!
#4 Sucks. It's very tight under there, and I don't even have large hands. I should have just run my own power wire from the battery. Or use the extra 12v source that came with my lockpick2 (but I forgot about that).
Cheers.