·
Have Cummins, Will tow.
Discussion Starter
·
#1
·
Every year around this time we get a swarm of people asking where to mount their hi lift they got for Christmas. Well I have compiled a nice selection of pictures and explained the pros and cons of each.
First I will say I am not a professional but I have been around them. I have friends who are missing teeth, have broken bones and I personally almost busted my windshield when mine let loose. These things CAN be very dangerous if not respected.
Use caution for language.
First up is the info on the HLJ. They have many uses from clamps, winches, jacks, spreaders and more. There are lots of attachments and options from color to metal choices. That is all up to you.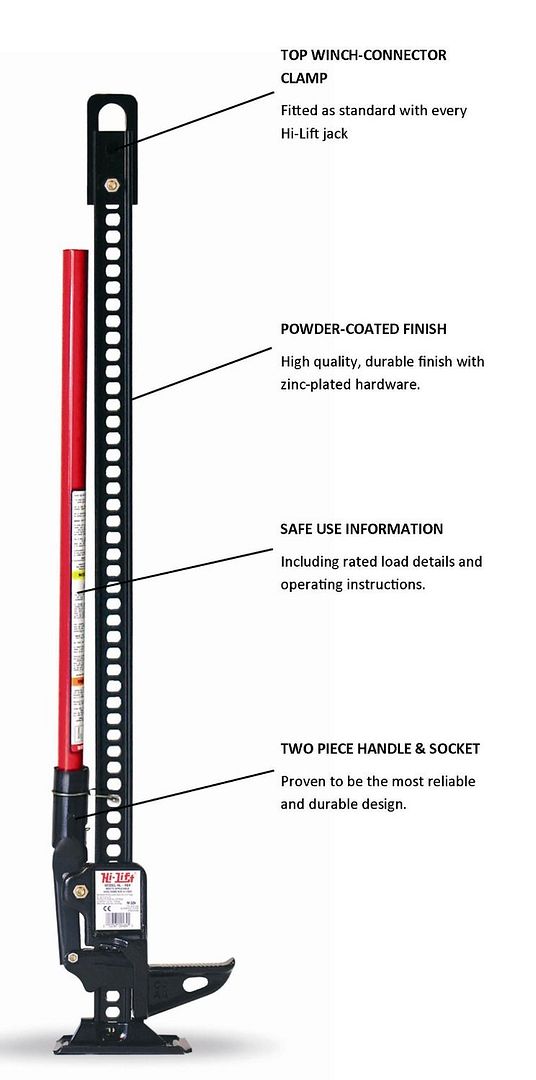 Next is a common myth that people have. " I must get a HLJ as I have 31" (or larger) tires and the stock jack doesn't work." Well in this picture a stock jack clears 35" tires with room to spare. Yes he is in the garage but a rock or 2x4 will help on the trail. Not to mention your suspension drop, but more on that later.
This is one nice thing about the HLJ but also bad at the same time. Yes you can winch yourself out with it, but notice you are standing in line with the strap, cable or chain. If something breaks you can be seriously injured or killed. If doing this have something hanging over the strap on both sides. I will not dig into this as we are focused on the lifting aspect and mounting.
Here we can see someone lifting their Jeep with a HLJ. As you can see the jack is almost maxed and the tire is still on the ground. In the situation a stock jack would be ideal. To counter this I will use a piece of chain hooked to the frame then under the axle and back to the frame to keep the axle from dropping down. Do this before you lift the Jeep and be sure to avoid any brake lines, ABS or other wires.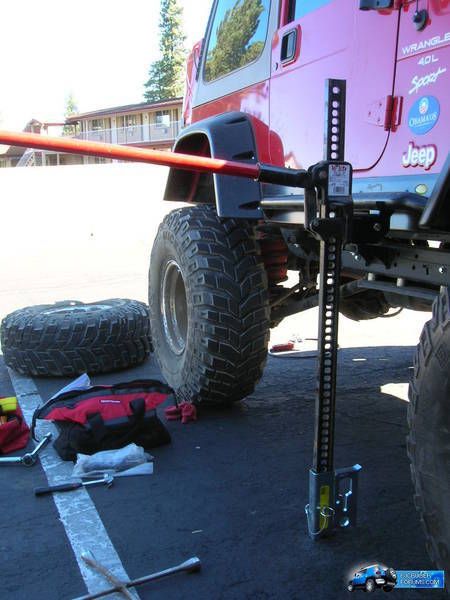 Now for the mounting. This is a personal preference thing for the most part. I will do my best to explain the issues with each.
Mounting the jack to the cage behind the back seat is arguably one of the best places. Reasons are the jack is out of the weather (they don't like dirt much. You do clean yours right?), it is easy to access, secure both in an accident and from theft and requires no mods to the Jeep. All you need are a few U bolts from the hardware store or from your buddies old springs when he swapped his leaf springs. The only down side is this takes up valuable space in the TJ. I have seen people mount them higher on the cage but now you add something for back seat passengers to hit their head on.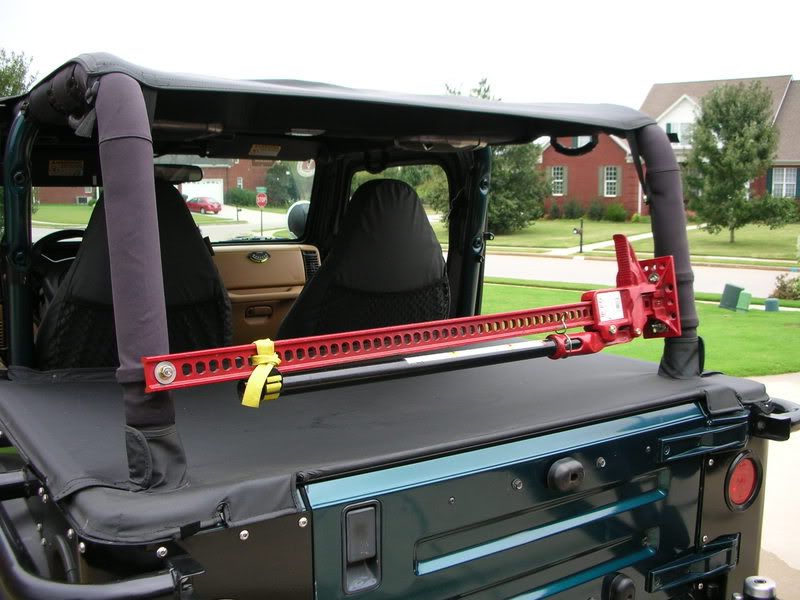 Next up is the ever so controversial hood mount. The cons do out weigh the pros on this one. The pro is you can show it off to everyone around, even thieves, and it doesn't take up any space. The cons include vision obstruction (I personally do not have this issue and am going by word of mouth so take that how you please), harder to get to (have to walk around the Jeep or have a friend unbolt the other side), easy to damage the Jeep (I have seen more than one person damage their rig load thing thing, from lack of upper body strength to properly lower it, it slipped from their hands or not paying attention and hitting the fender or windshield frame while lifting it. Not a fault of the mount but more user error), in the weather so rust (even with cover), harder to secure from theft and last is if you get in a wreck it could go flying (although not proven).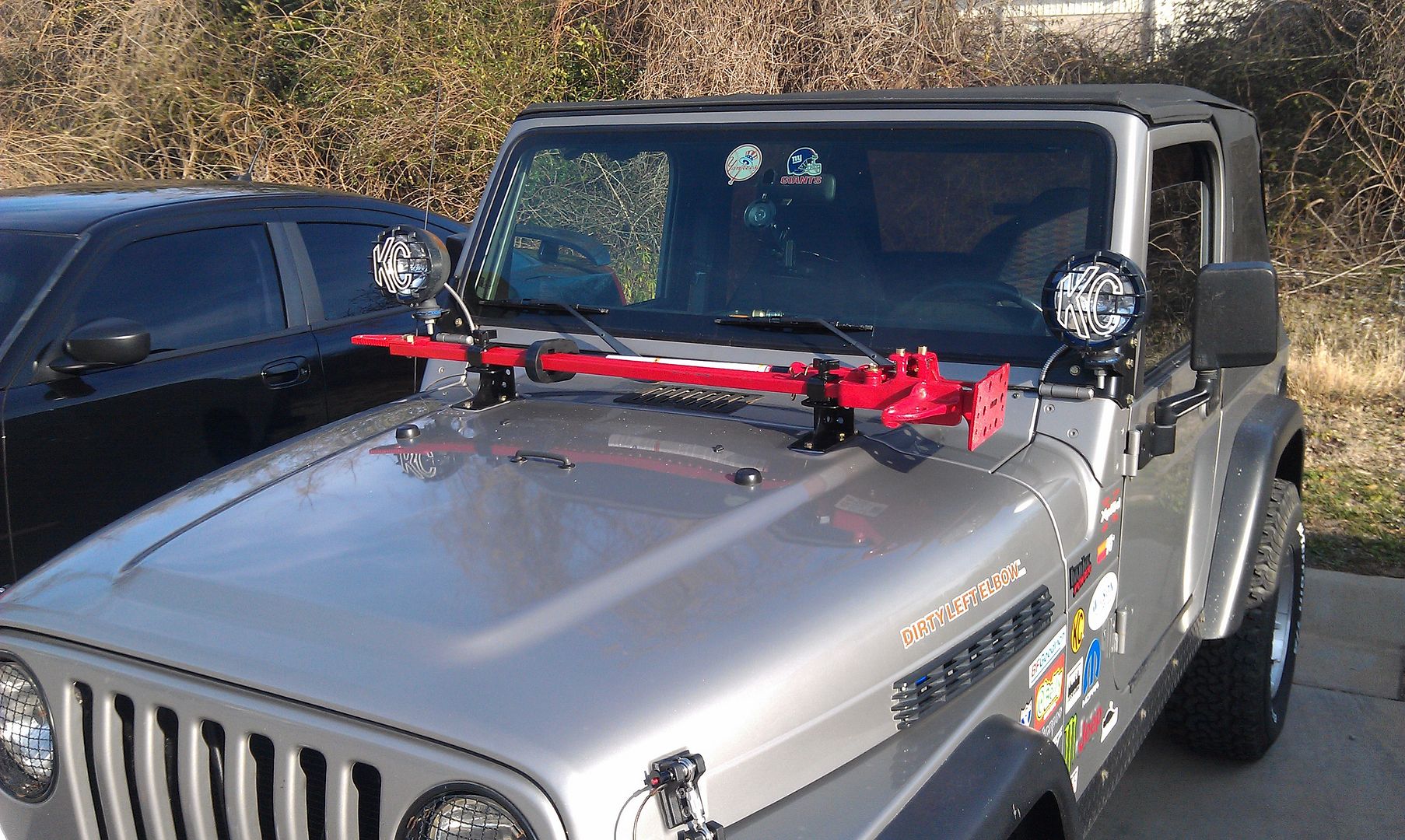 Mounting it to the spare is a great idea. It has all the benefits of easy access, easy to secure, no space lost, no risk of injury to you or the Jeep. The cons include weather and possible damage if you back into a tree, rock, wall or car.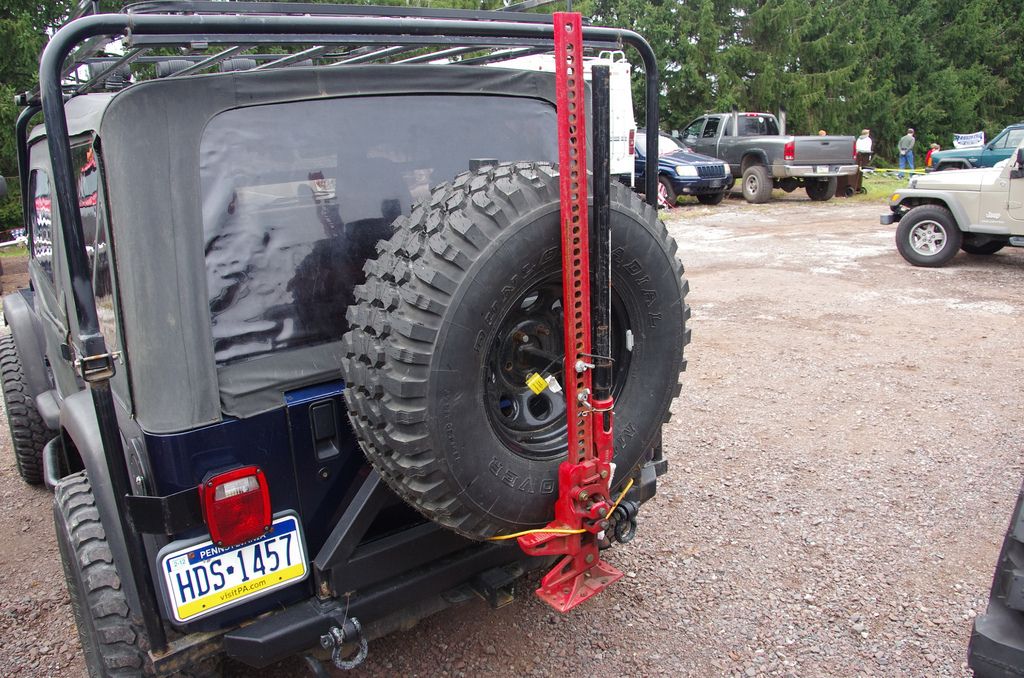 Mounting it to the body in the rear has same pros and cons of tire except if you hit something it will mess up the body and not just the jack. I have actually seen this once.
Mounting it to the front fender has same effect as rear body expect blocks some vision. I only recommend this for expeditionary vehicles.
This is one I have never seen until I started looking for pictures for this. This won't work for everyone and will get very hot. If it comes loose you are having a very bad day. The only advantage I can see to this is it is out of the way. Way to much can go wrong and I don't suggest this at all.
Mounting to the face of either bumper is a good idea for mall crawlers only. If you hit a tree, rock, dirt hill or car your jack is now garbage. They bend very easy (the forces are not designed this way).
Last one I will cover is the tire carrier. While not all of them have mounts it isn't hard to add them. This has all the pros of the tire mount but it is out of harms way in a bump. It is somewhat hidden and that help with crooks. Just keep it locked and lubed and you will be fine. If you don't want to loose space this is the best place for it.
One other place is a roof rack. Only con is weather, theft and hard to get if you are short.
So in regards to the issues of theft. Nothing is going to stop a determined criminal. I like to use the "out of sight and out of mind" approach on most things. If they see nothing of interest maybe they will move on to the flashy car next to me. I'll leave it to Blaine to explain. A bicycle lock works great as well.
Small locks take care of that and it is no more expose to theft than the whole rig is. Not any more of a con than it being mounted in any other of the locations except inside with a hard top or under the hood. At least if they decide to steal, they won't cut your soft top windows to get it from inside the rig.
All of the mounting options that are out there all require the same basic things. They need to mounted securely to keep the jack positioned in the event of a crash. Even a 12 oz can of your favorite drink can cause serious issue at 40 mph to the back of your skull (remember crash test you see on TV are done at 30-35 mph) so imagine what the HLJ will do. Any mounts that expose the Jeep to the weather can cause the jack to rust and you should follow the instructions provided with the jack to keep it working right.
As for me, I leave mine in the garage. I carry a 12 ton bottle jack that works just fine with my 37"s. In fact most of the time I have it out and Jeep is being lifted before others get their HLJ even ready. If you are worried about sand or mud then carry a small base plate (that you should have even with your HLJ), the base to my bottle jack is the same if not slightly larger than my HLJ. I mount mine in the back behind the back seat although you can get a smaller one that will lift your rig that will fit under the passenger seat just like the stock one. I have used a Hi lift before back when I thought it was the only option and have the dents on my Jeep from my mistake. Ultimately the HLJ can be a great tool, a PITA or a trip to the ER. Like anything else you must be safe, cautious and know what you are doing. Watch some youtube videos on proper usage, make sure you keep it lubed up and make sure to inspect it before you leave and before you use it.
I will update this as more info comes in.