Discussion Starter
·
#1
·
This build thread will have ups and downs, twists and turns, and most likely bad decisions that work out alright in the end. But, if you're up for the challenge of keeping up with what happens and watching me spend entirely too much money, this thread is for you.
Now I'm not saying this will be a KOH quality build or even come close to the "Pumkinator", but in the end it may look quite similar to "The Zombie Slayer" for those of you who have seen his thread.
First I should start off with a little backround. My first jeep was a 97 Sahara edition Wrangler with 179,000 miles on it when I sold it. And that jeep flat out rocked. I bought it already hacked together with a 3 inch body lift and 2 inch spacer pucks on the coils.
Soon after I got it I got bored with how it looked and handled. So on went a 4inch zone suspension lift, 1 inch body lift, front tube fenders, and rear corner armor.
But that just wasn't enough I knew I wanted more but I hated the interior, the exterior color, the crappy gears and axles. So I listed it for sale.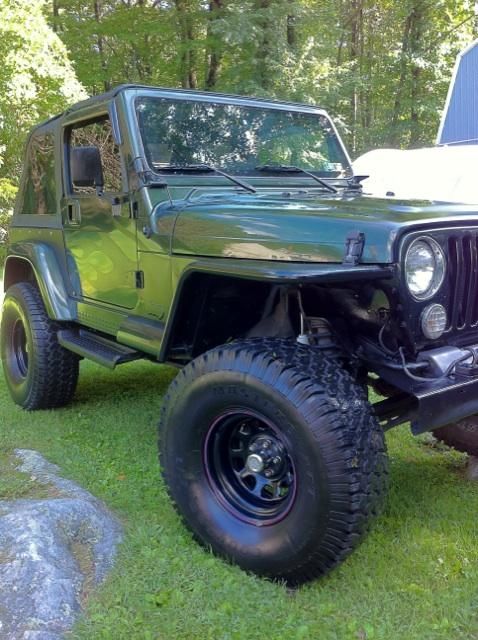 Once it sold I went on the hunt for an 03-06 Wrangler preferably a rubicon and it just so happened that the one local dealership that we have purchased a few vehicles from had one in stock.
An 05 Impact Orange Rubicon with 68,000 miles. They had also just put on a brand new lift with brand new pro comp mud terrains. With the deal that they gave me and the unbelievable amount they gave me for my trade in I brought it home.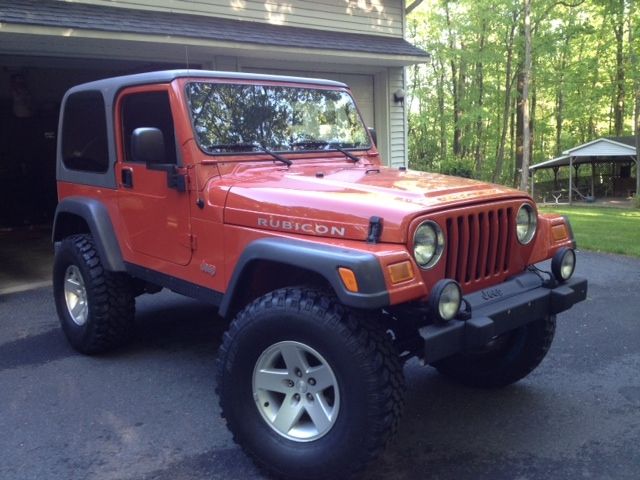 So now that I've got all that out of the way on to the building.
The lift that is on it is a 6 inch rough country. The control arms, which are all adjustable, look to be pretty stout but only time will tell. However it feels just too tall for me. I may end up swapping out the coils for some 4's or 4.5's Depending on how much the current ones sag.
Tomorrow I'll be ordering wheel spacers I'm undecided as to what brand but I'm pretty set on 1.5 inch seeing as how these tires rub like crazy because of the moab's offset. But I like the design of the moabs and I love how they look painted black so they will stay.
Steering is also going to be addressed this week or next depending on funds. I don't trust the current set up with 35's. Really not sure on what to look for or what to get as far as steering goes though.
That's the plan for the next few days. If I get both of these taken care of this week, next week I'll move onto the brakes. Once those are out of the way the fun can begin.
This is NOT my daily driver so I won't have to worry about MPG's and having a top all the time. Infact I'll be selling the hard top and I probably wont worry about getting a soft top until fall/winter.
Quick run down of whats to come in the not so distant future: (May not happen in order listed)
Rear bumper with tire carrier
Full rear corner guards
Rocker guards
Currie Anti-rock
Winch
Front tube fenders
Front stinger bumper with radiator hoop.
Hood louvers
Along with all the random things I decide to do to it and the spontaneous adventures it goes on. I'd like to have most of those things done in time for the York all breeds jeep show in July so times running out fast.
That's all for now. Check back later.