Discussion Starter
·
#1
·
I guess it's time for a build thread...
I bought a ZJ 3 years ago just as a "get me around in the winter" and "get me up to the pass" rig. Before that, I was not into Jeeps at all. The ZJ worked out so well, that when I was getting REALLY tired of my DD (a horribly expensive-to-maintain BMW) I said "What if my ZJ was a little nicer? What if the A/C worked? What if it had more power?" So, the WJ came to mind!
I like the Grand Cherokees. Yeah, a wagon driver! I like that you can fit a ton of stuff inside, that you stay dry, its not so easy to break in as a Wrangler, and they are pretty darn comfortable. The WJs were the last Grand Cherokee to have solid axles front and rear, so obvious choice there! I opted for the Overland model, which not only has all the luxury goodies but also all the off-road goodies too. I picked up a 2003 specifically because it has the most-common front end (they facelifted in 04) so replacement parts are easier to come by if there's some damage. Also, 2003 has the LATCH system which is really important for me for the car seat....as well as having a few extra strong places to strap gear down to!
This WJ was kind of a spur-of-the-moment deal. I was originally looking at an almost-identical WJ only with Upcountry, Hammerhead wheels, and no RB1. That deal fell through because they wouldn't work with me on my trade-in. After that deal fell through I came home discouraged because I had missed out on a couple great WJs that were sold out from under me as well. But I had a crazy idea and searched the local Jeep dealer and they had this one. I bought it not 4 hours after leaving the other dealer who wouldn't make a deal. It had the Rogue Chrome wheels added by the first owner as Mopar Accessories as well as the RB1. I never got the RB1 to work correctly for navigation, but I don't think I'm missing much in a 9 year old nav system.
I transferred over some of my accessories from the ZJ, such as the Midland CB radio, MV-50 air compressor, 400W inverter. I started with a Garmin Nuvi 205 nav but I found it lacking off-road. I have since upgraded to a Nuvi 500 nav which is a little better and does have TOPO built in, but it's really a multi-purpose Nav, not a dedicated off-road nav like the 60CSX. I also ditched the home-made rear D-ring and added a Smittybilt D-ring receiver in the hitch which is a really nice unit. I like that the base is cast, not welded tube. It's heavy with tons of material there.
Some early/stock pics:
Just brought 'er home last August
New tires and bedlined rock rails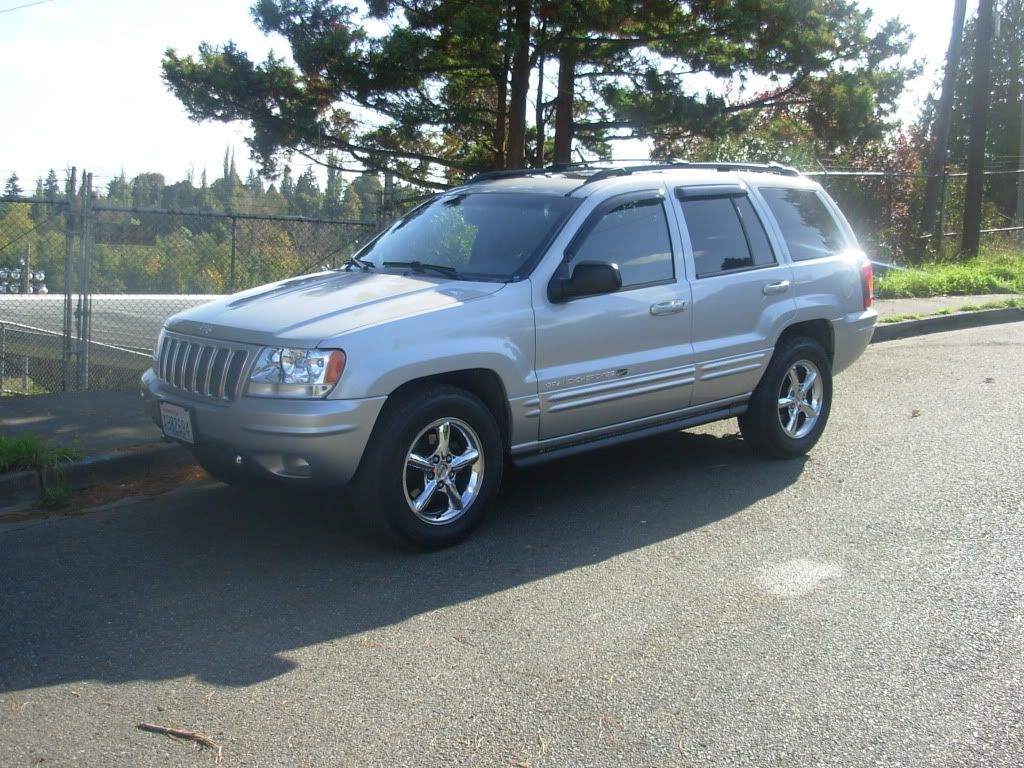 One of my favorite pics when stock. This was loaded down for wheeling + camping plus sagging. It looks lowered! Definitely station-wagon-esque.
Another favorite when stock