Hi Guys and Gals,
I'm new to this forum, just starting to figure out how to use it. I have been on wrangler forum for the last 3 years.
I have been doing reviews for products because I believe there are never enough, especially review video's.
Today I will be reviewing Steinjagers rear sway bar links.
Here are my old rear links, ya think I needed them? :rofl: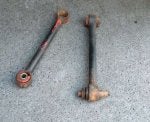 The first reason I like steinjager's rear sway bar links is because they have a heim instead of
poly that will rot out over time
.
A heim will never wear out with the little amount of movement it see's as a sway bar link
The second reason being not many companies make rear sway bar disconnects, rough country is only one I know of.
Rough country's sway bar links are not adjustable and use rubber instead of a metal heim.
Jks's rear links also use rubber instead of a metal heim, but they are adjustable. They cost $75.
On that note the third reason is
price
. Steinjager's end links cost $51 where as jks which are not quick disconnect and uses poly are $75.
It is not so much that you need to disconnect the rear sway bar. It is that you might as well upgrade for cheaper!
Aside from the great price and use of a metal heim.
The disconnect portion is one hand operation
. You just lift the spring loaded hatch and pull off.
They are also
double adjustable
Installation
was a breeze. I will note that there is a hole behind the frame mount perch for the sway bar disconnects. Place a piece of cardboard behind the perch so you do not lose your new nut in the frame.
Where to buy:
http://steinjager.com/shop/index.ph...Rear&tierFive=4+Inch+Lift&tierSix=&tierSeven=
Youtube Video:
http://youtube/wv0uA14BBRQ
View attachment 1740737
View attachment 1740745
I will post more pics when I get time.
Thanks for listening