Discussion Starter
·
#1
·
Built a DIY evap tester that I got plans for off ebay. Uses regular mineral oil for the material to create smoke. I added some florescent dye to it to aid in leak finding. The heating element is just coiled nichrome wire onto a tiki torch wick. I used regulated nitrogen to push the smoke through. The regulator on the can brings it down to 1-1.5 lbs pressure. You could use shop air but I haven't got my new compressor yet. I use the nitrogen at work. The battery provides power through a 10 amp fuse. It works pretty well.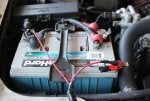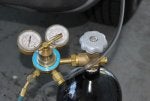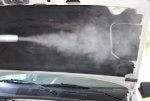 First place I attached it was the hose connections to the purge solenoid. Pulled them loose and connected it to the line going to the carbon cannister. Pull the blue vent off and plug it with your thumb. Let it work for a minute then look for leaks. I wasn't going to pull all the stuff off to get a good look at the cannister connections so I peaked around and never saw anything.
Second place I attached it was the line going to the check valve to test from there al the way back to the vac storage tank. Nothing there. Then I attached it to the nipple on the manifold and stuffed a rag in the throttle body. you can't see it in the pic but there was a good wisps coming out of the TB shaft bore.