Discussion Starter
·
#2
·


HEI MODULE MOUNT, WHEN DISTRIBUTOR IS STILL CONTROLLING IGNITION ADVANCE.

THIS DOES NOT RUIN THE DISTRIBUTOR IF YOU WANT TO GO BACK TO BREAKER POINTS!

The basic 4 Pin HEI style module fits just fine on the underside of the distributor, and is virtually invisible when installed, which makes it VERY attractive to the 'Nostalgia' guys that want a 'Stock' looking distributor, but have the more powerful breaker-less ignition system.




The bottom of the housing is a rough casting, so you need to use a file to smooth out the casting lines and imperfections so the module can mount flush and transfer heat...




Once the under side is smoothed down,
Cut the locator tabs (Plastic) off the under side of the module housing, so it will lay flat...
LEFT, Factory locator tabs,
RIGHT, Tabs Shaved Down so the module lays flat,...




And use the module for a 'Template' for drilling.




Now STOP, just use the drill to mark the spots where you need to drill,
DO NOT drill through with a full size drill!

If you think this trough, you may have to change that module at some point.
If you drill through with straight holes and use screws from the bottom or top,
You will have to remove & disassemble the distributor to change modules!

If you drill UNDERSIZE HOLES,
In my case a #29 Drill and then use an 8x32 tap,

You can THREAD the screws into the housing,
(With 'Lock-Tite' on final fitting),
This will keep them in place while you take nuts off the bottom, replace the module, and put the nuts back on without removing the distributor from the engine or tearing it down!
Just use screws long enough to exit the housing and extend down far enough for the module to mount and get nuts/lock washers on...

This saves a TON of aggravation if you have to change modules...

I STRONGLY SUGGEST YOU DO ONE SCREW HOLE AT A TIME,
This will keep MIS-ALIGNMENT problems to a minimum...

Here is an example of a screw threaded into the housing from the inside, and sticking out the bottom for a nut to hold the module in place...
Have you ever tried to find a small screw hole with a small screw, up side down and off center where you can't see the screw or the hole?




If you have, this should be self explanatory how much easier this will make a module change!

HEI STYLE 4 PIN MODULE WIRING...




-------------------------------------------------------------------------
-------------------------------------------------------------------------

VACUUM ADVANCE....

Now, if you are going to run this as a 'Small Cap HEI' you will need to keep centrifugal advance and vacuum advance.

If you are going to run this as a 'Tach Signal' distributor for throttle body injection that DOES NOT have electronic spark control, You WILL NEED the vacuum advance.

==================================




Just one of those bits of 'Trivia'...
RIGHT is a 'HEI Vacuum Advance', there is only ONE HEI Vacuum advance, for the large cap version.

The smaller ones like the one we are working with is a BREAKER POINT canister, not an HEI,
And there weren't any Vacuum Canisters on the small cap version of the HEI distributor since fuel injection had come along an taken over timing duties...

=====================================

SO!...
If you are going to order a new vacuum advance, make sure you get the 'Small Cap' version or it won't fit!
(Just one of those little 'Tech' things you won't find out anywhere else but an 'Ignition Geek' like me...)

If you are going to order a vacuum advance, for either a 'Small Cap HEI' build,
Or for a 'Tach Signal' Fuel Injection System,
Here is the best on the market, comes with tuning springs, adjustment 'Allen' wrench, An Advance LIMITER, which is a very good thing to have if you are going for fuel economy...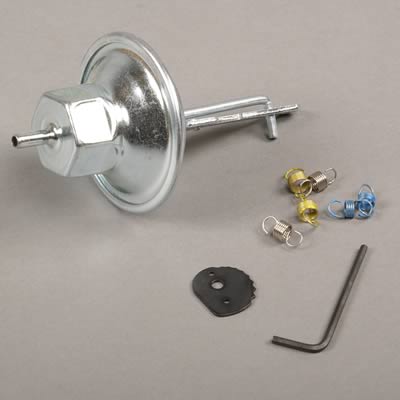 Crane Adjustable Vacuum Advance And Limiter Kit, Crane p/n 99601-1, about $39 from Summit Racing.