Discussion Starter
·
#1
·
Recovery Gear Explained​
Often we see questions on recovery gear ranging from what do I need to carry, whats the difference between this and that, how do I use this, is this enough, etc. I decided to write this as an introduction to the types of gear, it uses, and its inherent dangers. This is not meant to be a bible of recovery gear, but rather just a primer to help introduce people to the gear and its uses.

Types of Gear​
1. Straps, Chains, Etc
Anchor/Lifting/Web Sling/Tree Saver
- These straps are all generally the same thing. One major difference between them is that the "tree saver" is typically 6ft long. These straps have sewn loops on both ends, no metal hardware, are usually double layer and do not stretch. They will usually have tags sewn to them with the rated limits listed for the three types of uses.
These types of straps should be used for anchoring a winching vehicle, or at the end of a winch cable if needed. For instance, If you are the winching vehicle, and are recovering a stuck vehicle from a mud hole. You would use one of these straps to anchor yourself to a nearby tree/another vehicle/ other suitable anchor point. You would also use one of these at the working end of the winch line if needed such as around an anchor point. Hence the term tree saver. The tree saver strap is usually 4" wide, double layer and wraps around the tree so the winch cable doesn't damage it. The main thing to remember about these types of straps is that they are not meant to stretch under load, making them suitable for constant loading encountered during a winching operation or smooth consistent pull. These straps should be rated to atleast twice that of winch capacity. Twice winch capacity could be easily obtained by using a tree saver to secure a snatch block while running the winch cable from the vehicle, around the snatch black and back to the winching vehicle, effectively doubling the pulling power. That total load will taken by the tree saver.
Here is an example of the tag you will find on this type of strap. Notice the load capacities with the different styles of use
Recovery Straps/Snatch Strap
- These straps have sewn loops on the ends, no metal hardware, various widths and load ratings. These straps are designed to stretch up to 20% to provide enormous amounts of kinetic energy during a recovery. For instance, if your buddy is stuck in a mud pit and you need to "get a run at it" or snatch him to get him moving again, then would use this type of strap. Because it is designed to stretch, it and can build huge amounts of energy to unstuck vehicles without the bone jarring shock loads of a chain. However, because of the stretch, these should NEVER be used during a winching operation. Either as an anchor or on the working end of a winch line. If the mount or the strap itself was to fail under load, the energy stored in the stretched strap could suddenly release with enough energy to be deadly to those nearby including the drivers/winch operators. Great care should be used when using these types of straps because of the amount of stored energy that is created.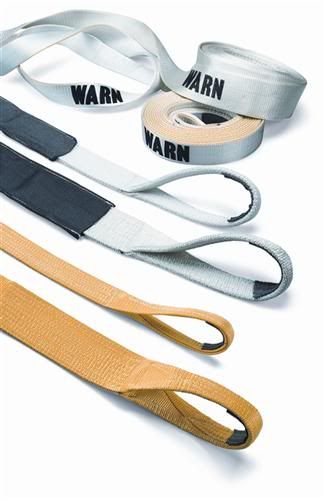 Towing Strap
- This kind of strap has very limited uses but it is widely available. These are usually braided yellow nylon, with hooks on the ends. They are avail from Wal-Mart, Harbor Freight, and most auto parts stores. THESE ARE NOT DESIGNED FOR RECOVERY. They are used for simple towing, on flat smooth ground. They have almost no use in the 4x4/offroad world. They are banned by most if not all clubs.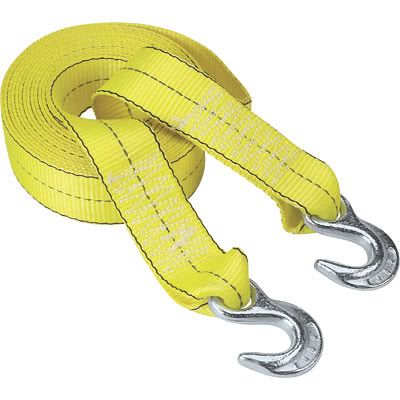 Special Straps - There are other types of straps that have many uses. From endless loops, to length adjustable recovery straps. I will touch on these in the future.

Chains - Chains have their uses and used properly are a very good tool to have in your recovery bag. Chains used for recovery should be Grade 80 at least 5/16". Chains should never be used for any type of snatching. They are only to be used under constant load such as winching, towing, load securing, etc. They are ideal for situations that may harm a strap such as righting a rolled vehicle where the chains may get pinched or contact a sharp edge or hot exhaust, etc.

Chain Bridle
- These are not as common as they should be, especially if you find yourself being the good sameritain and pulling people out of snow drifts, ditches, etc. These are used by the towing and recovery industry with the proper cluster hooks to recover everyday street cars/trucks/vans at accident scenes. This is pretty much the only way to recover normal vehicles with the least chance of damage, if you know how and where to use the hooks.