| | |
| --- | --- |
| Price | $477 |
| Rating | 4 |
| Pros | COME WITH 30-40 dollar 3/4" D Rings (Jeep Jewelry) Noise free latch system Beefy Price |
| Cons | Install time Install prep Hinge pin design Spare tire 1.25" massive bolt and studs need to be tack welded or will spin freely |
| Recommended | yes |
Comments:
Rampage Rear recovery bumper with tire carrier, best deal on Amazon I paid 390 dollars (477 shipped) if you cant believe that neither can I this thing is stout and a real trail bumper. Its best deal and includes the D-rings for free. There are a few things to remember with this bumper. Here is my review and install notes.
The packaging was incredible, it came well boxed and relatively small for one box and a huge bumper. Excessive cardboard and bubble wrap made this easy to unpack and allowed safe travel without being a pain to unwrap.
The materials and powder coat were very nice and clean looking. The lines are great and the bumper looks much more expensive than you pay here. The fit and finish however left a lot to be desired. Buy a step bit to round out the holes on both the bumper and the jeep to allow movement and alignment. The holes were not elongated where needed and a dremel drum with a rough cut allowed me to make the holes longer. A lot of prep and install time is needed to mount the bumper align everything and remove and recut with the step bit. 4 hours was needed with extra time needed (1 hour) to drop the tank enough to access the back holes needed to be drilled just inside the frame on the rear crossmember. There is NO DOUBT this thing will be able to tow. Its stronger than a hitch I just removed by Curt Manufacturing. The bumper is stout and heavy. No doubt in its abilities. Now onto the tire carrier. Its an easy mount and setting up the noise free latch is as simple as a wrench and some adjustment. Very nice latch. The bolt used in the hinge takes some time to get into place. I removed the passenger tail light to allow me to hammer it into place. The bolt below the hinge is impossible to get to so I drilled a hole in the bolt to put a pin in instead. Grease the pin with lithium grease to keep the pin lubricated but beware this thing is hard to line up due to tight tolerances on the hinge, washers, and bolt. I damaged the threads on this massive bolt but the drilling of the hole for the pin saved the day and simplified installation. The spare tire bolts need to be tack welded or will spin on you and annoy the crap out of you trying to remove them for trail spare use. The tire spins freely on the massive 1 1/4" bolt. Also fixed with a few tack welds. I have yet to install lights but do not buy them here they are overpriced. You can get a better 4 inch set at any autoparts store or super "mart". There are two holes drilled on either side to allow some better mounting positions for lights. The hitch pin is up and inside the bumper but is out of the way of trail damage, my Jeep had a hitch wiring loom installed and I just ran it inside the bumper for clearance and steath.
In conclusion the bumper is very very nice, just be prepared to spend some time installing it and drilling holes. Use lots of cutting oil on your step bit (10 dollars harbor freight large size) and take the time to do it right. Use black spray paint on the holes to curb rust. Still even with all the install time and issues its worth it many times over. Allow up to 5 hours for install time, to install and remove the bumper and to get all the holes to line up properly. I am very anal so it may have just taken me longer.
Pros:
COME WITH 30-40 dollar 3/4" D Rings (Jeep Jewelry)
Noise free latch system
Beefy
Price
Cons:
Install time
Install prep
Hinge pin design
Spare tire 1.25" massive bolt and studs need to be tack welded or will spin freely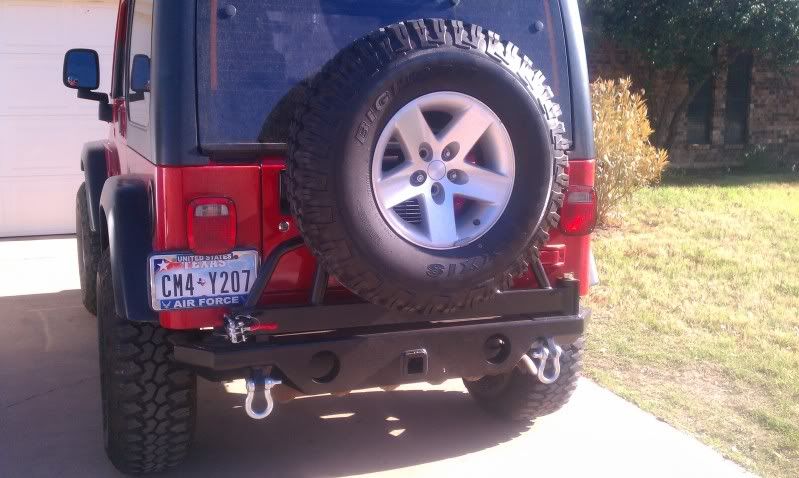 Update: Love this bumper, Have had no issues with it, super quiet and with all the bolts used to tie into the frame I would not have any issues with towing and strength, this thing is beast. The lights are from advance auto parts for 30 bucks and they were a cinch to tie into the rear back up lamps in the Jeep, then just remove the reverse lights in the stock housings and use the stock circuit to power these things. at 12 volts they should only require 10 amps or less. Very bright and looks amazing, tons of compliments and it looks like something Jeep would have done from the factory. LOVE IT. If you like my really clean look its because I added a Rokmen rear gas tank skid and tucked it up under nicely.