Discussion Starter
·
#1
·
EDIT:
Thanks to the greed of photobucket, the photos are no longer embedded into the threads. It has been a pleasure to share this information with forum members and guests. The following link will lead to the bulk of relevant photos related to this thread:
http://s130.photobucket.com/user/Fatman_CJ7/library/SBC350?sort=2&page=1
I've had this in the works just as soon as I decided the 258 / 4.0 head / HEI /Borla header / Crane cam motor was just not enough. Finally sold off the last of the great blue 4.2.
So my goodest friend let me work off some debt for his spare 0010 4 bolt main 350. History on the block was from a 69 Vette. Good news there, but somewhere along the lines it lost the Vette body and the heads as well.
This isn't going to be your typical pull a motor from the junk yard and bolt it in to the Jeep thread. I've got my T18a all set up for the swap as well as the D300 built up as well.
So I strip the block down after it's sat in my shop all winter, and take it up to the machine shop for the once over. Turns out it's been .030'd already and run hard as hell since then. Foreman asks if I want to find another block or go .060. ….. .060 it is. Sentimental value here, this block was basically a gift and I'm going to make it work. So we square it, check the deck, and measure up the rest. Turns out the crank is way out of spec as well. So I order up a new crank, main and rod bearings, new set of .060 pistons, and a host of other goodies while I'm at it.
Summit has everything to my door in three days so I'm back up to the shop with my pistons so Foreman can bore it and hone it.
Two days later and I'm picking up my block and my pistons are pressed in to the rods.
Back at Casa de Fatman, I get out the aircraft paint remover and kill this thing with a good layer of
paint be GONE
! Brake cleaner, compressor running full time and my new lil brushes, I have this tang el spotless and ready to play. Five coats of Cheby orange and it's look'n good. An hour of thread chase'n and we are ready to build !
New RMS upper installed and sealed in place, lubed up w waterproof. One new crank washed down and installed w new set of std bearings. Plastigage reads .002 across the caps, so feeling good. Pop the caps off, a good dose of oil to lube things up, bottom half of RMS sealed up and torque these caps down.
Ring the pistons, then clean em up again, set the upper bearings on the rods, a good coat of oil on the skirts after a 60 second dip in the oil bath, and we are thumping pistons into the holes. Plastigage again and pleased with eight readings of .0015 to .002. Clean up the journals and oil em up. Five cycles of the crank and everything feels A+. Torque to rotate is a consistent 32 #'s.
Wash down of the cam, bit o assy lube on the lobes and oil up the bearings and we have our new cam slid in place without a bump. Lil bit mo assy lube on the lifter flats and a dip in the oil bath and 16 tappets are ready.
Tomorrow I'll set the heads, push rods, rockers, water pump, 710 pump, intake, oil adapter, and anything else I can get to. Sure, it won't take long to work up to whatever it is I forgot to order.
Pics, ... you knew they were coming
On the way to the shop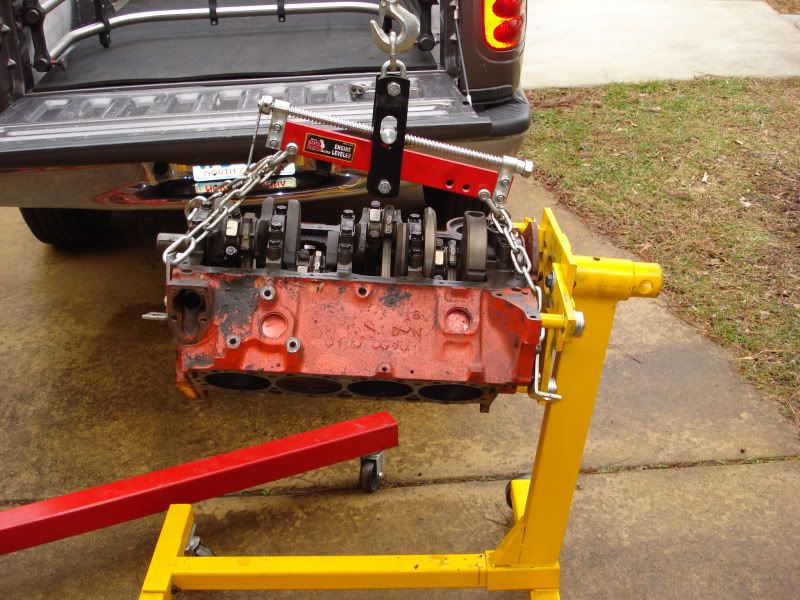 Back at my shop and cleaned up:
Fresh paint:
Santa comes early (or late ?):
Like a candy store:
Compressed:
Half: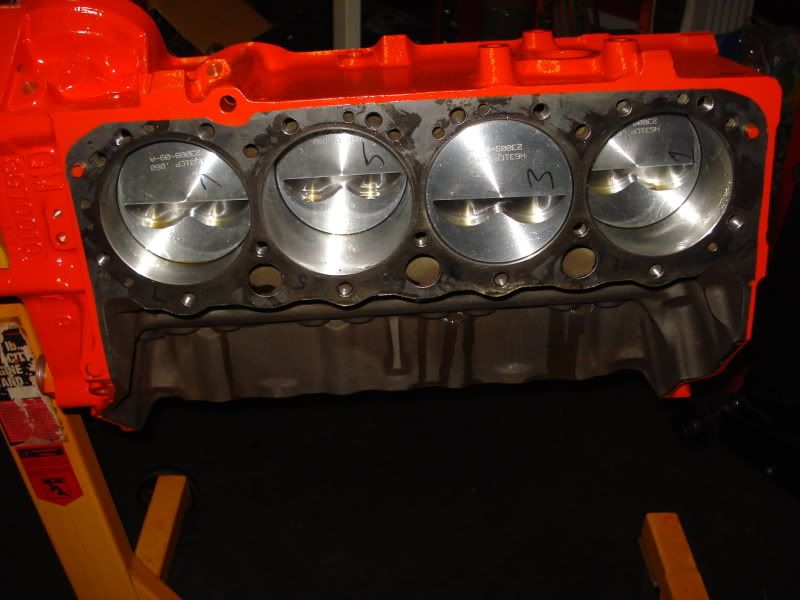 Udder half: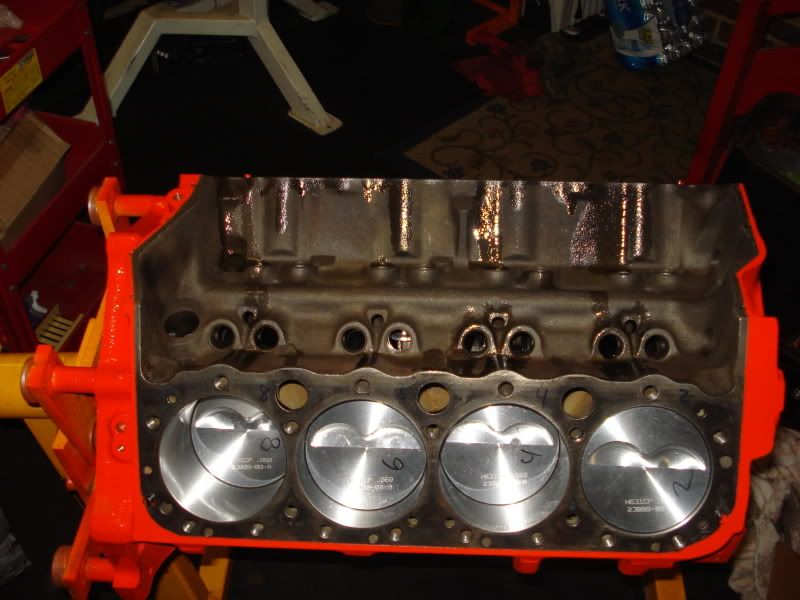 Cam in place: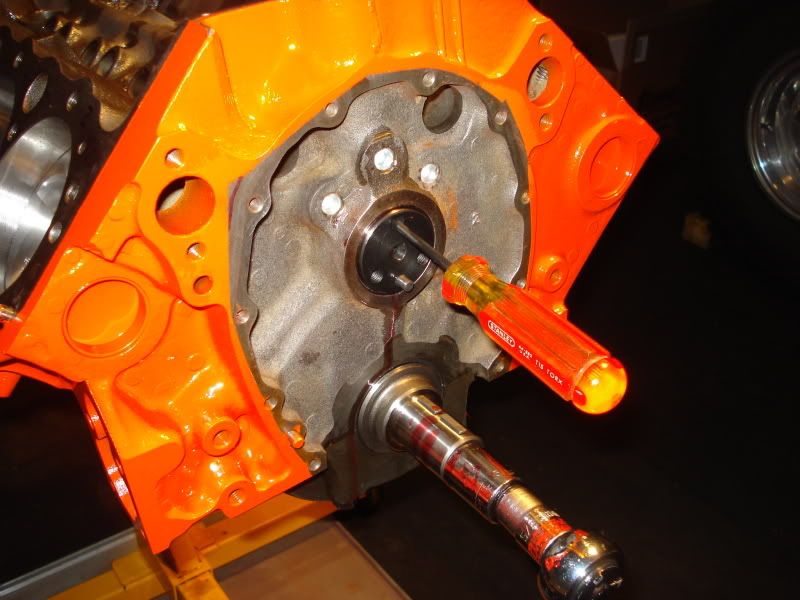 Dropping tappets: