EDIT:
Thanks to the greed of photobucket, the photos are no longer embedded into the threads. It has been a pleasure to share this information with forum members and guests. The following link will lead to the bulk of relevant photos related to this thread:
http://s130.photobucket.com/user/Fatman_CJ7/library/Reassembly?sort=2&page=1
Well today is the first day of final assembly for the CJ. We have done all the mock up, we've painted, welded, sanded, tweaked, all the major parts that are going to be messed with for the most part. (Sorry the tub is not done yet) but we've got to get the roller ready so we can go pick it up soon.
I'll be brief in a lot of this thread as most of the sub assemblies have been done and discussed in other threads, ie. you will see the suspension go in as a whole but I not be going into detail about regearing, caster, hubs, brakes, etc, as I have threaded this information in the past and a majority of this was done in mock up. I'll try to hit on some of the details that you won't see on most other jeeps, why I'm using or making a certain product as well as providing information on the products and distributors that I use.
In 3 days 11/27/07, I will have had this Jeep for one year, I'm sure I could have done this project quicker and spent more time working on it, (ask my wife, she'll tell ya this is where I spend ALL my time) but truthfully I have to balance this with family and work. I am estimating that I have four more months of work before I am 100% complete and ready to road test.
This is thanksgiving weekend so, I do want to thank some people who have been a tremendous help in the past year. My Son who has done ALL the stuff I didn't want to do, he has been great and I think has learned a lot in the process. I can't wait to give him the keys. I'd also like to thank my buddy Eric who comes over and helps every time I ask, he's helped me with parts on my jeep, tools, vendors, just a great friend. Eddie has also been just an incredible asset with the products he makes to custom one offs he's done for me and being able to bounce ideas I had for this Jeep off him when I was first planning the build, THANKS BESRK! And there are another 10 dozen of you guys out there that have sent tools, needed tools, bought, sold or traded parts as we all needed them. Thanks to all you guys for making this an enjoyable platform to receive and provide information. !!!!!
OK, so I finished the 2nd coat of Chassis Black on the frame and misc parts on Wed (nice 75* day), rolled everything into the garage and cranked the heat up until I got back in town last night.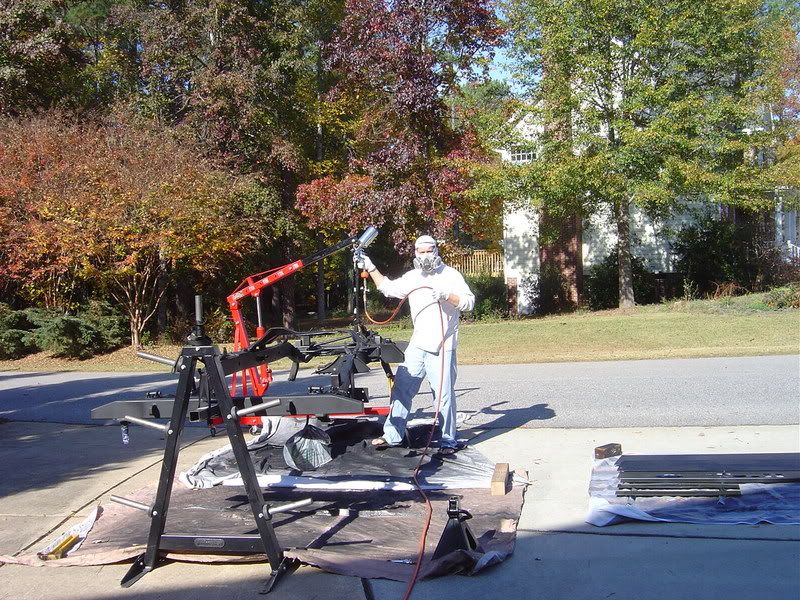 This morning Aryn & I moved the frame out to the driveway and put the suspension back in place. Completely rebuilt, regeared D30 & D44 with new everything! Rebuild and gearing was done by Ted Wendel of Richmond VA.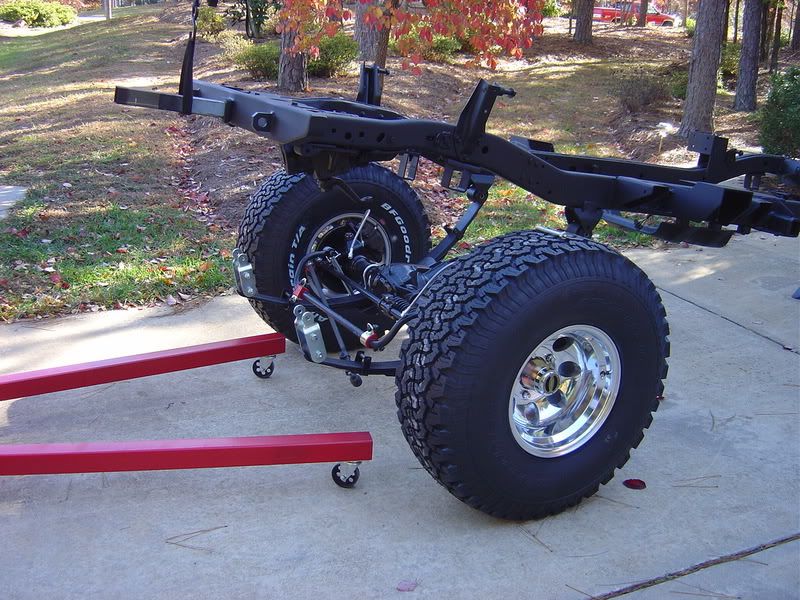 Brakes, were all reinstalled, sway bar, shocks, pitman connection, bump stops, ...
Brake lines, prop valve,
One thing I'm doing is running the rear lighting harness inside the frame as well as the tow electrical setup: