Discussion Starter
·
#1
·
Since introducing our first Game-Changer suspension in 2011, we've been fortunate to gain customer confidence with quality products that deliver what we promise.
From our Patent Pending Duroflex Joints to our Signature True Dual Rate Coils to our Patented 6Paks Shocks and Lock-n-Load Control Arms, we've worked hard to engineer new solutions for old problems.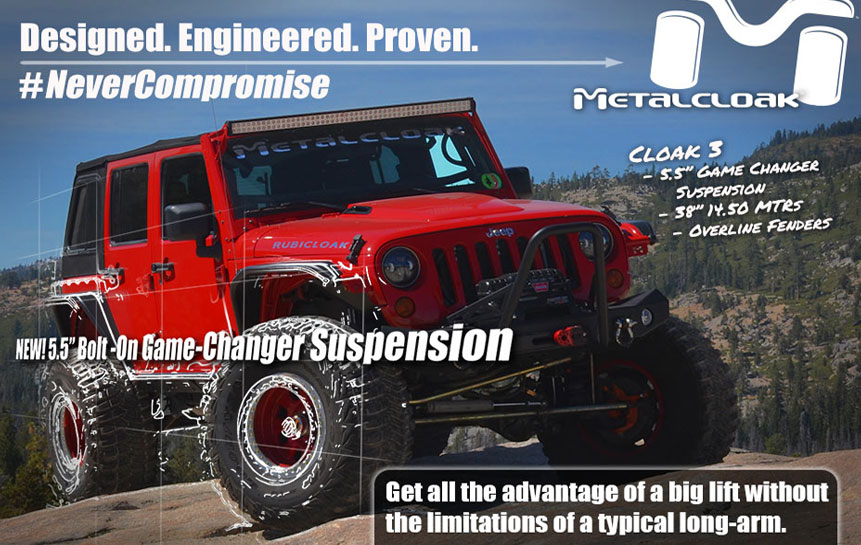 While our Game-Changer suspensions are still one of the best solutions around and the Patent Pending DB3 Rear Correction Bracket allowed us to create the first 5.5" Bolt-On Suspension with incredible handling characteristics for the JK Wrangler, our customers kept asking for more options.
And that included the question: "When are you doing a long arm?"
The answer is NOW.
Introducing the Lock-N-Load Long Arm Compound Suspension System for the JK Wrangler (2007 - 2017).
Watch the facebook sneak pic video here.
Available in both 4.5" and 5.5" kits, this unique system features:
Duroflex Joints
True Dual Rate Coils
Lock-N-Load Control Arm
Durotrak Track Bars
DB3 Rear Correction Bracket
Optional 6Pak Shocks
Lock-N-Load Long Arm Compound Suspension, 6Pak Edition
And while it requires removing your upper front control arm brackets, the rest of the system is totally bolt-on.
We call this kit a "Compound System" because it utilized Lock-N-Load Radius Arms in the front and our DB3 Correction Bracket with our Duroflex Control Arms in the rear.
This provides all the clearance you need, with incredible ride quality, and massive flex.
Learn more about the Lock-N-Load and the DB3 Correction Bracket with the videos below...
And you can learn more about the Lock-N-Load Long Arm Compound Suspension System on our website at
Metalcloak.com
As always, we appreciate your questions and feedback.