The Jeep's story: '98 Sport (no d44) deep amethyst pearl coat, I6, currently 64k. My uncle bought her from the dealer brand spankin new. My brothers and I, when we visited him in Illinois, would get to drive around on hot summer nights with the top down. I absolutely loved it. My uncle passed away from pancreatic cancer Thanksgiving '07. I turned 16 January '08. My dad inherited the Jeep, and I got her for my birthday. She had just under 60k, no body damage, minimal surface rust underneath, and virtually nothing wrong with her (reverse bulbs were out, thats about it). My dad and I drove down to where he lived in Illinois during winter break that year and tower her back up to Michigan on a trailer behind my dad's '06 F150.
Shortly after, we put on some 30" BFG ATs. I wanted to put a brush guard or bumper on it, and after researching for a long time, being careful about the cost, I found what I wanted. I decided against a whole new bumper due to the cost, and the fact that I didnt see the need for one. When I put this thing on, I had to remove the stock fogs, and while removing them, we busted the bolts that held them on. So I headed to autozone and picked up a pair of those Baja fogs for $25.
Here she is with the tires, brush guard, flares and fogs: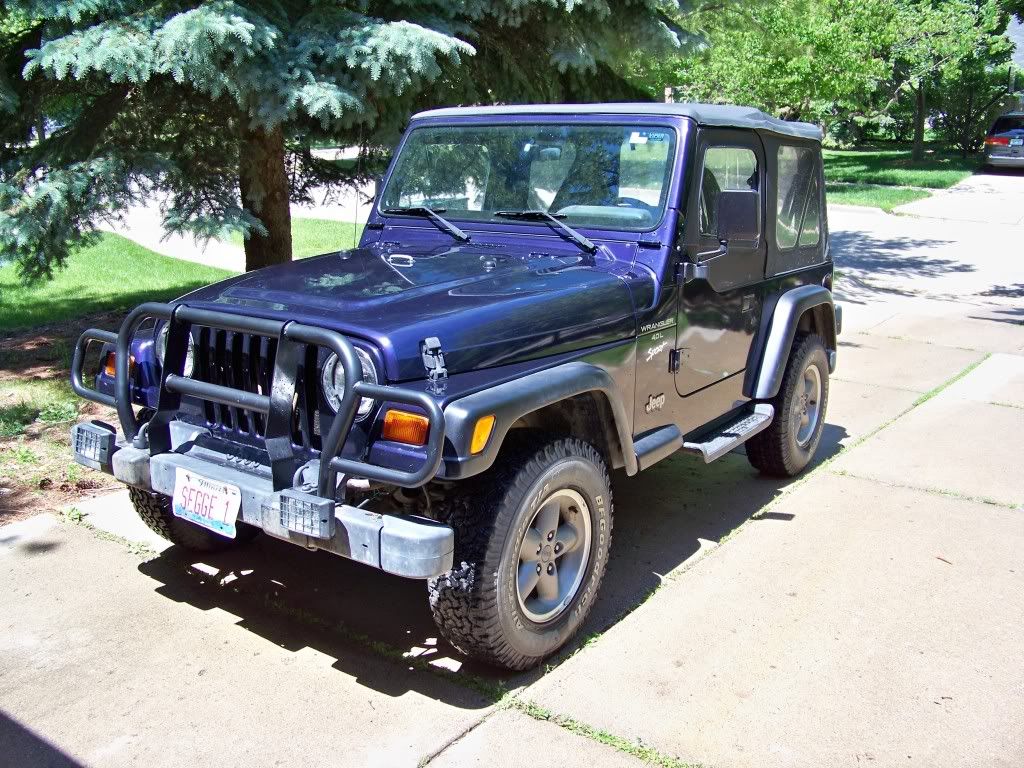 Some pics of the painting process for the flares: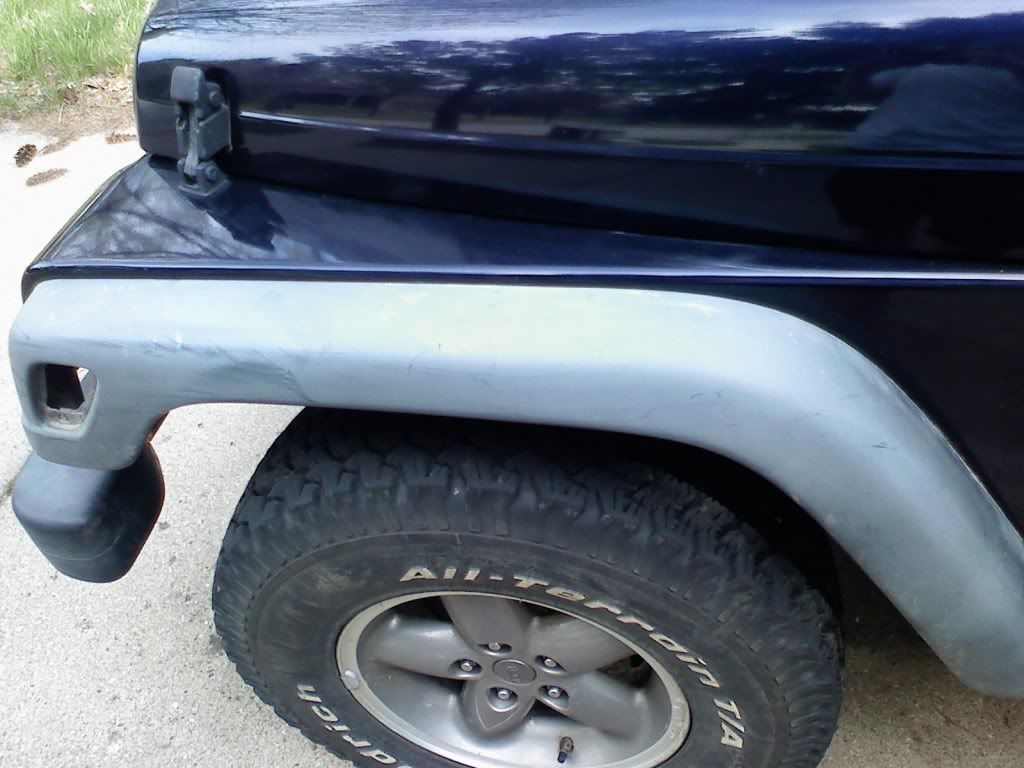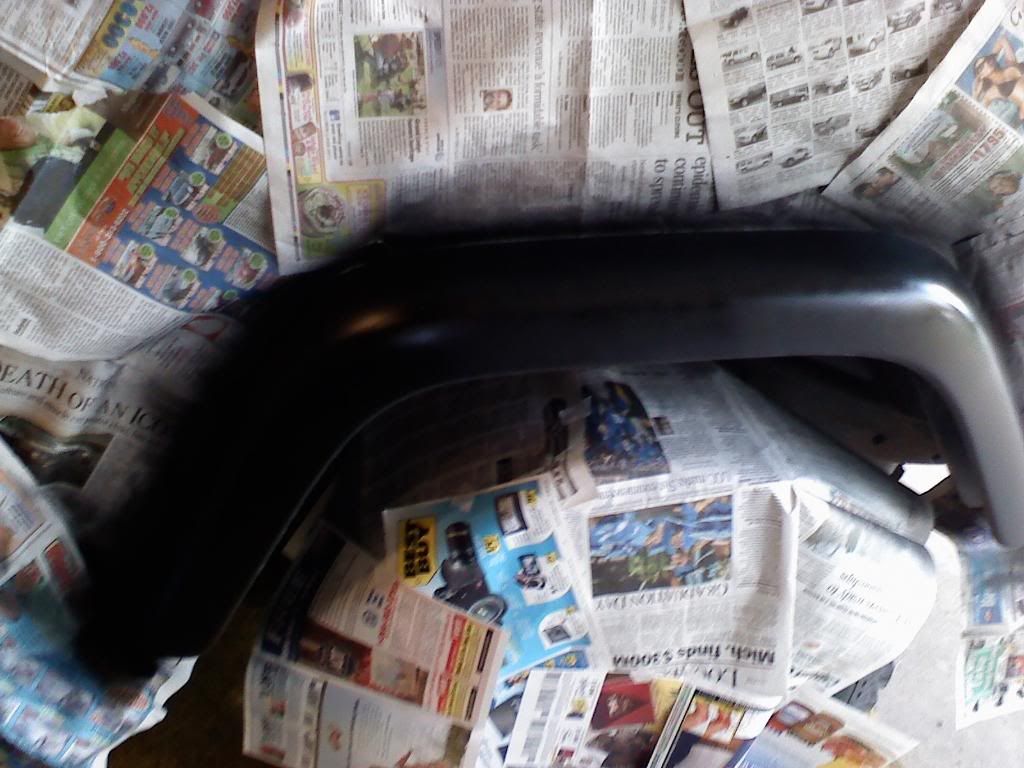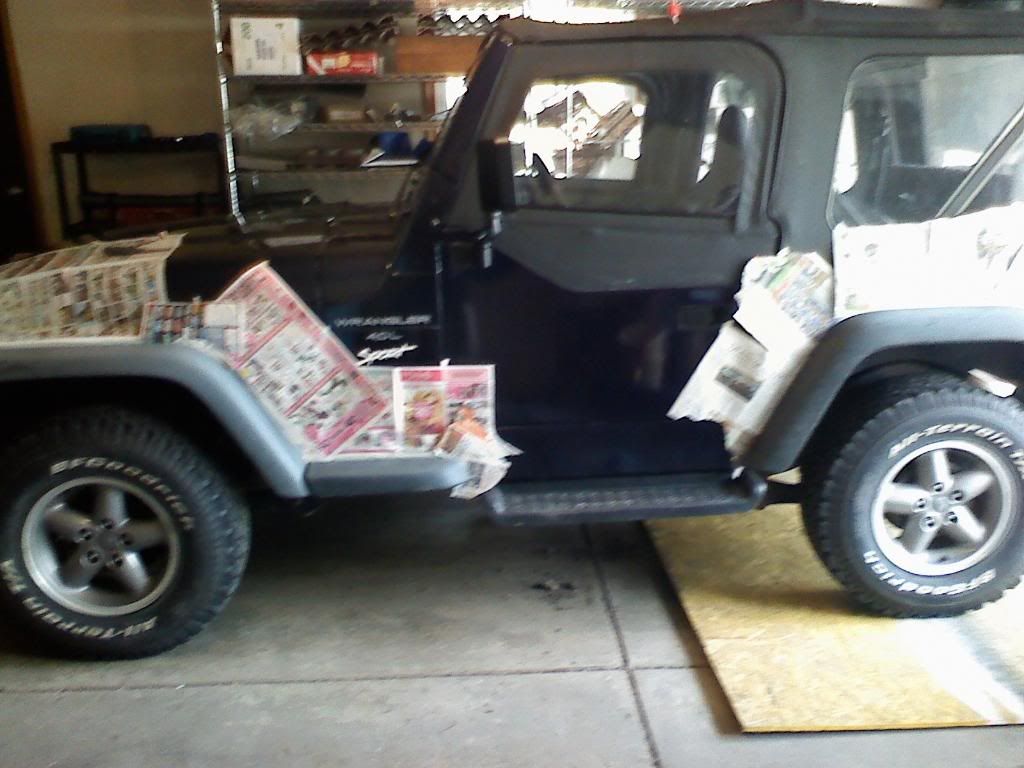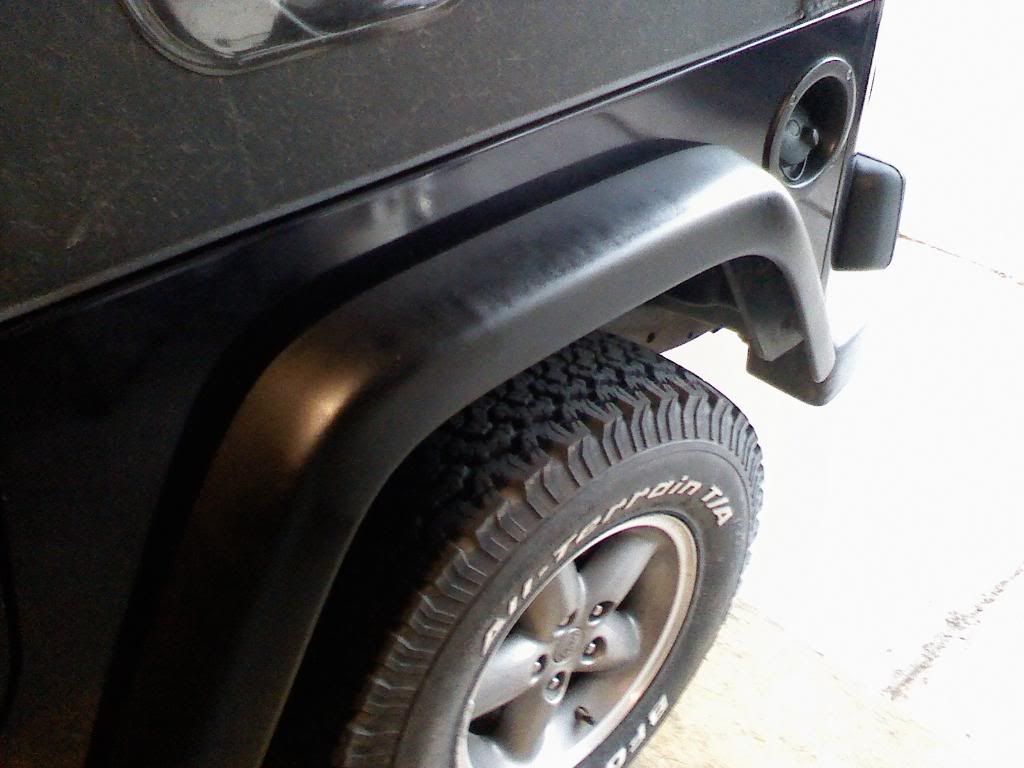 Eventually, I will repaint both bumpers, and take the jugs off. I have already tried with the jugs, but the bolts just keep spinning
If anyone has advice on that one, i'd love to hear it.
Edit: sawzall'd the jugs off, and painted the bumper. Page 3 for pics.
I have also replaced the factory speakers in the sound bar. I followed a guy's write up from here somewhere. I dont have pics, but i can get some if you want. (Edit: page 2 for a pic)
PLANS
(eventually)
-Re-coat the frame -
done
-Upgrade the d35/30
-BL, MML, skids
-Swing out tire carrier / bumper
-Possibly Raptor liner
Oh, and I also ordered a tuffy security console. The 3rd day I drove it to school, someone slashed the window and broke the console open (it wasnt even locked. there sure are some smart people out there). This was all during the school day, in the school parking lot. Sweet, right? :thumbdown: So i ordered new windows about 4 months ago, and just ordered the console.
Edit: Pics are a few posts down
Edit: also repainted the chipping passenger side mirror. Pics are a few posts down
Thanks for reading!
Daniel