Discussion Starter
·
#1
·
Well, I have had my Hobart Handler 140 for a year now and figured it was time to put it on a cart. I was getting really tired of lugging it around, then the bottle and all the other stuff. So I was looking at welding carts online, and carts other people have built. Not really seeing anything I liked for under $150, I decided to kinda sorta make my own today since the weather was nice...
It started with a 3 shelf cart that I got from Harbor Freight for $42. I also got a bunch of other stuff for free since I searched around teh net and found a bunch of "free with $20 purchase" coupons and a 20% off one item coupon, on top of the side walk sale price....
I started with the bottle mount, which was really easy. I simply cut holes in the top 2 shelves of the cart, and dropped the bottle in.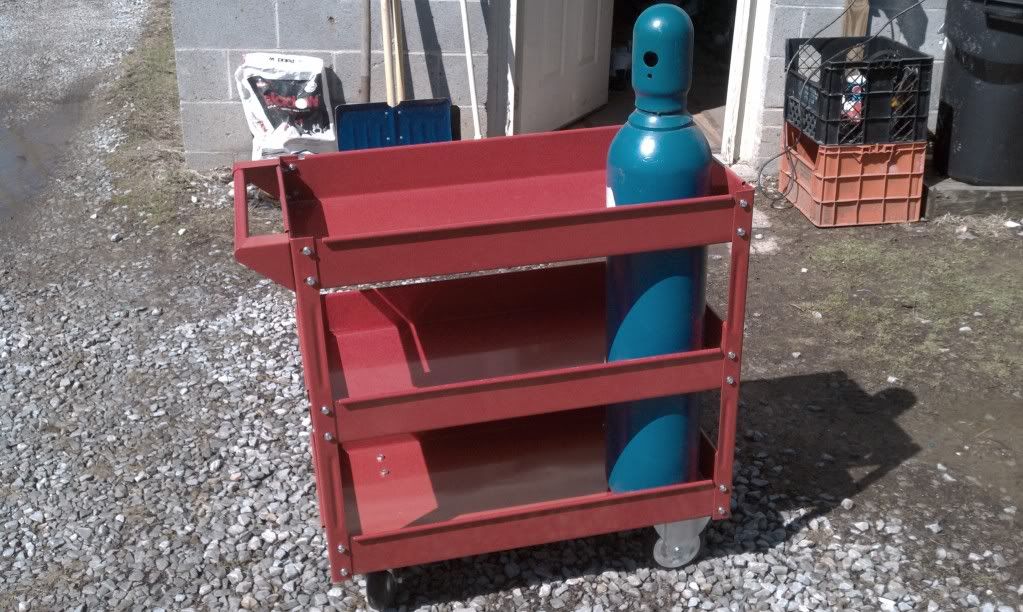 I thought about just setting the welder on top of the cart and being done with it, but it was kinda top heavy so decided to drop the welder down to lower the COG and keep it ergonomically comfortable. I set the welder on it, traced it with a marker and took the cutting wheel to it. Here it is, mocked up....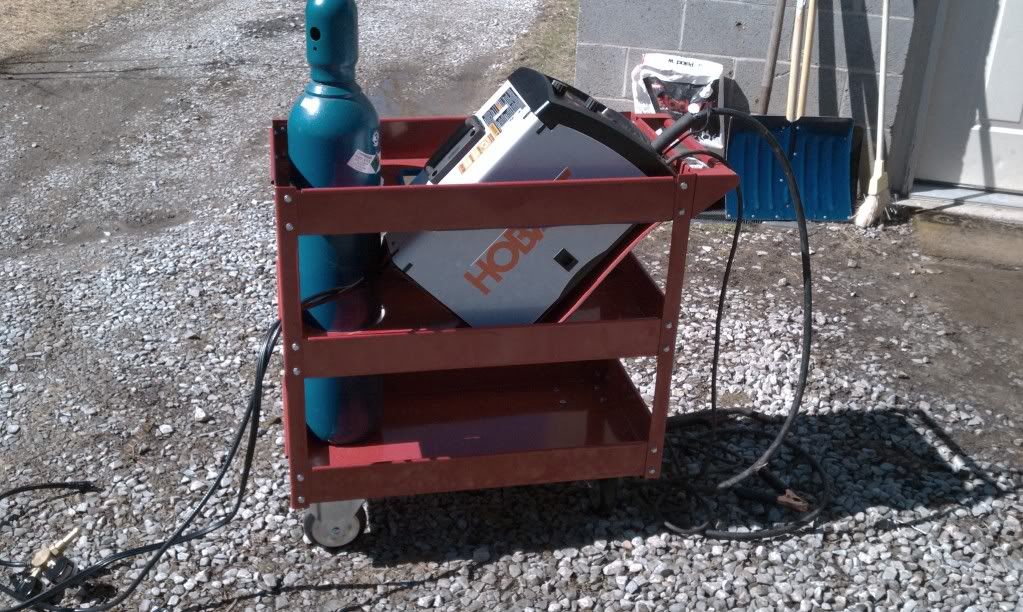 I welded up some 1.5x1.5 angle to support the welder and add some rigidity to the cart since I cut the majority of the metal out of the top shelf. Also bent up some small bar stock I had laying around for hooks. The way it is set up I can hang the helmet, torch, ground, and a 100ft 12/3 SJ extension cord on it. Also have room for consumables, grinders, etc. I didn't paint it yet but so far I am happy with it. I might end up moving the wheels to the outside and go to bigger pneumatic tires since it gets wheeled around the driveway. But if I was going to keep it mainly in a garage, I wouldn't mess with the wheels at all. All in all, I am happy with the way it turned out.