Discussion Starter
·
#1
·
Well I have started rebuilding my 2.5L and thought I would start my own build thread. I am sure a lot of people are wondering why anyone would put any effort into building a 4 banger but I guess the only answer I have for that is that this will be my first complete engine overhaul and I now have 2 worn out 2.5's and a boat load of parts to play with. I would love to have a 4.0 but I don't and I really haven't been all that disappointed with the 2.5 anyways. My jeep is mainly a trail rig so I don't really need a lot of top end speed or anything. I will be taking this motor rebuild kind of slow, I am in no hurry I just want to get everything done right so hopefully I can get a ton of miles on this motor. I decided to do a complete overhaul because I bought my Jeep knowing the motor was basically shot... Had a ton of blow-by puking an oily froth into my air box. I got sick of smelling burning oil and what not so I bought a used motor and threw that in, racked up a few miles wheeling in the woods and after about a summers worth It started doing the same blow by thing and eventually spun a bearing. I guess now I just want to start with a fresh motor for this summer. I thought maybe I would start a thread about the rebuild process to share some experiences and learn some things from you guys as well.
Here is the original motor that was in my Jeep when I bought it making the trip from shed to the garage. I figured a sled would work for this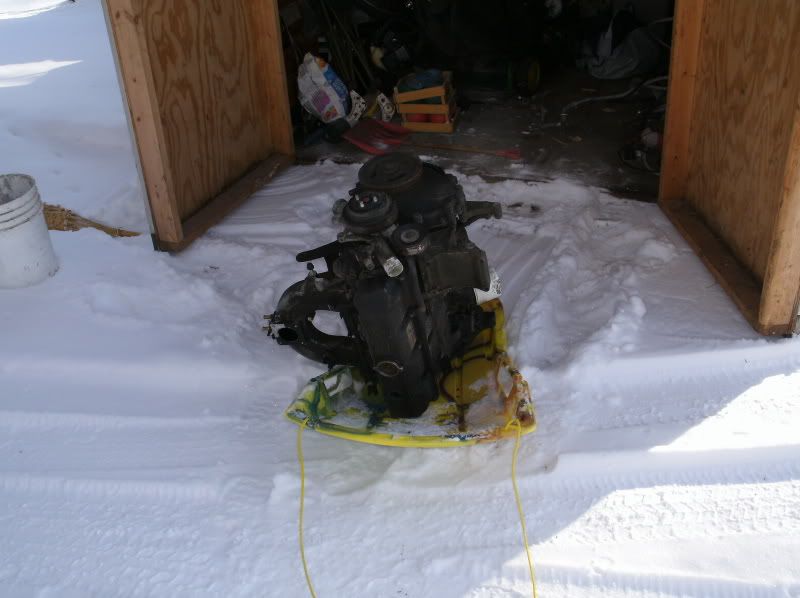 Getting the motor from the shed to the engine stand was enough work in itself.... I picked up this 1000 pound engine stand at Harbor Freight for $39 I am really impressed with it for the money:thumbsup: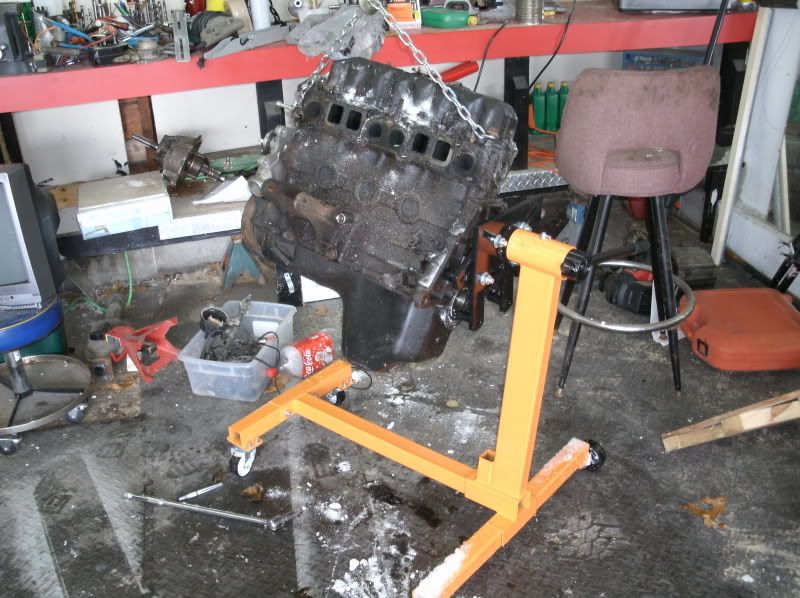 Here is a picture of my Jeep from last summer...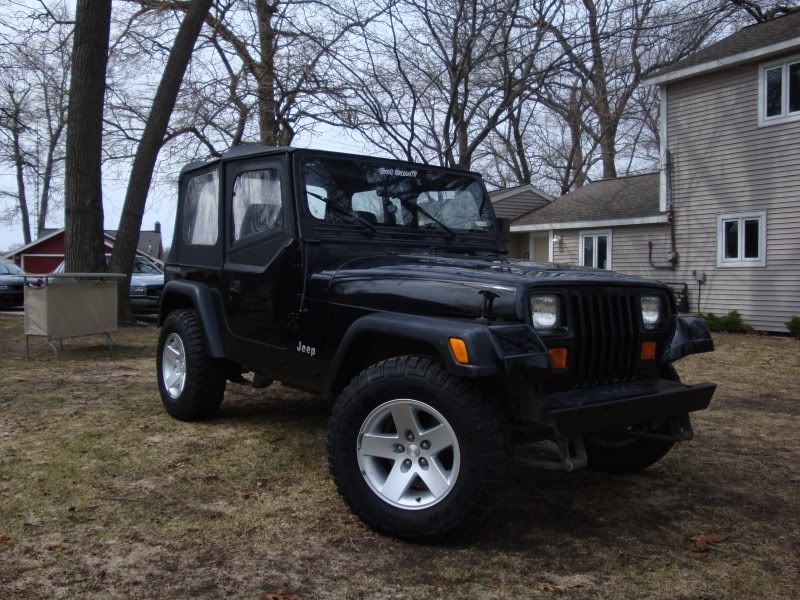 I don't have any pictures of the motor tear down because of some computer problems that I was going through but I figure just about anybody could tear a motor apart anyways! The only problem I had was when I got down to sliding the pistons out they would not come out of the top because of the ridge created from many many miles and wear, so I thought no problem I will pull the crank and slide them out the bottom.... Well the piston slid right out of the bore but they will not come all the way out of the block. I didn't have a ridge reamer and I knew I wouldn't be using the same pistons so I was able to finagle my fingers in there and break the piston rings off of the pistons and slide them out the top past the ridge.
I dropped the block, head, crank and piston/rods off at the machine shop the other day. Got a call from the machinist today he said close to $700 for all the machining and parts, that includes going through the head, boring, turning crank, new timing chain and gears, cam and lifters, oil pump and complete gasket set. I guess that isn't so bad considering you can pay $400 and up for a junkyard motor.
Well that is all for now but I plan on going into a lot more detail and will be able to get a lot of pictures when I put the thing back together. I will no doubt have some questions so I hope you guys can follow along. Should get my stuff back middle of next week or so:cheers2: