Discussion Starter
·
#1
·
Hello fellow Jeepers,
What is better to do on Thanksgiving morning than write a review
I just bought a Motorcraft 2150 from ehrmannmp "The Ebay Guy" and thought I would do a little review on the kit. "The ebay guy" has what looks like a small business called "Gronk Performance" so I will refer to him as "Gronk" throughout this review. This review is not about bashing Gronk or advertising for his kits, but simply just a review of what to expect with this kit. Since even after reading everything on the forums I was left in the gray area of what to expect.
First off his ad on ebay is a little confusing as to what you get and seeing as I wasn't sure about anything I just bought the kit with none of the extras. I'm not a fan of how the ad is written because it lacks some professionalism and some of Gronk's ego bleeds into the description. It might be dumb, but I pay attention to things like that when deciding if I trust someone.
This kit was advertised as "NEW" on Ebay which made me skeptical to start, since I have never seen a New Motorcraft 2150 for sale anywhere and he had 15 of them. So I sent him a message asking him to confirm that the carb was new and Gronk responded with "This carb is brand new". So with no other information other than that I purchased the carb expecting to be let down when it arrived.
Thankfully my expectations did not meet reality when in only a few days a brand new carb had arrived at my door. Still being skeptical I tore into the carb to try and find some evidence of refurbishing, but found myself staring into a brand new carb. Now that being said I still have a few things that don't quite make sense and I will leave it up to you (the reader) to decide if there is foul play here or not. The carb has no markings......yup not a one. I've done research on "knock-off" Motorcraft 2150s and haven't found much of anything and the carb doesn't look cheap so for now I will call this genuine.
Okay, Okay lets get to the kit. This is no Weber kit so if your expecting crystal clear instructions and everything to be included you will be disappointed. I think people who complain about this kit were just expecting something else. For me I love to get a kit and not need anything additional except my toolbox to install it, but seeing as how my Jeep is not down (at the moment) I don't mind taking the time to figure everything out and get what is not included in the kit.
So here is the kit:
It comes with everything you need to physically mount the carb to your Jeep. The gaskets are of a very high quality and the hardware is sufficient to keep the carb on the manifold. I prefer stainless hardware with lock washer over splined nuts, but to each their own. Gronk also supplies a threaded rod for mounting the air cleaner. Depending on what filter you buy you will need to trim this to length. No big deal just a few minutes with a hack saw and a file. Other parts include hose clamps, throttle return spring bracket, and fuel inlet fitting which in the above picture is already installed.
Here are a few pictures of the carb and I will explain anything I call out: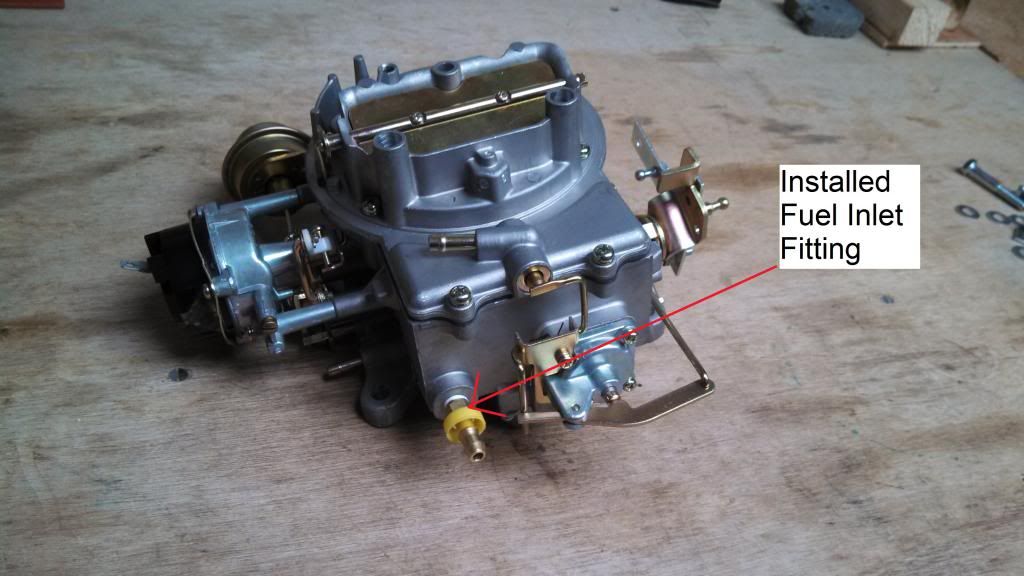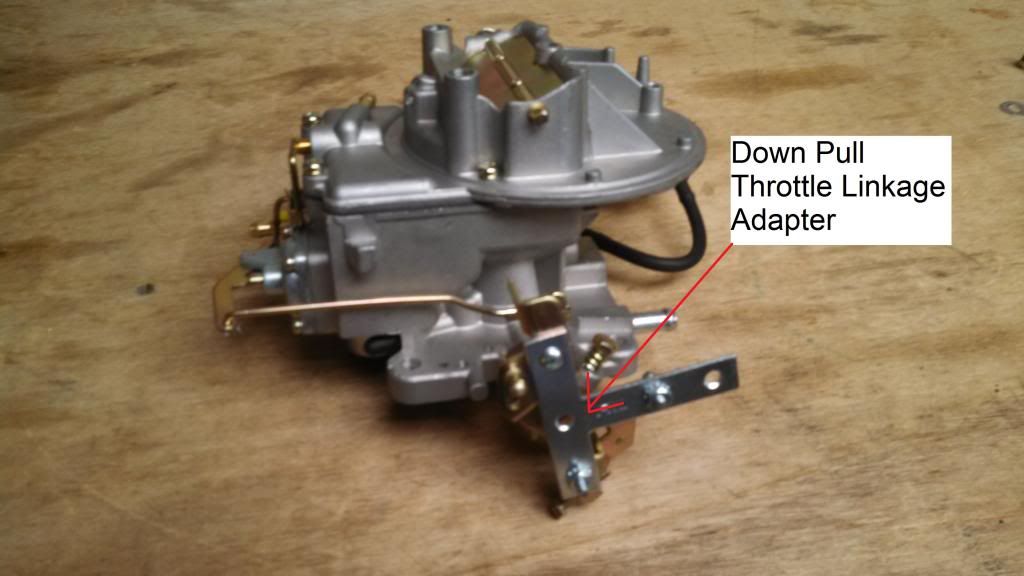 The above picture shows the throttle linkage adapter supplied and installed by Gronk. This adapter is so you can use the original Jeep down pulling throttle linkage. You can use it or take it off and work out a way to use the Motorcraft rear pulling linkage that is on the carb. For now I plan to use it, but I don't like how it is attached. It's hard to see in the picture but he drilled 2 holes in the original linkage and used a machine screw on the bottom and a self tapping screw on the top to hold it on. I think they should both be machine screws with a nice dose of lock tight. Again to each their own.
It DID NOT come with the choke. You can reuse the old carter electric choke like I did or buy a new one. Here I do have to point out the directions he supplied on how to reuse the Carter choke is correct, but the pictures used in these directions are wrong. At least in my experience. If someone wants me to elaborate on this error let me know and I will but for right now I will just say check to make sure the coil moves in the correct direction when heated. Don't go by what the coil looks like. Coils can look the same but move in opposite directions. Hit it will a heat gun or connect 12V to it and see which way it moves.
More on the choke, the choke on the Motorcraft 2150 is originally a Hot Air choke and this carb arrived setup for its use. You can use a hot air choke but the Jeep 4.2L is setup for an electric. I find the electric is a simpler and cleaner install. So you will need to plug the hot air inlet on the choke housing. If you don't you will have a vacuum leak at this port. The below picture shows the port that I have plugged with a 1/8" Pipe thread plug. It originally had a fitting in there that I removed.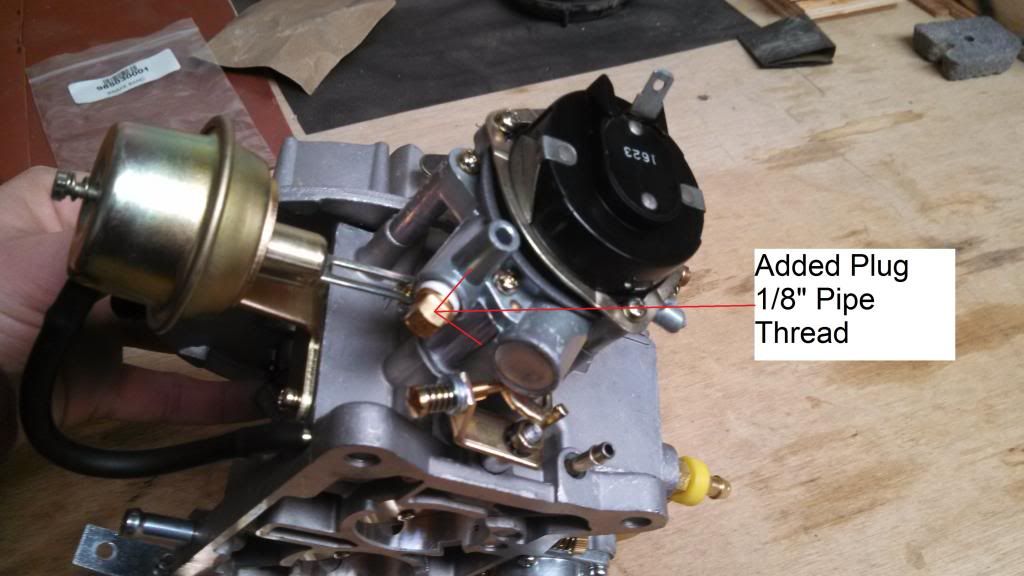 Now to that odd looking throttle return spring bracket. You may look at the carb and think you don't need it, but you do. Gronk doesn't supply the spring or springs and you must buy new ones or reuse the old ones off the carter. The carter has 2. I'm not sold on this bracket just yet and might try working out my own.
That basically covers what the kit comes with and what you may need to buy. I can't guarantee your kit came like this or will come like this, but this is what I received.
Last thing to cover is the instructions. After completing my purchase I was promptly e-mailed a ton of attachments which included 25Mb of data and I read every last page of it. After reading everything some more than once I have determined that the directions are just about useless and that I will be better off doing the install using common sense.
First off the directions are really just a bunch of articles and pictures found on the web that have something or anything to do with a Motorcraft 2100 and 2150. So they are not written for his kit. I'm not saying there isn't good information in there, but it is grossly unorganized. There is no "step by step" with pictures of your carb and a well endowed blonde showing you how to install the carb. Really if you understand your engine and carburetors you should be able to install this carb without the "Instructions". Honestly I think the instructions created more confusion then anything.
My conclusion is that if this carb is geniune and New than it is worth the $300. If your not comfortable with carbs and your engine don't buy this expecting to install it yourself. Like I said in the beginning this is no Weber kit but you can install this with a little thought and a few extra parts.
If this review gets any interest maybe I will do one on the actual install and tuning of the carb. I hope everyone has a wonderful Thanksgiving and if your in the North, winter is coming, I hope you have your Jeep ready.
.