Discussion Starter
·
#1
·
Better Late Than Never
The May 2013
:washme: JK of the Month Contest :washme:
Starts Now!
mol
2008 Jeep Wrangler Unlimited Rubicon
Driveline
3.8L V6
NGC370 6-speed transmission
NV241 Rock Trac Transfer Case
Front D44, with Teraflex inner axle sleeve and upper C gussets
ARB Diff Cover
RCV Axle Shafts
E-locker wired to sPod
5.13 Superior gears
Rear D44
Welded center section
ARB Diff Cover
Alloy Chromoly Axles
5.13 G2 Gears
MBRP Offroad exhaust, modified for 12" fox shocks
Suspension/Steering
Frankenlift -
12" Fox coilovers front
Fox air bumps
Synergy coilover brackets front and rear
4" Currie springs rear
12" Fox smooth body shocks rear
BDS front lower flex arms
BDS rear lower flex arms
BDS rear upper flex arms
Reid HD High Steer Knuckles
Offroad Evolution Drag link flip kit
Moog Drag Link End
Currie 1 5/8" heat treated chomoly Tie Rod
Synergy Ball Joints
Teraflex Monster Front Track Bar
BDS adjustable rear track bar
Teraflex rear trackbar relocation bracket (at axle)
PSC hydraulic assist steering
Wheels/Tires:
Raceline Monster Beadlocks
Maxxis Trepador Competition Compound 37x12.50x17
Armor:
DELETE of factory skids and gas tank (+2.5" to belly)
Poison Spyder evap skid
Poison Spyder BFH rear bumper
Metalcloak frame built front bumper base
Offroad Evolution tube fenders
Teraflex rock sliders
Accessories:
Genright fuel cell mounted in tub
Bestop element doors with home brew aluminum skins
Home brew dual battery tie-down in tub
Offroad Heros cargo top
sPod
Tuffy flip-n-lock Mygig cover
Cobra 75WX CB radio w/ 3' firefly antenna
Teraflex tailgate CB antenna mount
Line-Xed tub
KC Hilites 130w long range mounted to rugged ridge windshield brackets
Warn 6" Fogs, bumper mounted
Rugged Ridge dual battery tray
Two Sears Diehard Marine batteries
Daystar hood wranglers
Total weight: 4,860 pounds
STORY
I started as a young kid with a crappy YJ that I was very fond of. I moved into this JK about 3 years ago. After a couple years of mildly building and wheeling, I found that I, time and again, pushed my rig harder offroad than a daily driver can realistically be pushed. It wasn't possible to drive a car and expect it to get where the buggies do. I made the decision to retire this Jeep as a daily driver, and get a little more serious about my build and how I use it. I sold off all of my skid plates, my full doors, my stock gas tank, and various other parts that were not necessary in an effort to shed weight and gain belly clearance. I'm not afraid of gents and dings and scrapes and breaks - it's a part of the game. The second most rewarding feeling is looking back on a big obstacle, and realizing that I was able to get to the other side of something that most vehicle's cannot. The first most is watching that guy in the tube buggy that had his nose turned up at you and your "minivan" all day, not make it up that same obstacle
maniacal_rick
Platform:
2012 Jeep JK Sport, with the 3.6 and a 6 Speed
Suspension:
Metalcloak 3.5" Gam Changer Lite, OME Shocks
Prorock 44 front axle
RCV from axles
Coast Driveshaft
Reid Knuckles
Synergy Balljoints
4.56 Nitro Gears
ARB Air lockers front and rear
ARB Dual rate compressor on an EVO mount, with the tire inflation kit
Synergy Drag Link
Wheels and Tires:
Procomp 315/70 R 16 on 16" Ion Alloys
Armor/Recovery:
JCR Stubby front bumper with vert hoop
Engo 9k winch
Front D-Rings
Mopar receiver
EVO Oil pan skid
Electrical:
Rigid Dually D2's on KC mounts
Pioneer AVIC-930BT Head unit
Alpine MRV Sub amp with a single polk MM 10" sub, custom enclosure
Backup camera mounted to the CB mount
Cobra CB mounted in the center console with a firstik 4" antenna, on a stainless mount
sPod switch center
Interior and Misc:
Tuffy security enclosure
AEV's Procal
Teraflex exhaust spacers
Poison Spyder hood vent
Story:
This build started with one main goal. I wanted to build a completely capable, and completely street- able Jeep. Every aspect of this build was designed around that theory. I wanted to be able to drive to any trail and drive home. I've always wanted to start a build with the intention of really doing it right the first time...instead of just throwing things together...so that's my focus. A lot of planning and research has gone into this build with the future in mind and I have the great folks here on JF to thank for that. Met so many good people on and off the trails and I have no regrets with this purchase and build. Thanks to everyone here that has been an inspiration and who has let me build my knowledge from their builds and experience!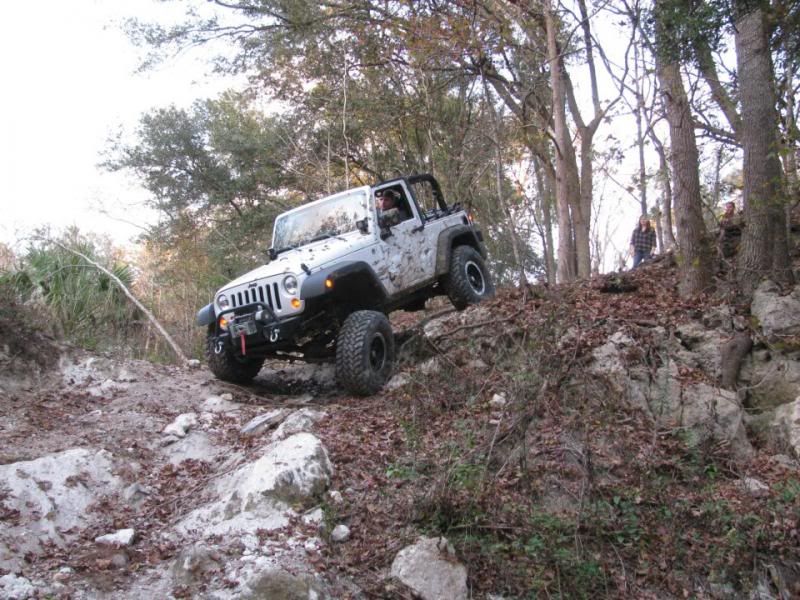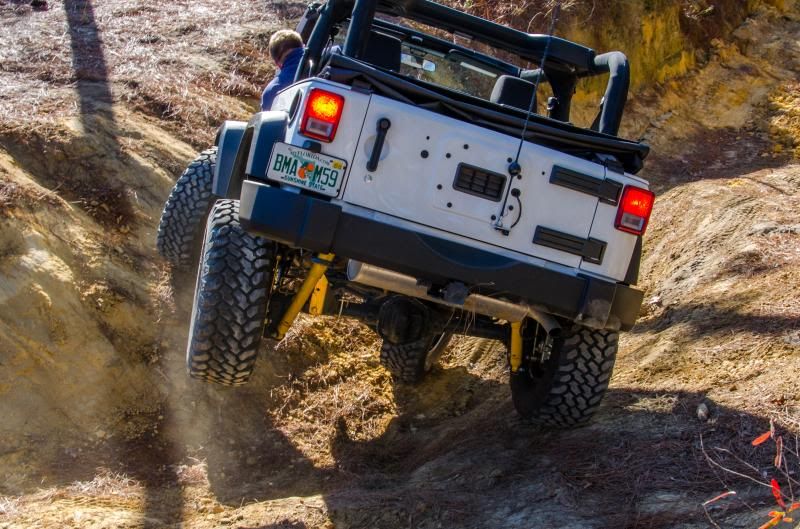 CyberPyrot
Mods:
Rugged Ridge XHD Front Bumper
Rugged Ridge XHD Rear Bumper
Stinger Front XHD Bumper
Rugged Ridge Rock Sliders
Warn RC8000 Winch
Poison Spider Hood Louver
Sand Scorpion Hood Decal
Scorpn License Plate
Rugged Ridge Hinge Armor
Tuffy center console lock box
Black Rock Steel Wheel 997 Soft 8
Bestop NX safari top
Bestop Element Tube Doors
Safari Straps Cargo Netting
IPCW LEDT-420CS Platinum Smoke LED Tail Lamp
Off-Road (13" inch) ANTENNA\Locking Gas Cover
Rock Hard License Plate Relocation Bracket
ORO Plate Light
Trimmed fenders
Story: Ever since I was a little girl I wanted a jeep. Little did I know I would soon be the winner of the little miss Houston Pageant where the first prize was my very own jeep.
Donny90yj
Mods:
Synergy steering correction kit/flipped drag link
Synergy rear LCA skids/shock mount relocation bracket
RC adjustable front TB
HD tie rods ends
RC 3.5" Lift
Cut stock flares
PSC evap skid
Warrior rear LED corners, tailgate armor
Dynomax catback system w.3.5" Thrush glasspack
RC Hybrid Stubby front bumper
Viper Max 12,000lb winch w/synthetic line
16x9" American Racing ATX with 1" wheel spacers
345/75r16 BFG M/T
5.13 Motive Gears
Front D30 Synergy sleeve/gusset/LCA skids
Ten Factory chromoly shafts
Aussie front locker
Alloy USA Ball Joints
RC front quick disco's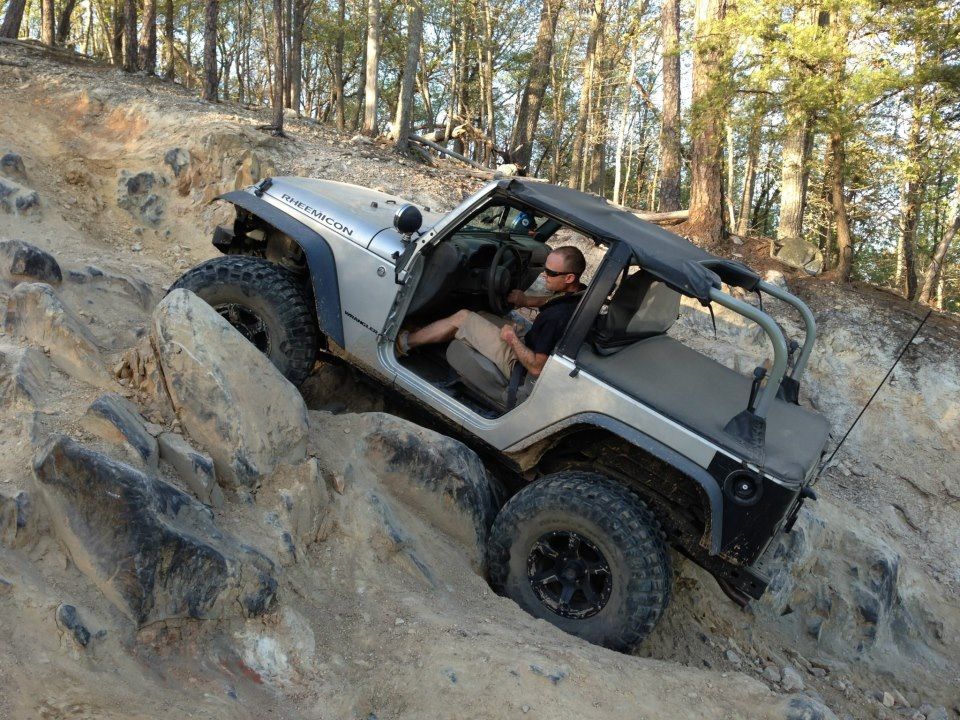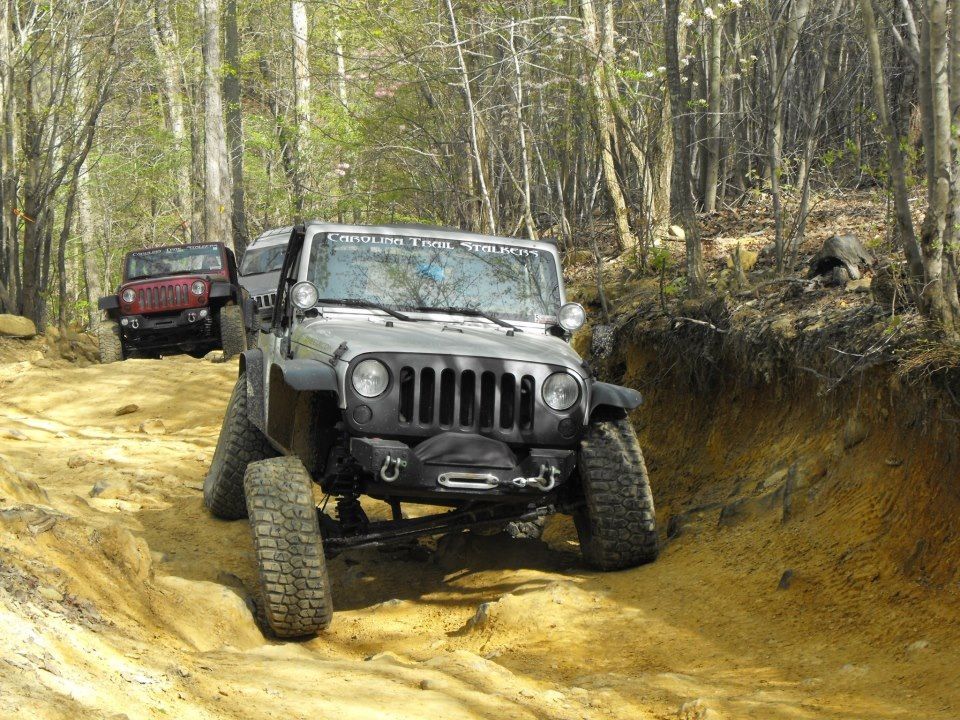 DrHolliday
Mods: Rock Krawler 3.5" X-factor mid arm lift, 1.25" body lift, 40x13.50R17 Nitto Mud Grapplers, River Raider skid plates, Pure Jeep truss, Evo gussets, Yukon 5.13:1 gears, Rough Country fround bumper, Home made rear bumper, Smitty Built XRC8 winch, Rigid 20" LED combo light bar, and more I'm forgetting, but those are the main mods.
Story: I bought the Jeep new and starting hitting trails after moving to the Pacific North West. My addiction to mods was not helped with the Jeep. I started out wanting a budget boost and 33's. That was scratched before it was ever purchased. I went with the RK lift and 35's. I had thought about going with 37's at that point and wish I would have because a couple months later I sold the 35's and bought 40's. Before long its going to wind up being an off road only rig at this rate!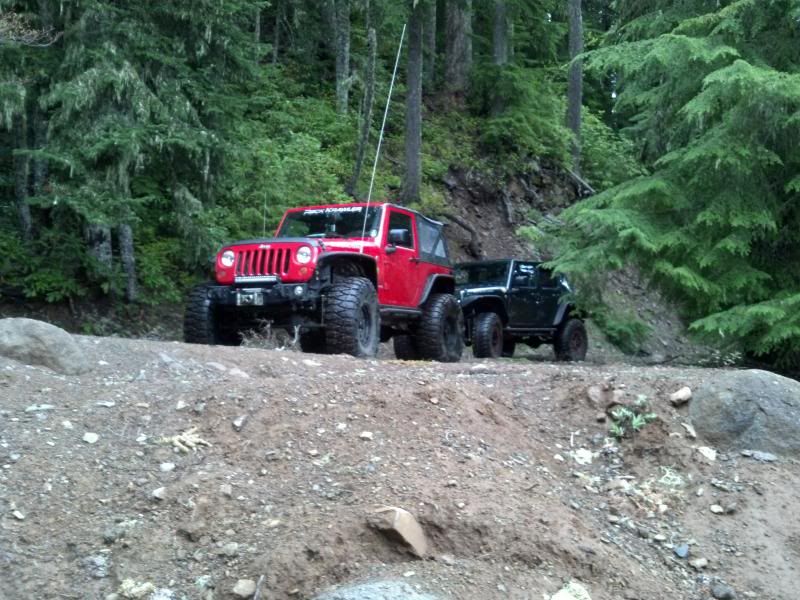 Great way to start the wheelin' season with another amazing line-up!
opCorn: Good Luck To Everyone
opCorn:​