Kevin108's 2000 XJ Build, "Outsider"
I have really enjoyed reading others' build threads here. I didn't think I'd ever write one since I planned to leave my XJ more or less stock, but I keep doing things to it and my original plans are continually altered. With that in mind and a cold Yuengling at hand, I guess I'll start telling my story.
I started thinking about a new daily driver in May of 2009. I'd sold my 05 Corolla in December the previous year and after almost 6 months back in my 87 Silverado, I was realizing that I needed something more practical as a daily driver though I wanted a something somewhat capable as well.
I really didn't have any clue what I might wind up with, so I started
a post at GlockTalk
. Those guys know everything!
I have an 87 Silverado on 35s that started life as an offroad rig and wound up as a work truck for side jobs and a tow rig for hauling the ATVs. It's also been a daily driver for the last 6 months. As gas continues to creep back towards $3 a gallon, it's around-town 8 mpg has me eyeing something smaller for regular driving duties. I had an 05 Corolla that was a great car, just not at all what I needed for the places I go and the things I like to do.

My shopping specs:

$10,000 or less
Must be 4x4
At least 15 mpg
Auto tranny preferred substantially but a manual is acceptable on a sweet deal

My current train of thought is a small 4-door SUV like a Liberty, RAV4 or CRV. I don't know anything about them though, if some years were better than others, etc. Any suggestions?
The 8th reply suggested an XJ. I eyed some TJs as well but I quickly realized that they were priced about 2½ times more than an XJ of the same year even though they had essentially the same drive train and other components!
The XJ was it. Good engine, solid front axle, able to tow the ATVs, available with 4 doors, and a fantastic platform should I ever decide to build another offroad rig. Then I couldn't find one to save my life! There was nothing out there! Dealers had everything and wanted $2,000 more than their junk was worth.
Finally, after giving up and 2 months, I happened to find a CraigsList add for my XJ. After a couple of test drives, inspecting every square inch of it and a weekend of waiting on the bank to do their thing, I got to bring home my new XJ.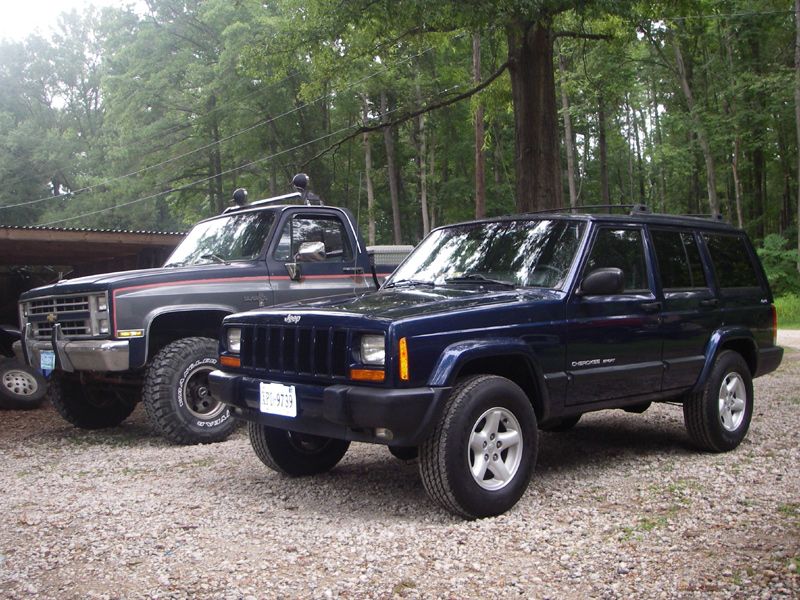 After a couple of days, the AC started acting up and after a couple of weeks or so, the blower quit completely. I was really aggravated that these problems hadn't surfaced during the test drives but such is life with a 10-year-old rig. I rode around for days with a multimeter in the passenger seat and after pulling the blower out all together, I found the problem to be the plug going into the blower motor resistor.
At some point the blower had gone bad overheating the resistor. Both of those had been replaced. When the resistor overheated, it ruined the plug as well but that didn't stop a previous owner, which was not the guy I bought it from, from faking a fix.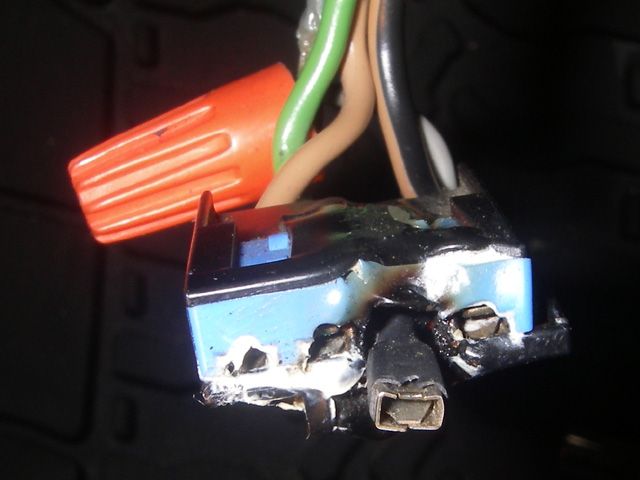 I'm yet to find the proper plug but the insulated spade connectors I added that fit tightly on the resistor contacts are working great.
Around the same time, I installed a Curt Class III receiver on the rear along with a wiring harness for the trailer. The hitch installation was easy save for one bolt on the heat shield between the muffler and the gas tank. I managed to strip the guts of a cheap ratchet and even with Snap-On stuff, a 2' breaker bar and an impact wrench, it was still hard to get that bolt out. The wiring made up for the hitch's difficulty by being plug and play.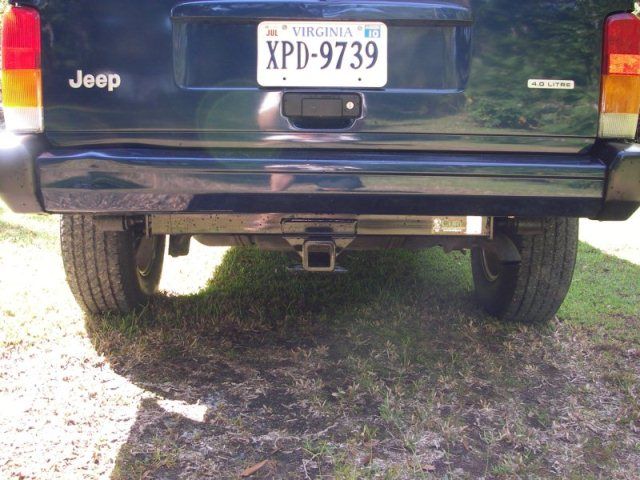 After I got the hitch installed, I made a test run towing my ATVs at highway speeds on the interstate on a 105° day. I got my transmission temps up to 191° so I started shopping transmission coolers. I bought a 25,000 lb-rated unit and set it up in front of the mechanical fan so that it always had some amount of air moving over it.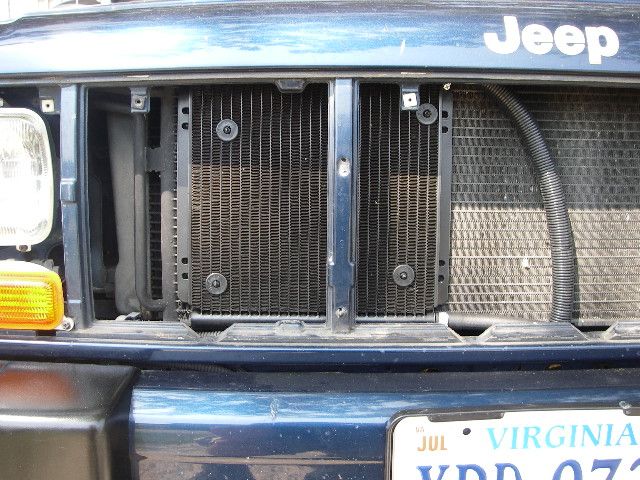 Mounting location
I sleeved the upper hose. I felt that wind could make it make contact with the condenser. I also split a section of hose and wrapped around the opening of the hole to protect the active hoses.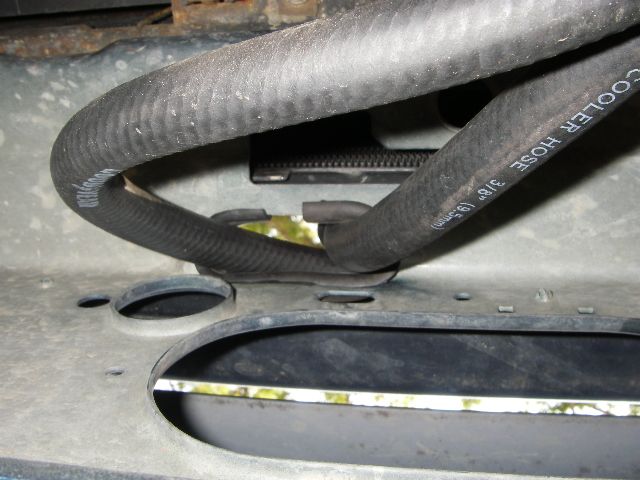 The view from underneath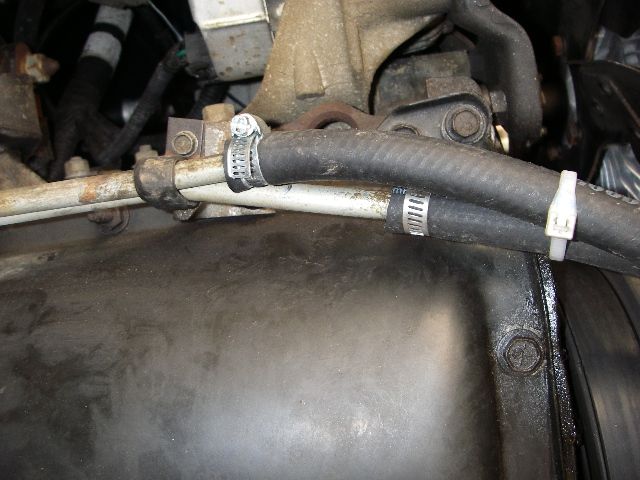 Where the hoses meet the hard lines
Around the same time, I mounted a 3-D-cell Mag-Lite to the passenger side A-pillar.
A week or so after that I painted the trim.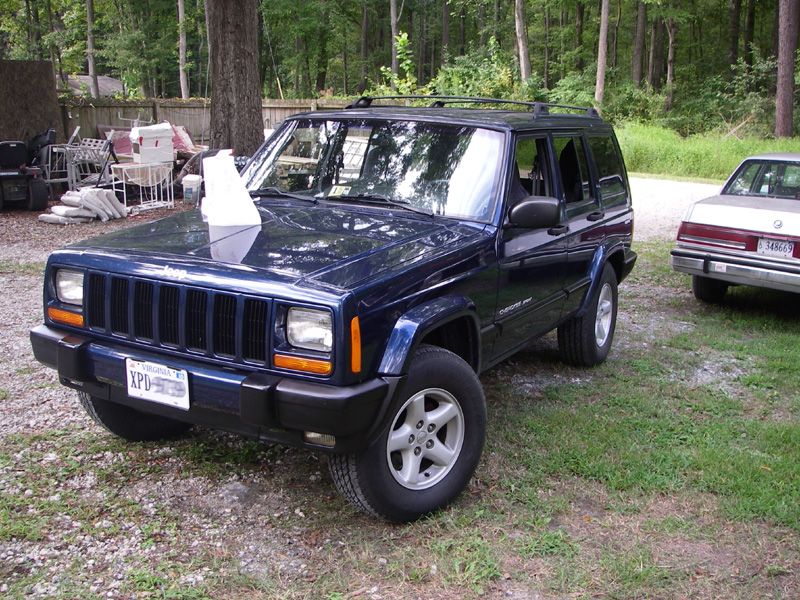 I gave it a good wash last week and painted the wiper arms.