Discussion Starter
·
#1
·
Hey guys I was recently hit by a drunk driver that was traveling on the wrong side of the freeway .
Heres the story
The gf and I were coming home from snowboarding at boreal and we were driving on I80 on the fast lane heading to reno and once we got to around where robb drive was , we saw these headlights on our side of the road heading west on east bound lane coming right at us . My first thought was that it was a cop or something so I pulled over on to the dirt median and she swerved right into us causing us to roll over .. then as we were upside down we couldn't get our seat belts out and we herd people yelling "the cars on fire " Once I herd that I tried hitting the window to break them but no luck .. but thank god an off duty cop saw it and came to help us ,he broke the window and pulled us out , then a guy had a fire extinguisher and detained the fire .
Turns out she 2 times over the legal limit .
My jeep is totaled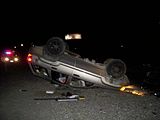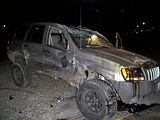 We came out of it with only minor scratches and bruises.
So my question now is what WJ should I get next ?? I really want a V8 but I heard quadra-track 2 aren't the best or should I just stick with the same thing I had which was I-6 with select-track ?
thanks
shinobi