Discussion Starter
·
#1
·
Here It Is!
The December 2012
:washme: JK of the Month Contest :washme:
Starts Now!
GeorgiaJK07
*Suspension & Tires*
Rough Country 3.5" Series II Suspension Kit
N2.0 Series Shocks
18" Moto Metal 961, Custom Painted to match
35" TOYO Open Country Tires
*Armor*
Rugged Ridge XHD Modular front bumper w/ Pre-Runner guard
Smittybilt SRC Rocker Guards
Smittybilt SRC Rear Bumper
*Recovery*
Warn 9000lb Wireless Winch
*Misc.*
Bushwacker flat flares
IPC LED Smoked Tail lights and 3rd brake light
Custom matte black decals
Hi-Jack w/ rear roll bar mount
Eyelids & Grill inserts
I bought my first jeep almost 2 years ago, I had been driving a 87 ford bronco that i was dropping money into since i was 16 just to keep it running. I enlisted in the U.S. Marine Corps in 2008 and deployed to Marjah, Afghanistan in the Helmand Province in 2010-2011. Saving all the extra pay i was receiving, i returned home and purchased my first jeep in March 2011 and sold my 87 bronco severel months later for $3,500 and used every penny of it for modiifications. A wrangler was something that i was always interested in even before i could drive and when the 4 door unlimited was introduced i was determined to have one. This was a reward to myself after completing my enlistment in the USMC and its a memorial to all my brothers who have served and those who didnt make it back. We lost 17 and took hundreds wounded in action, definitely something i will never forget and my Jeep is a memorial for them. I take pride in doing all the extra mods myself here in Chattanooga, TN.
BORRONGO
Mods: RIPP Super Chargerger, Tera Flex Leveling Kit, 35" Tires, Rugged Ridge Flares, a whole bunch of Vision-X LED Lights, 5:13 Yukon Gears.
08Helotes
Mods: Rough Country 2.5" lift, 285/70/17 BF Goodrich KM2's, Rugged Ridge Grab Handles, Rugged Ridge Side Steps, Plasti-Dipped Grille (And Hinges)
Story: My parents purchased this Jeep for me after driving a 1983 Ford Bronco for the first year of having my license. It was a gift for my 17th birthday; it already had 2 owners, and only had 39k on the odo. All stock 2008 "Wrangler X" model, with AC/Heat, and 3.73 gearing. Had donuts on it when we went to see it, but the dealership swapped in new tires off a different jeep on the lot when I bought it. Since then I have spent every paycheck on buying stuff for my Jeep! Upgraded the lift and tires with the summer paychecks, and now I'm working in all of my spare time during high school working when I can to earn some money to spend on the Jeep!
PghChamp
Mods: 2.5" Rough Country BB, Or_Fab Stinger, Alloy Axle Shafts (front), 35" Maxxis Bighorns on 16" Steelies, XRC-8 winch, JKS quick Disconnects/ Rear adjustable End links,Bushwacker Flat Flares, Poison Spyder Heavy Duty Cross Member, Rubicon Rock Rails.
Tanimal
Mods: Rock Krawler 2.5 max travel system with Bilstein 5100s, XD Addict rims wrapped in 35x12.5x17 KM2s, Riddler diff covers, Poison Spyder front bumper, Teraflex hinged tire carrier, ACE rock sliders, Posion Spyder Evap Canister skid, Monstalined tub, Surprise Straps, reupholsteredvinyl seats, painted inside of hardtop black, best CB mounting location ever, Smittybilt tailgate G.E.A.R panel, and LED interior dome light.
Story (optional): I just recently got into the offroad world and purchased my 2 door about 1 year ago. Took it offroad a couple times stock and I was hooked. Been dumping as much money as I can into it as often as possible. All the work on the Jeep was done by myself/buddies/family so it's been a great learning experiance and I've met a lot of awesome people!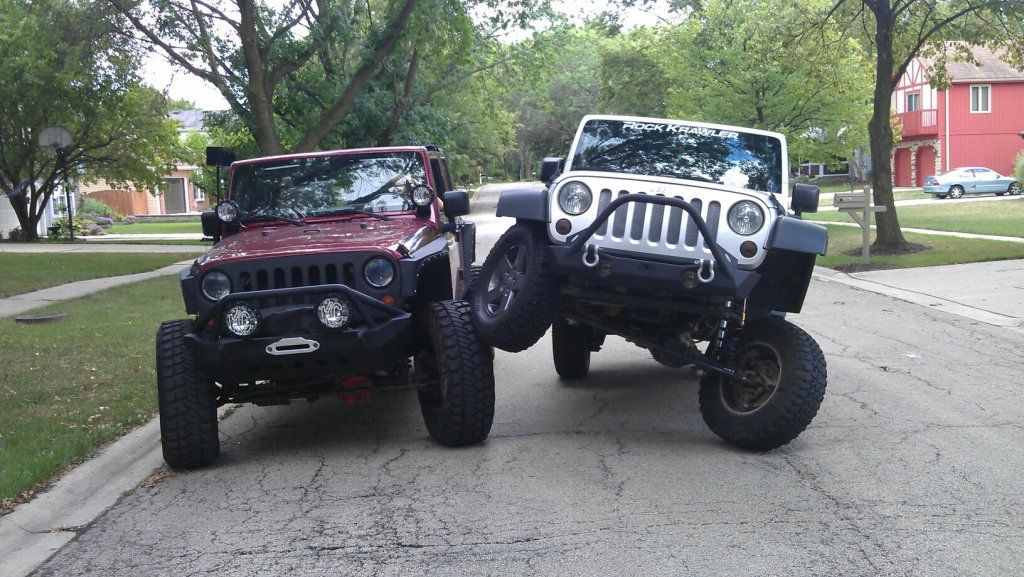 Winterwheeler
World's first JK modified to resemble a Willys Wagon. The hood bump was cut from a Lincoln, the grill is made from 90 degree bar stock from the hardware store. The entire package was brought together by Western Paint and Body Works of Calgary Alberta Canada. I still have plans for a very modest lift, more aggressive tires and plain steel wheels (to enhance the vintage look). My winch is receiver mounted and the Jillys is wired both front and back with Warn couplers for power.
Well there we have it!
The final group of 2012 :thumbsup:
Good luck to all, You're going to need it!
opCorn:
JK of the year is just around the bend and it's gunna' be quite a show
​