flatlander757's 03 TJ build/update thread(now D60/D70 swap/stretch on 40s)
My build thread has gotten out of hand and being as ridiculous as it is, it's very hard to sort through it, or sit down and read it all at once. This table of contents is going to be a work in progress and I hope to get it up to date within a month or two. Thanks for checking it out
Page 1
- Table of Contents that you're reading now... then the build starts! Scroll down you big dummy!
Page 2
- 3" Full Traction lift fully installed, 33x10.50 TSL Radials, spaced out tire carrier for bigger spare
Page 3
- More pics of tire carrier bracket, MV1050 compressor installed, rock lights,
Uwharrie wheeling trip
Page 4
- SYE, CV shaft, JKS rear UCAs, cut front bumper, RE rear trackbar and angled bracket
Page 5
- Redid rock lights, Pioneer DEHP4000UB radio, JKS Quicker Disconnects, Cobra 75WX-ST CB, Nth Degree engine skid, RE steering stabilizer, Poison Spyder steering box skid
Page 6
-
Uwharrie wheeling trip
, pics from the Outter Banks, Raptor liner install
Page 7
- More Raptor liner pics, AtoZ rocker guards installed, pics of carnage from Starr Motors Offroad Day 2008
Page 8
- BESRK tire carrier install, bought a welder, custom 3rd brake light, rock lights redone AGAIN
Page 9
- Pics of girlfriend(now wife) posing with Jeep, lots of chatting
Page 10
-
Uwharrie wheeling trip
, Christmas Jeep pics, picked up a HP30, started spacing the EVAP canister and installing CJ style tail lights
Page 11
- Finished CJ tail lights, license plate light, THE WORST IMPULSE BUY EVER: I bring home a D60 and D70HD :evilgrin:
Page 12
- Cut EVERYTHING out from under the Jeep... there is no turning back now! Started cleaning the old brackets off the axles and frame, etc.
Page 13
- Still cutting brackets off the axles, comp cut on the tub, cut the front fenders up, some parts starting to arrive
Page 14
- Tires arrive, fuel tank mounted in the tub, start fabbing rear bumper, mounted the first of my tires
Page 15
- Rear bumper fab continues, rear leaf spring mockup, mounted another tire("how to" mount on a beadlock wheel)
Page 16
- Final-welding in the rear suspension, bunch of chatting and answering questions about the build
Page 17
- Start checking clearances at the front axle for driveshaft and steering, cut the front crossmember out of the frame
Page 18
- Steering box relocated for more clearance, start playing with the 3-link calculator, built new front crossmember
Page 19
- Finalized crossmember, D30 vs D60 axle shafts, D300 installed and clocked to check DS clearances, front axle brackets starting to get mocked into place
Page 20
- Rear axle brake calipers replaced, brake lines run, fabbed frame-end brackets for front suspension
Page 21
- 1.25" BL, front suspension tacked into place and mocked up with dummy control arms
Page 22
- Welded in some of the control arm brackets on the axle, and mocked up with real suspension links
Page 23
- Cycled front suspension, Branik high steer D60 arm installed, coil mounts tacked in place, drag link mocked in place, trackbar mounts tacked in place, welded a BUNCH of stuff in for good
Page 24
- Pics of all the stuff welded up, final teardown, started painting EVERYTHING
Page 25
- Painted suspension components, mounted the last 2 tires, final touches on rear bumper, Spyder giving me crap(lol)
Page 26
- Reassembled,
IT SEES DAYLIGHT for the first time in 9 months!
Page 27
- Problems with not turning tight enough
Page 28
- Tie rod built, replaced a wheel bearing, had some problems with siezing a heim in my new tie rod
Page 29
- Built front shock mounts, pics of front end and steering
Page 30
- Pic of my Jeep next to a stock Jeep(Zach's),
JK turn signal install
, side clearance lights, started building rear axle shock mounts
As I said, this is a work in progress... you'll get the rest of the 140+ page build up sorted when I have time to kill.
------------------
The Build starts HERE!!!
So I figured I oughta start one of these threads before I get too far into building up my Jeep. The short-term goal(less than 5 months) is to have it sitting on 33in tires. Then the long-term goal(by this time next year) is to get it regeared for 35s, put some armor on it, flat-fender, and 35in tires of course. I probably won't be updating this every single day but whatever I do I'll take pictures
So anyways, here is my 03 Sport(4.0, dana 44, and NV3500) the day I got it a couple months ago: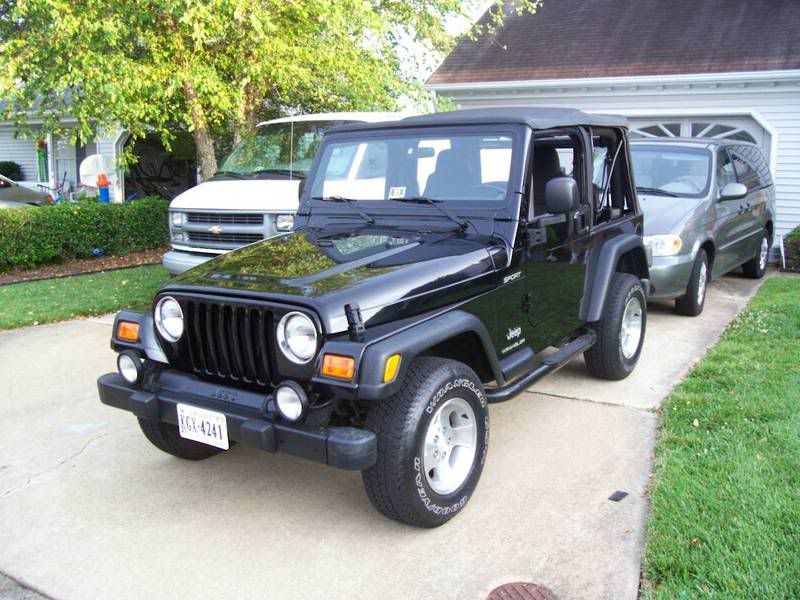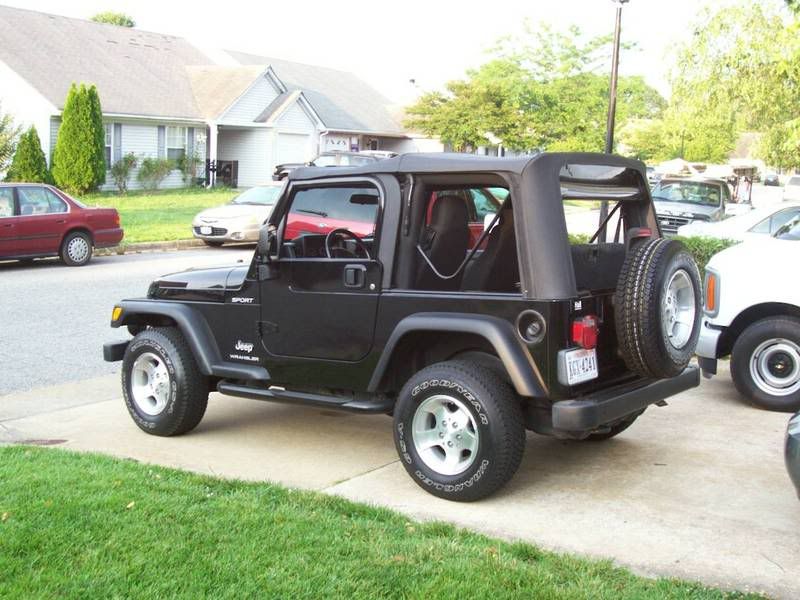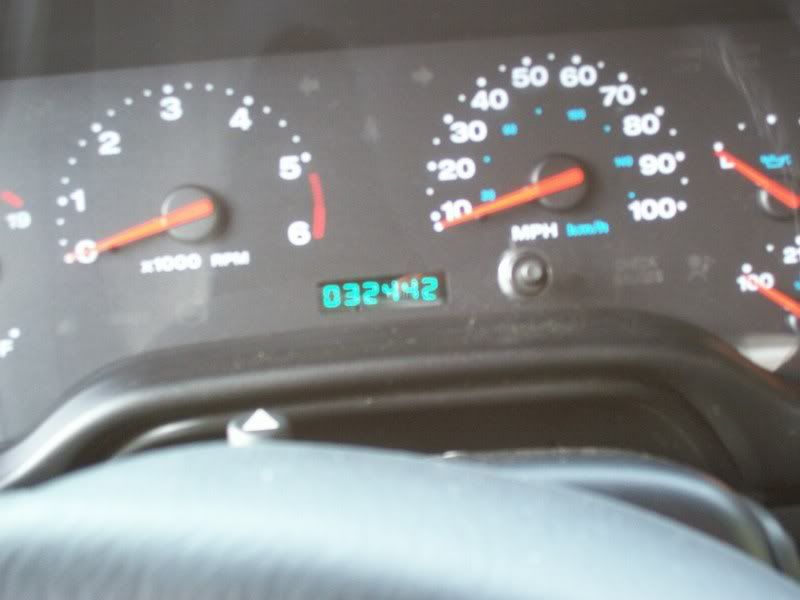 And then 2 days later: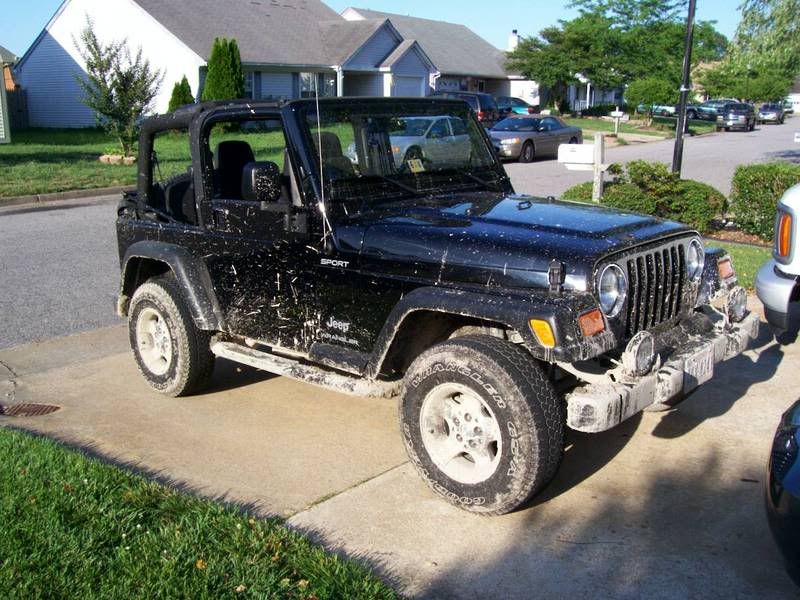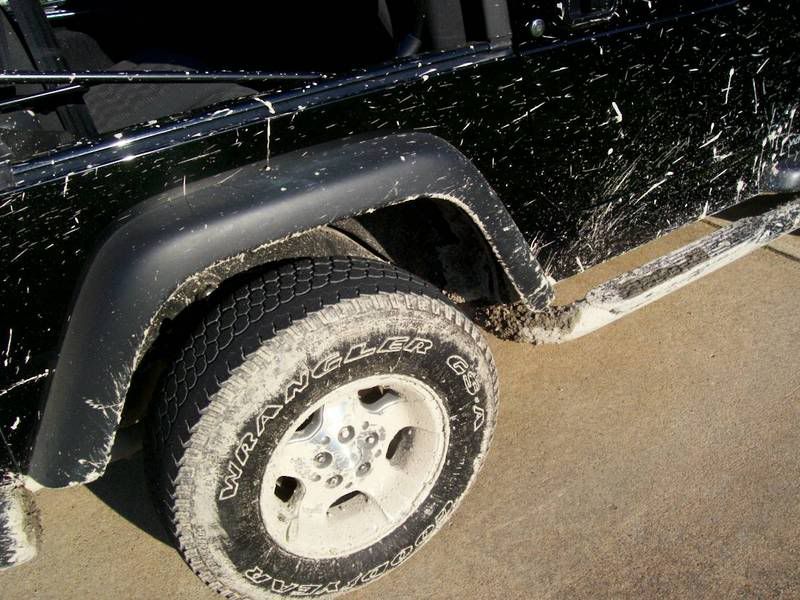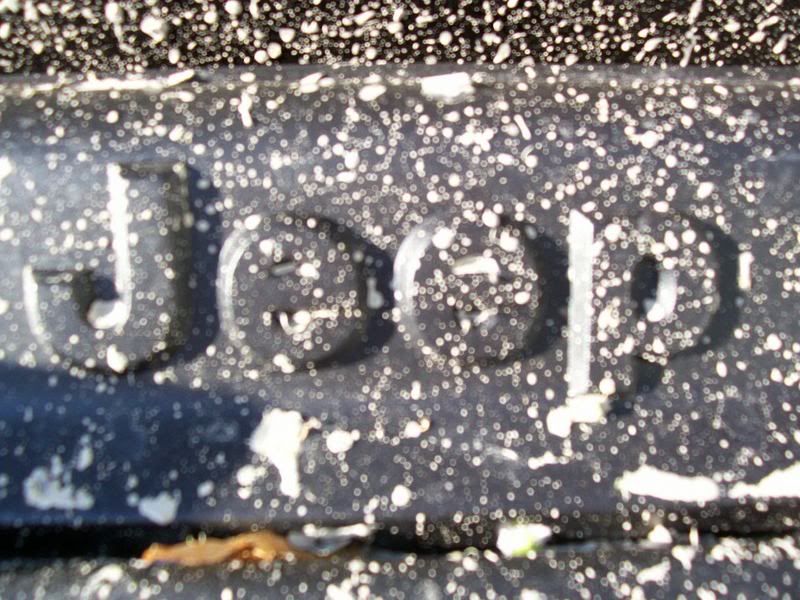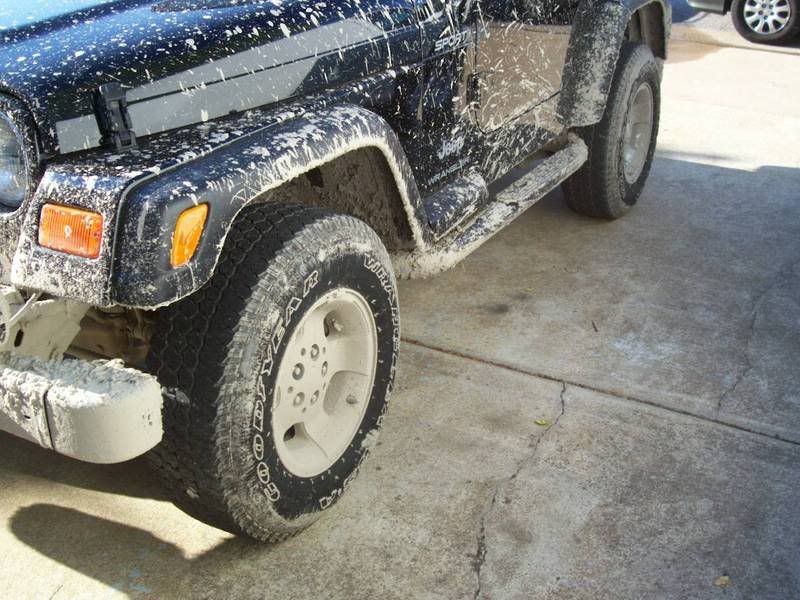 I made my own mirror for when the doors are off, seen here: