Discussion Starter
·
#1
·
In my efforts to restore the doors for my '78 CJ7, I ran across an issue of trying to find some replacement parts for the door glass.
Searching online it seems the little piece of plastic is called the regulator grommet.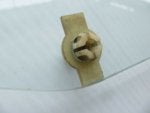 It's the piece that snaps into the glass and allows the regulator slide to attach to via screws.
The ones on mine were pretty brittle and a few of the 'legs' had broken off and after getting my door back together and rolling the window up and down a few times the little grommet broke and will no longer retain itself in the glass hole it snaps into.
Apparently this little grommet is a discontinued part. Still available if you dig for it however pricey. About 25$ apiece
epay
epay
Interested to see if anyone has come up with something that works thats not so costly. TIA