Discussion Starter
·
#1
·
We started talking in Billzcat1's build thread about my grilled food and that I should start a 'Grilled Thread'. I decided that not only do I want to avoid filling someone else's build thread with my grilling talk, I could use some ideas on future grilling.
Usually, I grill 1-3 times a week. I feed as little as myself and my fiance all the way up to a Friday evening's shindig.
I do my cooking on a Chargriller Duo grill - one side gas, one side charcoal. It also has a side burner and will hopefully soon have the smoker attachment.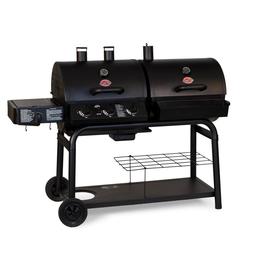 My plan for this thread is to grill some sort of man's feast, take pictures, and do a miniature 'write-up', if you will, for each grilled meal. I plan to link each recipe/rating in the thread below for easy finding in the future - kind of like an online forum recipe book with the benefit of having real hand's on advice/do's/dont's/etc.
Feel free to give me suggestions/comments. I'm always wanting to improve my grilling skills! Also, if you have something that you love grilling, post up the recipe and I'll give it a shot. If you want me to try cooking something as an experiment, tell me your ideas. Charcoal? Gas? No problem. I feel after that note, I should say I don't want this to get ridiculous - none of that EpicMealTime stuff. I'm talking real man food - things you would have on football Sunday, foods you would be proud to say "I cooked that", etc. I'm not going to stuff 5 pounds of brownies inside of an 8 oz sirloin steak, wrap that in bacon, and dip it in Jack Daniels. Nope. That's more of a mess and a waste of money than I care to even think about.
So anyways, let's get to it! :cheers2: