Discussion Starter
·
#1
·
It's Time For The November 2012
:washme: JK of the Month Contest :washme:
08Helotes
Mods: Rough Country 2.5" lift, 285/70/17 BF Goodrich KM2's, Rugged Ridge Grab Handles
Story: My parents purchased this Jeep for me after driving a 1983 Ford Bronco for the first year of having my license. It was a gift for my 17th birthday; it already had 2 owners, and only had 39k on the odo. All stock 2008 "Wrangler X" model, with AC/Heat, and 3.73 gearing. Had donuts on it when we went to see it, but the dealership swapped in new tires off a different jeep on the lot when I bought it. Since then I have spent every paycheck on buying stuff for my Jeep! Upgraded the lift and tires with the summer paychecks, and now I'm working in all of my spare time during high school working when I can to earn some money to spend on the Jeep!
spaschal
Mods: 4" Tuff Country Lift, 35" Toyo MT's, 4.10 Gears, Programmer, AFE Stage II Cold Air Intake, Currie HD Tie-rod and Drag link.
Story: I have owned to TJ's prior to my JKUS. My first rig when I turned 16 was a 98' TJ and that is where my love affair began. I did not have much money for mods in high school so it was pretty mild. However, it would go places my friends lifted trucks with 35 inch tires couldn't. That is why I became a lifelong jeeper. When I totaled my second TJ (rolled down a hill endo… not pretty) I knew that I would have to pick up a JKU when I could.
My JKUS is my DD, I put about 95 miles a day in my commute. Rides great on the freeway but is still a legitimate trail rig when needed. Sorry I have no wheeling pictures to post. I have only had it out three times and each time I was a spur of the moment run so we didn't bring a camera. Yes I have crappy cell phone pictures but I don't want to use them.
This is a clean Jeep. Obviously it is on the mild side compared to some on the forum but that is the way I like it. Because I drive it every day I don't want or need it to look like a hard core rock crawler or desert racer. I'm not a poser and don't want my Jeep to be either.
Thanks for the votes!
awinski
Mods (optional): started bone stock '12. Down & Dirty (local shop) custom Front bumper, rear bumper, rockers, and tire carrier/rear stinger. teraflex exhaust spacers, rugged ridge inner fenders, trimmed stock fenders, RC wheel spacers, cherry bomb exhaust, black rock 909d 15" rims, mickey thompson mtz 35x12.5x15, RK 3.5" x-factor, fox res. shocks.
Story (optional): well it all started with my dads TJ weekend wheeling trips, working on it together etc. then, when he passed the jeep was passed down to me after sitting for years and being in my brothers hands. the frame rails were bent from an accident my bro got in (rear ended) and we decided to trade it in when we realized the rust had corroded more than we thought. (yay brothers who don't do any preventive maint.)
so when could finally make payments my mom bought the JK, and i've been paying her back since, and i will be for much longer. i helped my friend last year rebuild a dodge cummins 1st gen from the ground up, when he finished i jokingly bought him a hybrid emblem, so one day in the shop welding up the jeeps exhaust, he handed me hybrid emblems for mine. so this is the sarcastic story behind the hybrid emblems. her name is tree hugger, thought it went well with the theme. in the future this jeep will have alot more mods, and remain my daily driver.
Walle
This is Dirty Gerty. She is a 2012 JKUS. I purchased her brand new in October of 2011. I started saving up and started building her in April of 2012. I have emptied every pocket, and this is where she is today. Thanks for looking! Cheers!
I am sure I am leaving out some smaller mods and accessories, but here is my list.
Mods:
4" Currie Suspension
Upper and Lower Johnny Joint adjustable control arms
Progressively wound coil springs,
Front urethane bump stop kit
Rear bump stop spacers
rear coil spring retaining kit
Stainless braided extended brake line kit
37x12.50R17 Goodyear MTRs
17x9 Cragar Soft 8's
ANTIROCK® Front Sway Bar Kit
ANTIROCK® Rear Sway Bar Kit
Spiderweb Shade
Front Axle
Dana 44
5.13 Superior gears
RCV Shafts
TeraFlex tuned Fox Racing 2.0 steering stabilizer
Poly Performance Ball Joints
Poly Performance HD tie rod
E-Locker
Custom front axle truss
Currie HD flipped drag link
Balistic Fabrication Diff Cover
TeraFlex Sleeves
Gusset
Currie Johnny Joint front Trac Bar (trussed)
Rear Axle
Dana 44
5.13 Superior gears
Superior Shafts
E-Locker
Artec Truss
Teraflex Monster HD rear trac bar
Rock Krawler Trac Bar Relocation Bracket
Balistic Fabrication Diff Cover
ACE sliders
ACE stubby front bumper with stinger
ACE Rear bumper w/ tire carrier
ACE Narrow fenders
48" Hi-Lift jack mounted with Jeep Swag mount
aFe CAI
aFe throttle body spacer
aFe y-pipe
aFe hi-tuck exhaust
Cobra CB with Firestick
sPOD
All these pics were taken prior to the axle swap and lift swap from the RK 2.5" max travel to the Currie lift this week.
ArticRubi
I found this JK in August 2011, it's a 2008 and it had just 8,500 miles on it. Beautiful. I've always had go fast cars and full sized trucks but as soon as I took this thing off road I knew I was hooked. Build started very soon after with several suspension variations, and one regretful initial wheel and tire combo. I taught myself to weld on this heep and have continued pushing my limits both in the shop and on the trail. She is mostly a trailer queen these days, but still gets plenty of seat time as I usually schedule runs 2 or 3 times a month. We love getting out for a long weekend of camping and wheeling! I have her in the shop now currently undertaking a pretty significant project, hopefully I'll be finished in time to enter a JKOTM by next wheeling season!
Drivetrain:
* RIPP Gen II Supercharger
* RIPP Long Tube Headers
* Hushpower resonator
* Woods 1310 double carden drive shafts
* Front Axle: Dana 44, 4.88's, RCV's, Reid Knuckles, Synergy ball joints, Currie 1 5/8" 4130 tie rod, sleeved, gusseted inner knuckles, trussed
* Rear Axle: Dana 44, 4.88's, Ten Factory chromo shafts, trussed
Suspension:
* Rock Krawler 3.5" 3-link long arm front and rear
* 12" travel 2 5/8" RK coilovers front, 12" travel 2" RK emulsion shocks and 3.5" linear RK springs rear
* Homebrew bump stop brackets with Daystar 2" urethane bumps
* Synergy HD track bar brackets
Rolling:
* 37x12.50 Maxxis Trepador Competition Stickies
* 17x9.5" Spyderlocks @ 3.5" backspace
Armor and Recovery:
* River Raider full corners with ORO's
* River Raider sliders
* River Raider front tube fenders
* River Raider skids
* PSC Rock Brawler front and rear bumpers
* Synergy weld in roll cage
* Warn 9.5cti winch
* Cheap-o Uniden CB with a Firestick
Others:
* Wild Boar Fastback hard top...basically sits in my garage, it's way too nice for me
* Bestop soft doors
* Bestop bikini top, ripped to hell with smashed door surrounds. It's not a functional slider.
* Kenwood head unit so I can rage on the trails
JKashat
2012 JKUR (Dual Top Group, Loaded)
-Mopar ½ Doors (w/ Power Locks & Heated Mirrors)
-DieTech Mirror Relocation Brackets & OEM Mirrors (for going Doorless)
-AEV Gen2 Snorkel
-Airaid Intake
-AEV 4.5" Dualsport RS Lift
-37/12.50R20 BF Goodrich Mud-Terrain
[email protected]
-20x9 HRE TR45
-AEV Premium Front Bumper
-WARN 9.5cti-s Winch
-AEV Rear Bumper
-AEV Heat Reduction Hood
-JW Speaker 8700 EVO Headlights
-Rallylights SMS HID Harness
-JW Speaker 6045 Fog lights
-Nemesis Industries Fog Light Mount
-20" Rigid Industries E-Series
-50" Rigid Industries E-Series
-Poison Spyder Rigid Industries GEN2 Mount w/ Light Tabs welded
-(2x) Rigid Industries Dually D2
-Teraflex HD Hinge w/ Tire Carrier
-AEV CHMSL 3rd Brake Light
-In Pro Car Wear LED Tail Lights in Bermuda Black
-(2x) Rigid Industries SRM-2
-Rigid Industries SRM Tail Light Mounts
-TNT Customs Rock Sliders w/ Aluminum Boatside Panels
-Poison Spyder Evap Skid
-AEV Rear Diff Slider
-sPod w/ The Source
-AEV F1 Leather (Black w/ Silver Stitching/Trim)
-Altitude Edition Piano Black Interior Trim Pieces
-Cobra 75WXST
-CoolTech, LLC Ultra mount
-DirtyDog4x4 Sunscreen & Netting
Mschneid
3" BDS lift with 3/4" spacers front and rear
285/75/17 BFG M/T
Warn front Rugged Ridge rear bumpers
Level 8 5 spoke wheels 17x9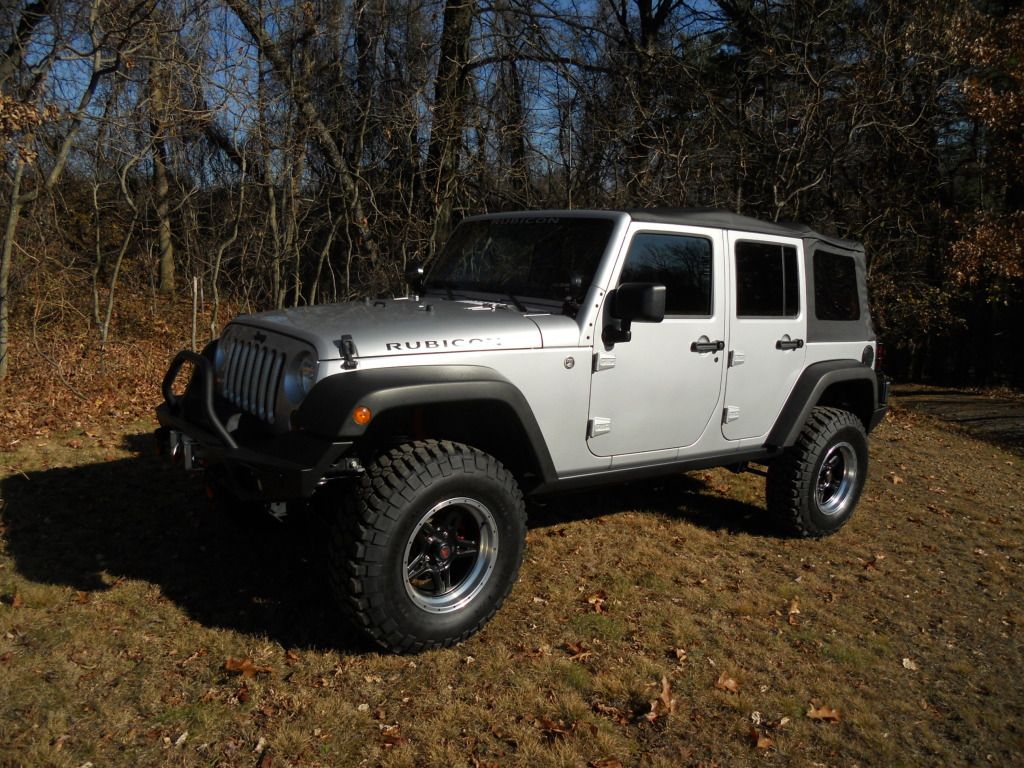 Good Luck Everyone
opCorn:​