Discussion Starter
·
#1
·
so hopefully im putting this in the correct area... but here it goes, i was asked to do a write up of my alternator powered welder on my jeep.
i apologize ahead of time if its difficult to follow this is my first write up
things you'll need
1. alternator (must be externally regulated, such as the ford alternators.) i used one out of a 1981 cougar with the 5.8l v8. its best if the output of the alternator is 70+ amps mines 110 amps
2. some thick gauge wire (2 or 4) will work
3. some thinner wire. just to excite the alternator (must be detachable, you dont want to leave plugged in while not in use)
4. a way to mount the alternator in your engine bay (home made brackets work)
5. extra pulley (or if you can bolt it on your belt where it fits thats great too)
6. belt (once again not needed if it fits somewhere on your stock belt)
7. a stinger to hold the welding rod (or you could use jumper cables, stinger is best)
8. a way to adjust engine rpms without pedal.
i know it sounds like a lot but really its not as much as it sounds. i dont have pictures of me installing it but i have them of it finished so ill try to walk you through it
this picture shows the mount that holds the alternator on the frame, it was made from metal that i had laying around. i cut 2 right angles out of it, welded them onto the frame 3 inches apart, drilled holes in em and mounted the alternator on top.
since my system is used only when needed i made things easy to disconnect. alternators become more difficult to turn when you draw power from them, and since welding takes quite a bit of power you'll need a way to tighten the belt so the alternator doesnt slip, i used a ratchet strap hooked on to my frame on one side and the other end on a bolt going through the alternator.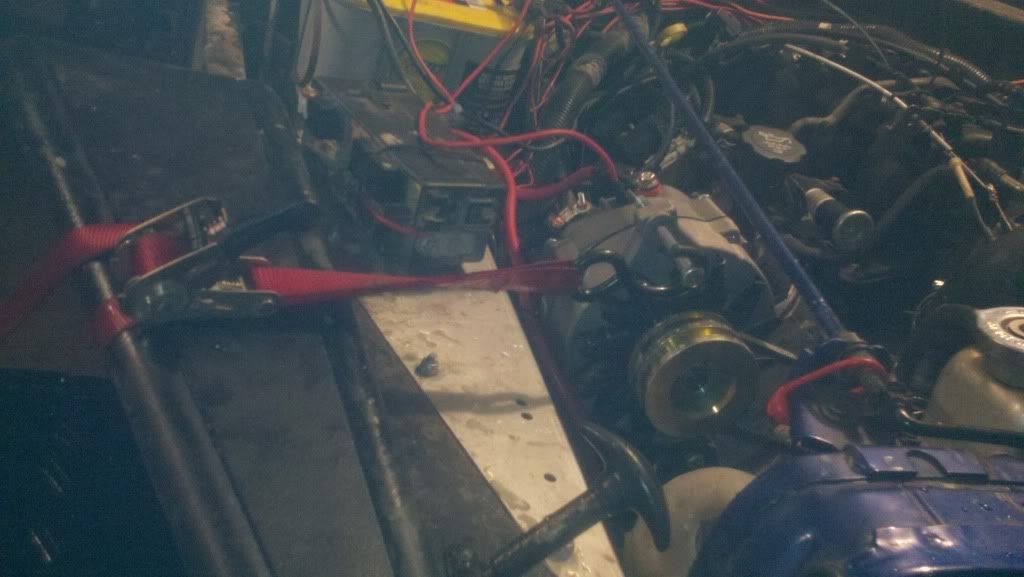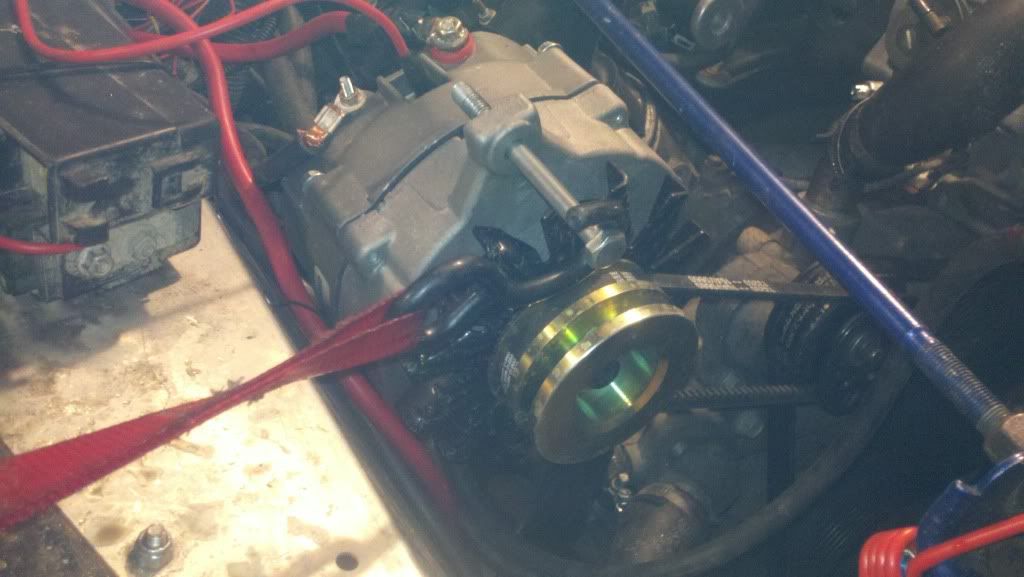 you'll have to excuse my wiring (the v8 swap isnt fully completed) but the red wire up on top here goes directly from the battery's positive to the field terminal on the alternator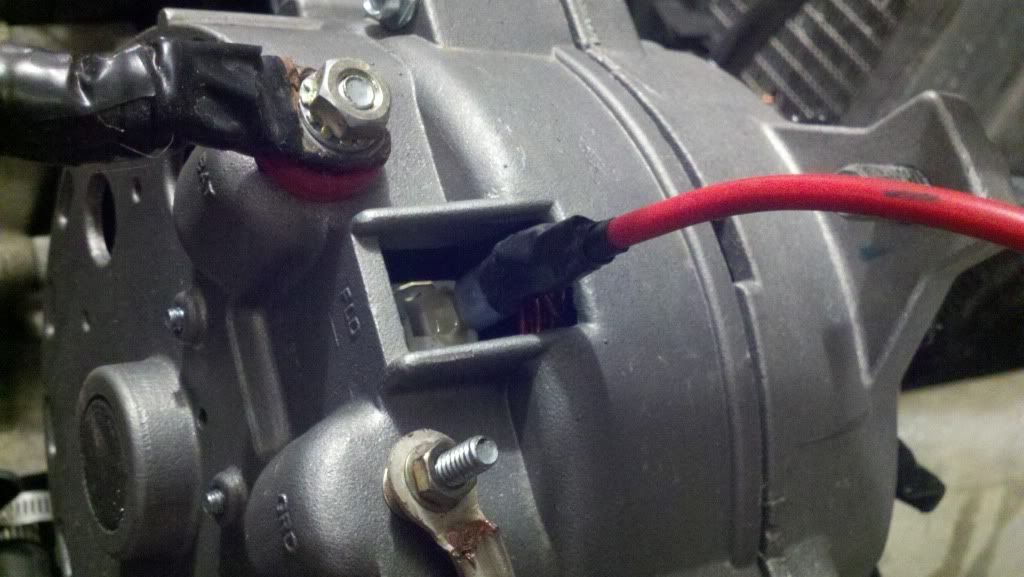 the red and black wires coming of the alternator will be your direct ground and positive. obviously black is ground and red will go to your stinger.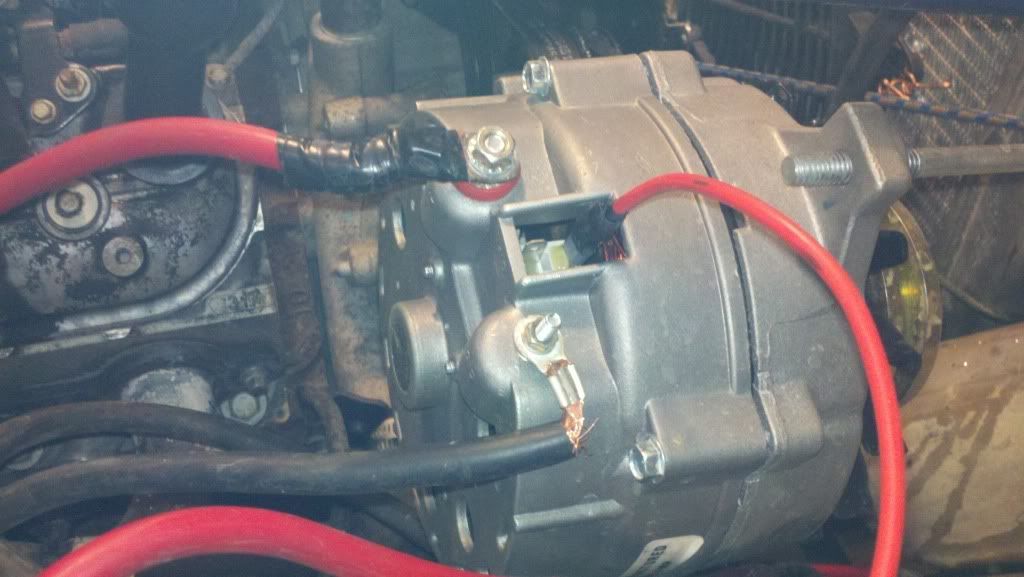 this is a bad picture but you can see where that red and black wire lead. the front of the grill where i clip my leads onto.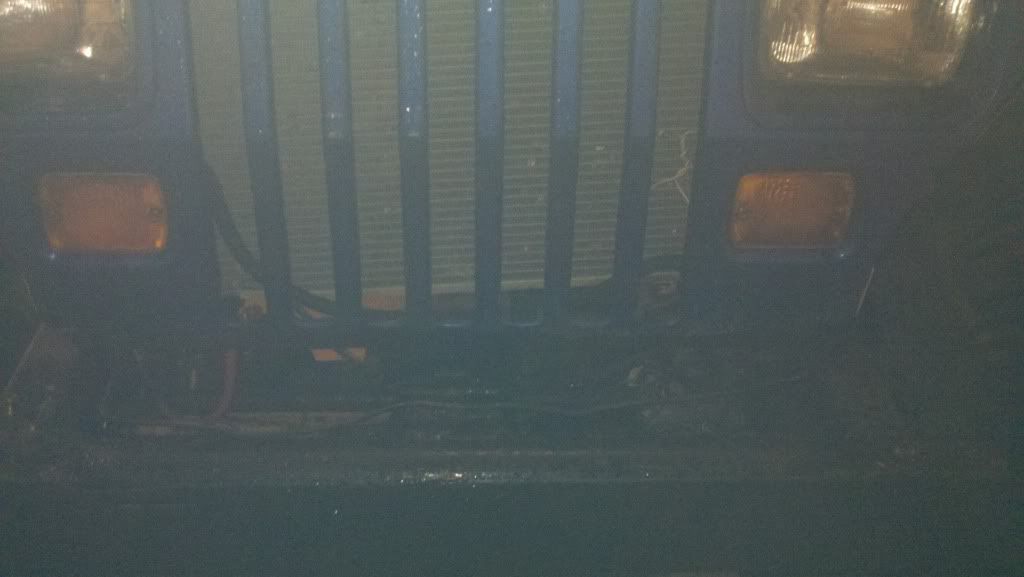 and there you have it. your alternator welder is complete. time to try it out.
the way i have things work is i use a set of jumper cables clipped onto those wires coming off the alternator, then i clip the positive of the jumper cable to my stinger and the negative continues to be the ground.
heres a quick video of it working. please i dont need a lecture on proper welding equipment, i made the video spur of the moment and didnt have my gloves/mask with me. and yes my eyes were closed i just wanted to show that it works.