Discussion Starter
·
#1
·
The July 2012
:washme: JK of the Month Contest :washme:
Starts Now!
Pghchamp
Hey, I'm Remo and this is my 2010 JK Sport. I purchased this in May 2010 with the intent to have some fun and explore. I have always wanted a Wrangler since I was young and couldn't be more happier with my purchase. I only have minor thing done it now, just waiting for the day when it's paid off to do some serious mods.
My current set-up:
2.5" Rough Country Budget Boost
JKS Quicker disconnects
16x8 ProComp steal wheels
35" Maxxis Bighorns
OR-Fab front Stinger bumper
Olympic BOA back bumper
XRC-8 Winch
Smittybuilt Flat Fender Flars
Garage pro Tail light guards
Demonangel
2in spacer lift, Smittybilt Tube Bumper, 31in BFG MT's, AFE silver bullet TBS
alexkemple
Engine: AEM Brute Force CAI, Truck Tough 240A High-Output Alternator, MBRP Offroad Exhaust
Suspension: Custom built TerFlex 6" Short arm kit with full FlexArms, built off of their 4" kit, TeraFlex Monster forged front and rear trackbars
Drivetrain: J.E. Reel 1530 Canyon Crawler driveshafts, G2 5.38 axle gears, custom re-built kevlar and billet racing transmission, G2 chromoly axle shafts
Bumpers/armor: Mopar Off-road bumper (custom cut to a stubby), Rugged Ridge XHD Rear with tire carrier (chopped for clearance), M.O.R.E. Evap skid, OffCamber (MBRP) Rock slider rails
Lighting/electrical: Truck-Lites 7" round headlights, Rigid industries Dually (A-pillar and stock fog location), IPCW Led Tail lights, 2 15" Lanzar OptiDrive 1532D subs on a 10000W Absolute amp, Rugged Ridge dual battery tray with 2 Optima red tops, Led entry lights, Green led "fun" lights, Cobra 29 Lx Le CB radio, custom built army green 6.5" speaker door enclosures
Recovery: Warn 9.5ti with 100' MasterPull synthetic line, Hi-Lift X-treme jack, Bubba rope, and a shovel
Tires: 37X13.50R17 Toyo Open Country M/T on 17X8.5 Method Race wheels
Other: Tuffy security tray, Tuffy overhead console, MasterCraft 5-point race harnesses, TrailMods fenders (they're coming off in the next week and being replaced with Poison Spyder Crusher flares), fire extinguisher
I got this Jeep 2 years ago... I have wanted a Jeep ever since my mom's best friend pulled up in his CJ7 when I was 8... He recently died unexpectedly and I began modifying anf upgrading the Jeep to do the same things that he told me stories about... This Jeep is a tribute to him. Thank you Mark Holland for the inspiration!
SirWinston
Teraflex 2.5" BB.Skyjacker HD SS,Synergy Suspension SS mount
35x12.50x17 Goodyear MT/R's with Kevlar, balanced w/Dyna Beads,Cragar soft 8's, 2 Windshield mounted PIAA 510's, 2 Bumper mounted PIAA 520's, DIY CB antenna mount, DIY flat fenders, DIY Evap Canister Skid, Bed lined rockers, Rubi rock sliders, Cobra 19 DX IV CB radio, 3' Firestik Antenna, PA system, DIY switch panel, Stubby bumper, Pavement Ends rear bumper, Riddler D30 Diff Cover, Riddler D44 Diff cover, IRO D30 Sleeve Kit, Sierra 5.13's, PSC Tramp Stamp, ORO Lite Plate, Flowmaster Super 44, Northern Tools rear tow hook,Mesh grill inserts, Pavement Ends Sun Cap Plus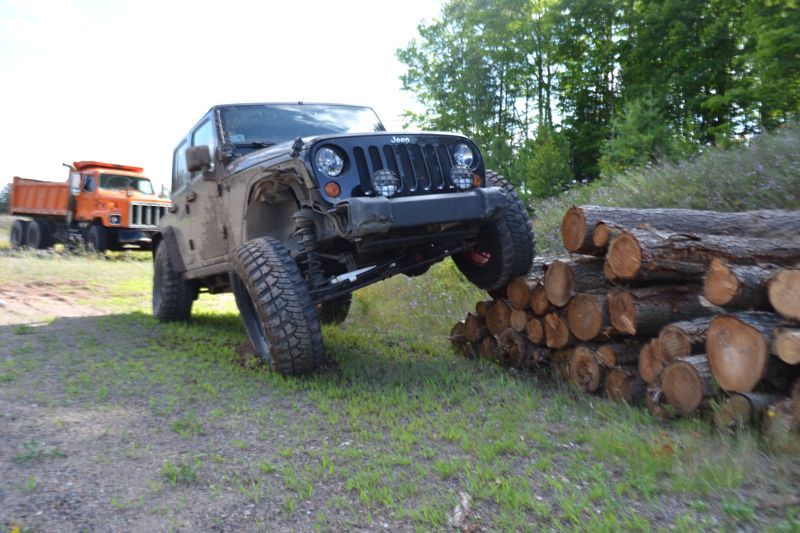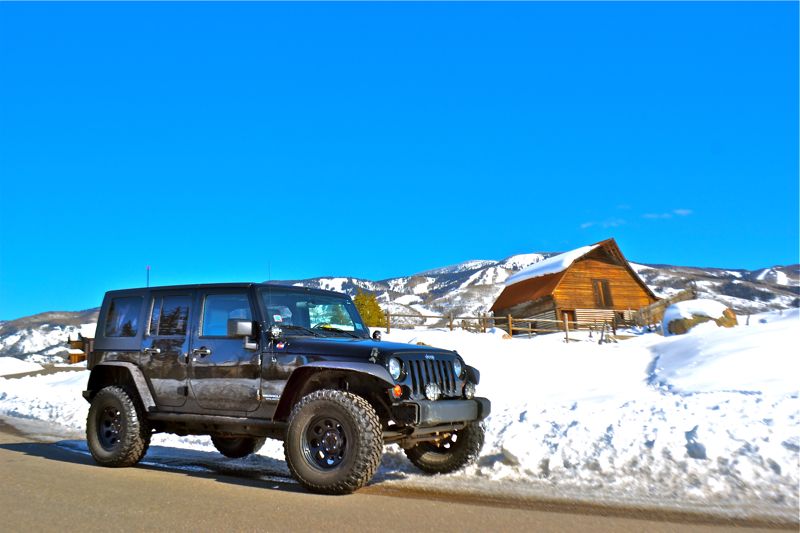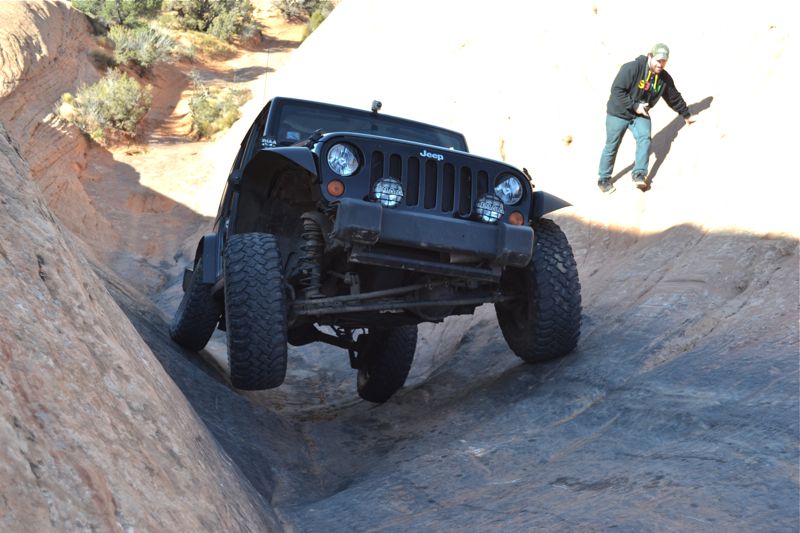 GeckoFun
* Matte Black Jeep Emblem
* Black Billet Aluminum Grill Inserts
* LED Rear Lights with Nite Shade
* LED Brake Lights with Nite Shade
* Nite Shade Front Signal Lights
* 18 Inch GSF-X Matte Black Wheels
* 275X65X18 Goodyear DuraTrac Tires
* Tinted Windows
My story is a bit off the wall on why I chose this particular car. My 3 year old son has Autism and his favorite thing in the world is an iPad, his iPad is named Bob, and so he doesn't damage Bob as he is running around all day, we got Bob big rubber foam case, which happens to be a flourescent Green - which also just happens to the same color as Gecko Green! My wife was against me getting the Jeep, so I made her come with me to the lot, where amongst the never-ending sea of black, silver and white Jeeps...there was 1 Gecko Green unlimited. I told her to look in that direction..."There it is...it's Bob's Car". From there she was sold. Not exactly the story of wanting to get a Jeep to climb over rocks, but it puts a smile on my son's face who goes through so much every day that it was worth it. On a side note, since then, Bob's car has needed black wheels, big tires, and a bunch of other stuff. That was not as easily sold on my wife - she will just have to get over it, Bob is selfish at times.
Better late than never!
Another great pile of JK's
opCorn:
opCorn:
opCorn:
​