Discussion Starter
·
#1
·
**
Note:
some pics thru-out this thread may not show up. The hosting company
(imageshack)has problems
and since they started charging for what was once a free hosting site for years, if you don't pay they make access really slow. (EDIT 3 years later, now
Photobucket
is doing the same thing, which is where most of the pics are at)
I don't recommend using either pic hosting site anymore.
So my apologies. It's too many pictures to change at this point in the game but I have changed alot over to JF, but it's getting to the limit here. If you see a 4-digit number there shouldv'e been a picture with it.**
Well I guess I'll start a thread on my build, that seems like the thing to do around here. Must be a lot of Jeep owners around here for some reason?? So the specimen for this dissection and rebuild journey will be a 1982 CJ-7 Slate Blue Renegade w/ a hardtop. I'm the one and only owner of it and I took possession of it on April 9th 1982 w/ 4/10ths of a mile on it, where I ordered it from a dealership in Myrtle Beach S. Carolina. I was stationed at Marine Corp Recruit Depot, Parris Island which is about 3 hours below M. Beach where my sister lived. She knew the salesman at the Jeep dealership. I paid $9,317 for it but it had a sticker price of $10,610. Notice my first car, a 1960 Corvair!
60 minutes would love me :rtft: Current mileage =138815, which isn't accurate due to larger tires. Probably closer to 145k.
[should be a picture here w/ Corvair]
[pic]
[pic]
So 7 months later I got orders to go overseas for a year and had to put it up on jack stands for my time away. That was to preserve the tires mainly. I stored it in my cousins garage and he started it up periodically over the year. It was like leaving your best dog. They had a dealership (minus the cars) on the main Air Force base there and they had a new grey 1983 Cj-7 Renegade hardtop setting there as more of a promotional "here, buy one of these cheap and have it waiting for you stateside" display. I used to go there and just sit in it any chance I got! A real Jeep in Japan, who'da thunk it?
When I got back my next duty base was Camp Pendleton in sunny Southern California, the mecca of a then booming off-road industry. My Jeep was comin' along for the ride. Needless to say, for the next 2 years I was in Jeep and Jeep parts heaven. A few of us formed an off-road club on base and each month a different guy would plan a trip for us. It wasn't limited to just Jeeps… just Marines. I was hooked for life. That 2 years was some of the best in my life and had I been there 7 more months the plan was to go on the Rubicon. But instead we were headed back to the great state of Pennsylvania.
This pic is from the 1985 Hi-Desert roundup sponsored by the CA4WDCinc at Los Coyotes Indian Reservation and if I recall, that line was 119 vehicles long!! ....or, the more I think about this, maybe it was 100 vehicles and I was 19 from the front. It's something with those numbers.
[pic]
It was 1985 then and we still had many choices for getting off the beaten path, but as I'm sure like everywhere, they slowly got gated, closed off, or timbered out. The Jeep was then somewhat stock looking which is the look I like, and I'm the only one I really have to please. She was sportin' Armstrong Tru-Tracs and chrome spokes, an 1 ½" add-a-leaf and Con-Fer 1 3/8" shackles, Cepek Baja Lazers mounted on the windshield and KC foglights on the bumper, tow hooks all around, a K&N filter and a Jacob's Elect. Coil. All the pollution garp was taken off before heading to SoCal. Oh, and those dang 2.73 gears that came stock; a major oversight in my hurry to own a vehicle I'd wanted for many years.
[pic]
Here with Cepek Mud Country's, a poor wearing tire!
[pic]
Wow, is this narcissistic of me to give such a detailed history?
I just figured not many can say they know every thing ever done to their rig or have had it for 30 years and thought some might find that interesting. Some folks like to have more than pics, give me a break…. Well, that and I think it will be neat to record this for my kids and grandkids. One of the driving factors for this rebuild is to make it last another 30 years and then some.:thumbsup: While of course improving things and making it safer. As you all know, driving a short wheelbase Jeep does take a certain skill.
So if I come off as conceded, just move ahead to the rest of the build. That's not my intent.:nono:
This will be it's 30th anniversary gift to… well me!:cheers2: I redid the body back in 1996. Cut out all the rust spots and covered the tub with Zero-Rust primed metal panels from the front of each door back to the tailgate and replaced both the windshield (with another metal one) and the rear hatch (fiberglass). The panels were fully welded on. I patched the floor with welded steel under the roll bar and a riveted panel at both feet areas. Then Bondo'd, Tiger Haired, primed and painted it in pieces. The tub and fenders were never removed. I couldn't find blue OEM replacement Renegade decals so I got 1" pinstripes in 3 different blues and had a "Renegade" decal made up that was similar. This time they are available and I will have me a set. I like that original factory look, but with my own added style. I was never one for show but I always kept it looking good to me. I'm the only one I care to please so it's always the best looking Jeep to me. I think that was a 4 or 5 month project and I got it finished the day before the first snowfall in October 96.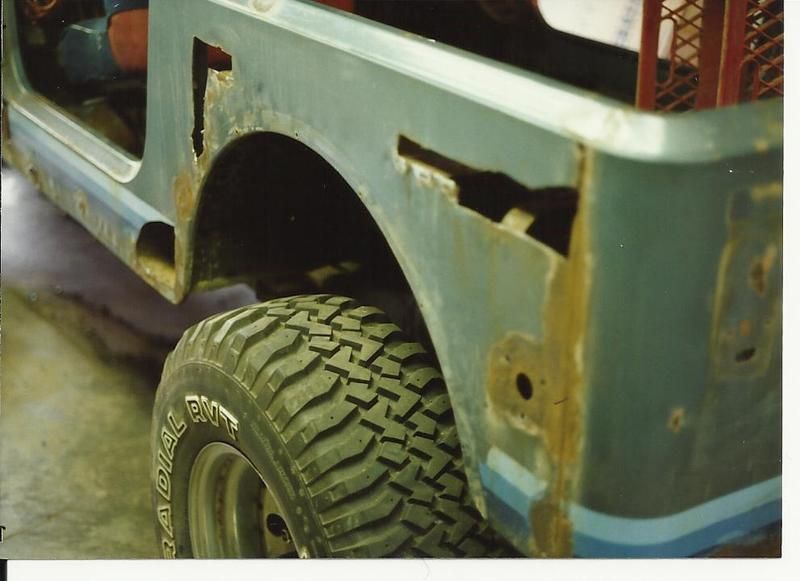 [pic]
[pic]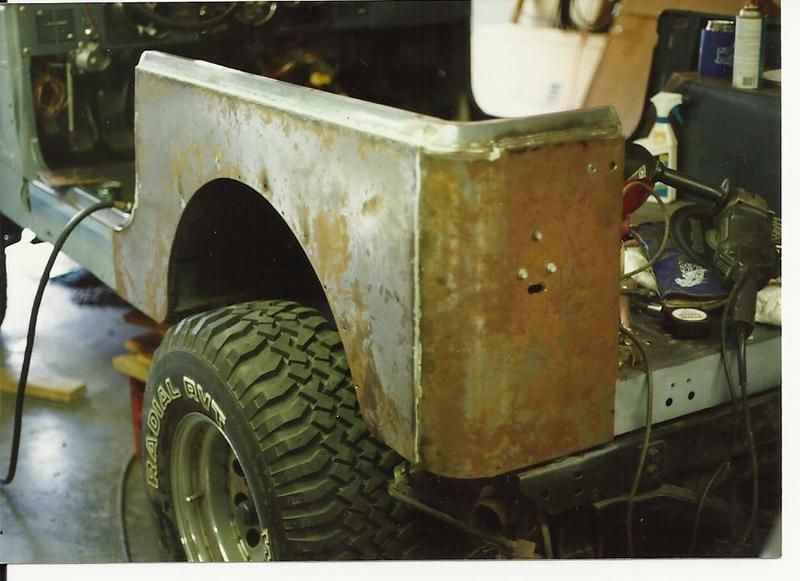 [pic]
[pic]
Two or three years later I put on all new suspension parts (R.C.) 2 ½" springs and kept the shackles, and the next year added new gears (3.73) and a TracLok in the rear which replaced that noisy LockRight. Oh and 33x12.5 from my wifes 84' CJ-7 that she just sold.
(edit: this picture isn't showing up now for some reason)
[pic]
So let me end this post and get to the build stuff.:thumbsup: I've been researching, planning, reading, makin' a list, gathering prices, reading, calling manufs., collecting parts, reading, tying up other projects around the house, dreaming, and did I mention reading? I don't have a deadline but I'd like to have it done by July. As picky as I am though it may be much longer. I'm a slow typer and believe pictures speak a thousand words, so some days it may be just some pictures to show progress. Funny how the older you get the faster the days go by!