Registered User
Join Date: Aug 2008
Location: ny
Posts: 183
Registered User
Join Date: Aug 2005
Location: Wichita, Ks
Posts: 758
Check Springtail Solutions, they make a rack that attaches to the tailgate and utilizes Nylon bags with the Molle attaching system. I have one on my tailgate and I am extremely happy with it. You can configure the arrangement of bags on the tailgate any way that suits you. You can also utilize Quickfist clamps to hold shovels, tow straps, etc.
Registered User
Join Date: Jul 2010
Location: Minot
Posts: 259
i cant bellieve the price for some stuff on quadratec lol.


i would worry that something like that would actually limit your storage space for larger items...
Registered User
Join Date: Aug 2008
Location: ny
Posts: 183
Registered User
Join Date: Jul 2007
Location: Bakersfield, California
Posts: 1,952
can always make a box like my sub and add a door.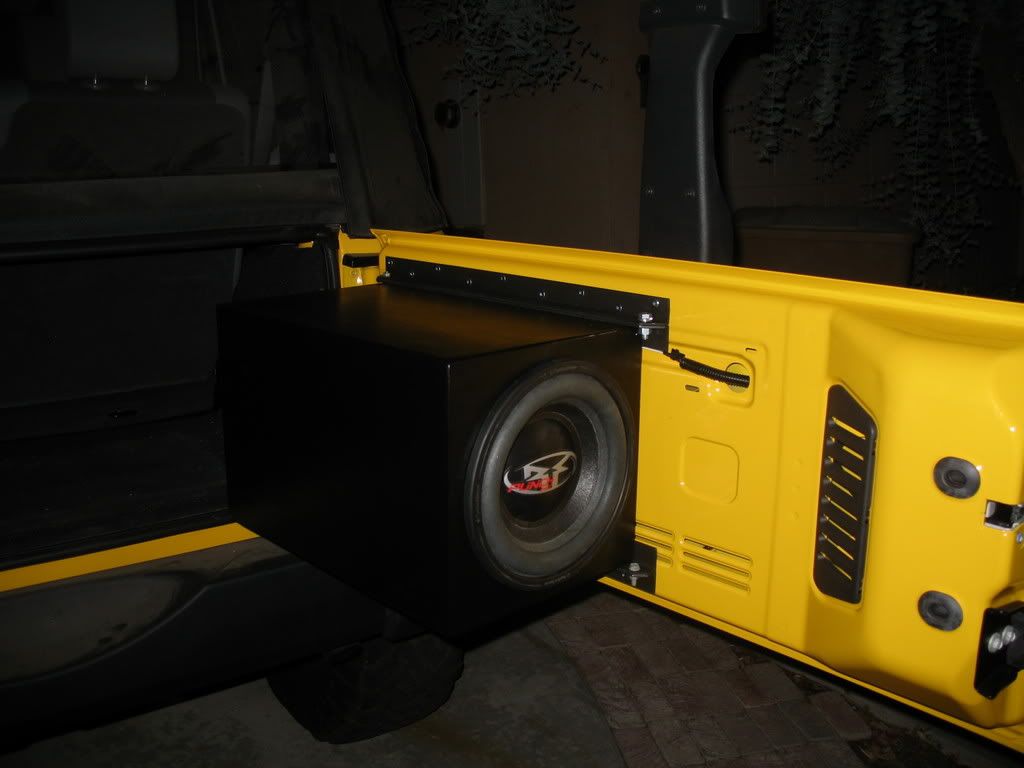 I made it removeable with 4 bolts and have been considering making a table for a stove or something. One thing to watch for, atleast if you have a 2 door with the back seats in is the amount of space you have after its closed. Easy to smash things when closing.
The way I made this with the heavy brackets and self tapping screws has also strenghtened my tailgate welds and could be a reason I havent had any problems with my heavy spare tire.
---
07 JK 2D X model with 6 speeds. Full Traction 3" ultimate lift kit. 315x75x16 Toyo Open Country M/T on Rock crawler procomp rim. Ruby dana44's front sleeved inside/outside C truss and rear with 5.13's gears. Homemade rock guards, rear bumper w/tire carrier, oilpan/tranny skid, evap canister skid, light bar, switch pod. Riddler diff covers, Cobra 75 w/wilson antenna, Polk speakers, 10" sub, 2x Amps, Lightforce 240 drive light, backup lights, rock lights.
Registered User
Join Date: Mar 2010
Location: San Francisco, CA
Posts: 135
SmittyBilt make a similar one, just cheaper:
G.E.A.R. Tailgate Cover - Smittybilt
I think 4wd is having a sale with them too, or they were, buy 2 front seat cover carriers, get the rear free.
Registered User
Join Date: Apr 2010
Location: sussix county NJ
Posts: 522
someone, hope they post for you, added "storage chest" in floor right by tail gait. Can't remember who.
Registered User
Join Date: Oct 2009
Location: Charlotte, NC
Posts: 775
I like the Mopar Add A Trunk. I got one used for $60 on eBay ($200 retail)
---
2008 Jeep JK X: auto trans, 3.73 gears, D44 rear, D30 front
Mods: 2'' Rusty's coil lift, Superchips 93 octane tune, Cobra 75 CB radio, 33'' Duratrac's, onboard air compressor
My Build Thread! ---> https://www.jeepforum.com/forum/f96/dronacs-build-thread-1104134/
Currently Active Users Viewing This Thread: 1

(0 members and 1 guests)
Posting Rules

You may post new threads

You may post replies

You may not post attachments

You may not edit your posts

---

HTML code is Off

---