Registered User
Join Date: Oct 2006
Location: Boulder, CO
Posts: 369
Can you do some close ups of how it is mounted? Inside and out?
Quote:
i got one of these off ebay, made a couple aluminum cross bars to bolt it to the existing roof rails perfect length for a TJ. its the long version of a rage roof rack. people say it looks cheap but its strong enough i can grab ahold of the top rail and use that to pull myself up to the top of my jeep and stand/ walk around on top
i think i paid just over a hundred for it.
Attachment 1763682
Attachment 1763690
Attachment 1763706
---
2006 AEV Unlimited Rubicon. Silver. 6-speed. 255/85R16. OME ZJ/LJ. Nth TT. Alloy Shafts.
Registered User
Join Date: Jan 2010
Location: Ct
Posts: 87
Quote:
I want to do this but here in PR all the junkers want to sell me a 00-01 ford explorer rack for $100-150 all beat up and used.

Can this be done with another rack? Jeep cherokees look like they have a similar flat rail system and rack??
Yes, Cherokee rack width is perfect, just cut tracks to length with hacksaw and bolt down. Tracks are nice and flat and blend in with top nicely.
Registered User
Join Date: Jan 2010
Location: Puerto Rico
Posts: 41
Thats great to hear. Any idea what year I should be checking on the cherokees?
Registered User
Join Date: Jan 2010
Location: Ct
Posts: 87
Don't remember what year...mid 90's? I think they were the same for a long time
Registered User
Join Date: Nov 2013
Location: Lee
Posts: 201
snagged the roof rack off my daughters wrecked 2004 Mazda Tribute, lined up just fine but no pics or haven't used it yet
Registered User
Join Date: Jul 2010
Location: Saint Petersburg
Posts: 1,244
Registered User
Join Date: Jan 2016
Location: San Francisco
Posts: 15
Registered User
Join Date: Sep 2013
Posts: 1,805
I went to a Pull-n-Pay and found two roof racks from mid 90's XJ's. $24.48 each and now I have four crossmembers.
Could have pulled racks from later XJ's or even GC's.
Some GC's use the same rack rail as the mid 90's XJ's but they are spaced narrower so the cross bars are shorter.
I would have preferred the rails from a late 80's XJ but none were there. They are a different system and mount more flush than the ones I pulled.
So I need to narrow the cross bars a little so the rails are just outboard of the outer most ribs on the top and decide if I want the full length of the rail or shorten them one or two mounting holes. I chose the wider width because I may want to put in a sun roof.
From the rear:
From the front: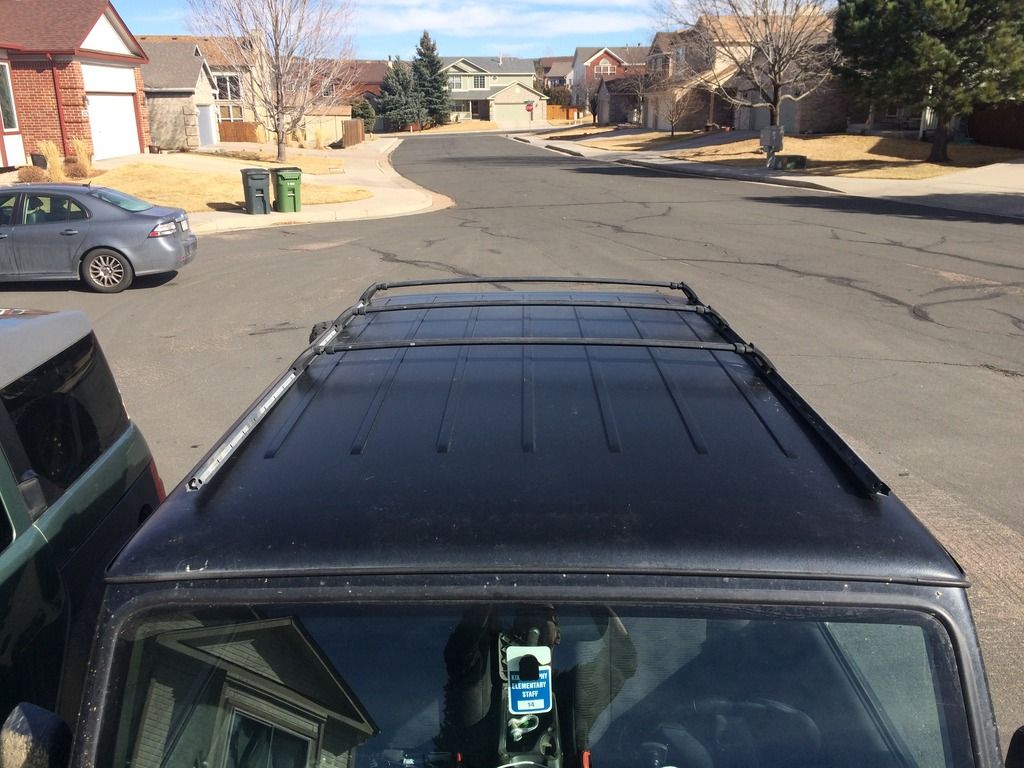 From the side: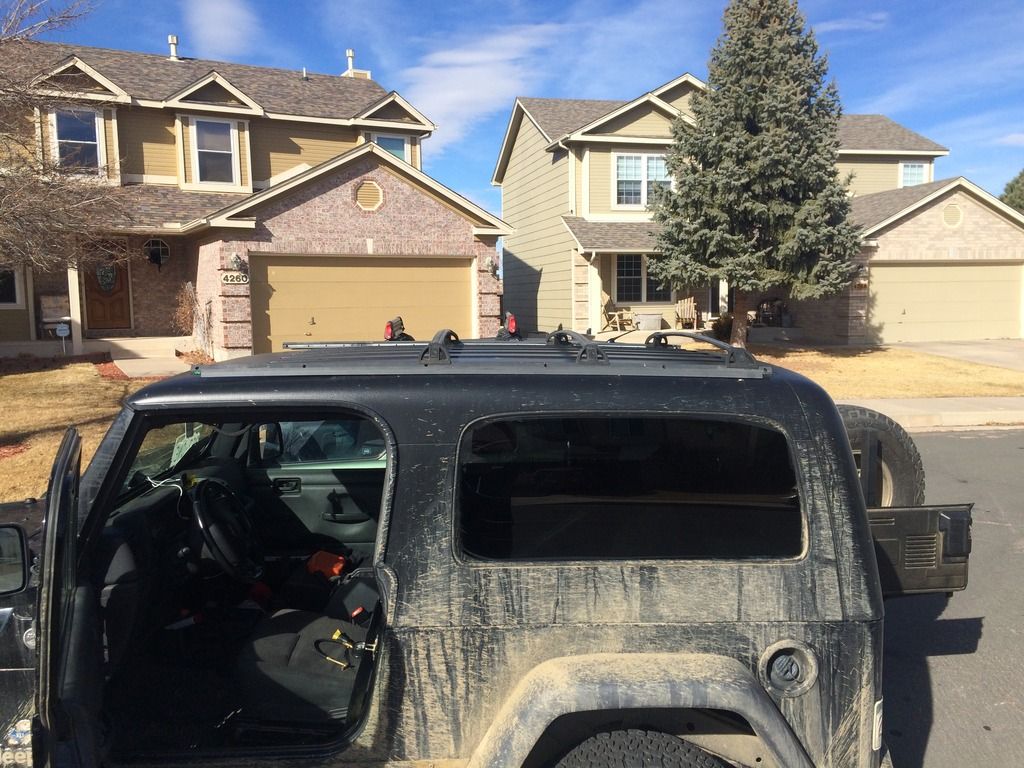 A JF user pic of a sunroof. You can see where the rails being outboard of the outer ribs would be good if I keep the full length of the rail.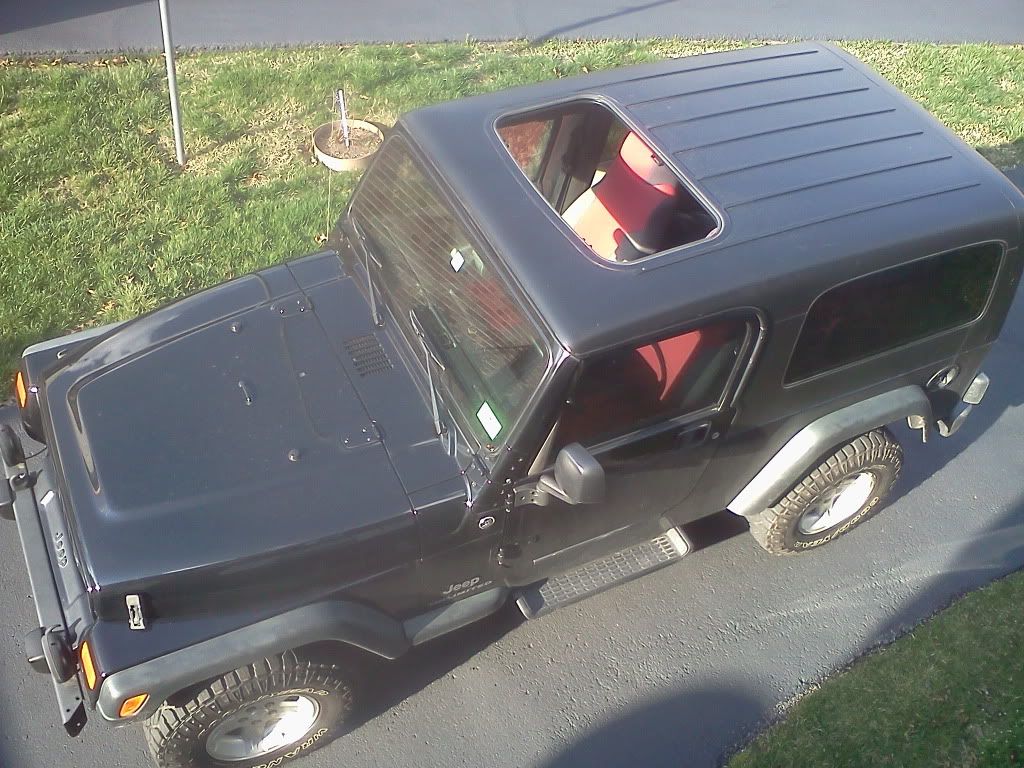 ---
Colorado Jeep Club Member #667
Currently Active Users Viewing This Thread: 1

(0 members and 1 guests)
Posting Rules

You may post new threads

You may post replies

You may not post attachments

You may not edit your posts

---

HTML code is Off

---