Registered User
Join Date: Dec 2016
Posts: 28
Ion Alloy did holes cracking
---
I just discovered tonight, that three of the five series 186 Ion Alloy wheels on my 06 LJ have developed cracks on the inner side of the stud holes.
I've always been very conscience of how I remove and tighten the lug nuts when I rotate my tires. The first time I had them off to rotate, I was concerned about the thin area on the inner side of the stud holes, and made sure that I aligned them properly before tightening.
Tonight when I took them off to do my five wheel rotation, I was cleaning the stud holes and noticed the bulge and cracks.
Now I'm a little concerned about them being safe to run on.
Sent from my Pixel 3 XL using Tapatalk
Crazy spell check, used did instead of stud

Sent from my Pixel 3 XL using Tapatalk
Disturbed Jeepaholic
Join Date: Aug 2006
Location: charlottesHELL
Posts: 41,467
Looks like a one size fits all wheel. 10 holes for 5 studs.
I would have ditched those when I bought the Jeep.
---
Quote:
Originally Posted by
jeepinmichguy_
View Post
TheBoogieman is a jerk.
2003' Rubicon/Zone 4.25" combo lift with Rancho RS5000X shocks/ Zone hydro shocks/5.13 gears/35" Mickey Thompson MTZ P3 tires/Black Magic brakes. Jeep #17 & 19.
I didn't realize they were like that when I bought them. Didn't find out until I rotated them the first time. It's a very weak design for sure

Sent from my Pixel 3 XL using Tapatalk
Registered User
Join Date: Dec 2004
Posts: 10,469
Do they fit over the hub flange ring tight? I see no other way those holes could flex out like that other than a gap at the hub flange.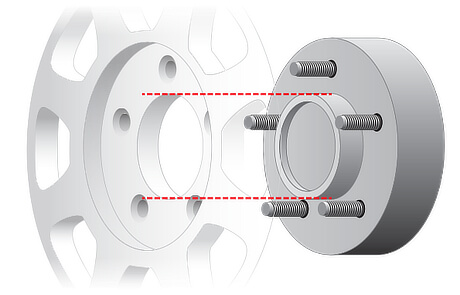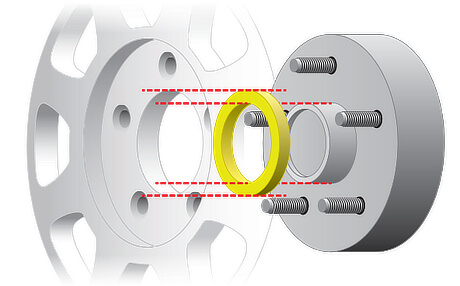 credit for the pics and link..
https://www.discounttire.com/learn/h...vs-lug-centric
Web Wheeler
Join Date: Jun 2007
Location: Denton County, TX
Posts: 10,127
I'd consider getting a used set of stock alloy wheels off Craigslist, etc.
---
I am multi-talented, I can talk and piss you off at the same time.

jhanna
denton county, tx
There was space around the hub, guess I didn't even think about some sort of sleeve to fill the gap. I've already wrote them off as a lesson learned and ordered a new set of pro comp series 31 from Quadtek this morning. I'm kinda new to the whole custom wheel stuff, even though I've been a shade tree mechanic my whole life (I'm 62 now) I've always dealt with factory wheels. But since buying my first Jeep (the one these wheels are on, 2006 LJ) I'm learning.
I just picked up another Jeep last week. 2013 10th anniversary Rubicon unlimited. I just finished a cheap mammoth 2 inch front leveling spacer lift tonight and added new Fuel wheels and 33 inch BF Goodrich KO2 . I've got more improvements on store for Rubi but have to save up some money.
I appreciate all the responses, I usually read this forum at least every other day and always find something useful.
Thanks
Sent from my Pixel 3 XL using Tapatalk
Currently Active Users Viewing This Thread: 1

(0 members and 1 guests)
Posting Rules

You may post new threads

You may post replies

You may not post attachments

You may not edit your posts

---

HTML code is Off

---