Registered User
Join Date: Sep 2017
Location: Los Angeles
Posts: 189
Carter BBD Idle Screw Identification
---
For those working on setting the various idles on their BBD Carter Carb, here's an ID of all the screws and their AKA's that I've found listed in all the different descriptions of how to set these.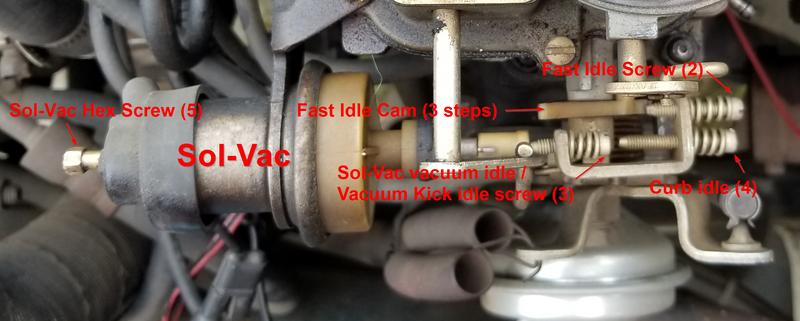 Here's my California emissions sticker with settings for my 1984 CJ-7.
NOTE
: the numbers in the picture correspond to the '
Seq
' column.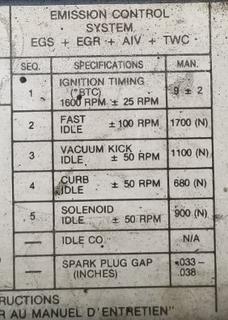 Listing them here to lend to those searching:
- Sol-Vac
- SolVac
- Solenoid Vacuum
- Fast Idle
- Fast Idle Cam
- Sol-Vac Vacuum Idle
- Vacuum Kick Idle
- Curb Idle
Always check Adventures Under The Hood also -
HERE
.
Good luck,
Patrick
Registered User
Join Date: Jul 2010
Location: The Mojave Desert - Palmdale, Ca. U.S.A.
Posts: 7,078
---
---
Have'n you along, is like loose'n 2 good men
Registered User
Join Date: Apr 2015
Location: Boise
Posts: 1,222
Quote:
Who loves AKA (Also Known As) in the Jeep world?
Never say the same thing every time
- that's the moto.
On the Emissions sticker, it's talking about the Vacuum Kick Idle Screw - #3 in the Sequence.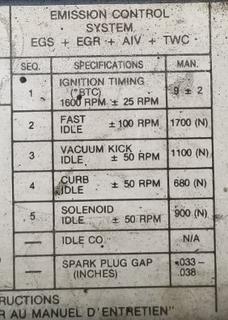 Which one is it - I'm guessing it's the same as the Sol-Vac Vacuum Idle screw shown here.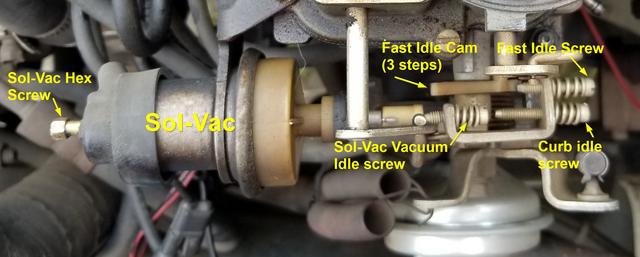 Let me know and I'll update the post for the next one looking at old crap.
Thanks,
Patrick
OK,
#5 is for the Sol-Vac idle screw ... NOW that is only actuated (on ) when things like the A/C is operating. It increases the idle due to the extra load put on the motor by the A/C.
#3 is for the Choke brake on the opposite side with choke .. It pulls the choke off Full choke after start.
#2 Is for fast idle setting on fast idle cam.
#4 curb idle is idle after motor is warmed up and choke is fully off..
good luck
tim
Registered User
Join Date: Sep 2017
Location: Los Angeles
Posts: 189
Are you kidding, I love that Dale - I have his link first on my bookmarked pages.
BUT, you're also right - all I had to do was use his descriptions against the Emission sticker - by process of elimination, I figured it out.
Thank Lumpy!
Updating the top of the page now....
MODS
: I've cleaned up the original thread to be more informative then the original question - hopefully Lumpy will see this before you delete all of it.
Thanks
!
Currently Active Users Viewing This Thread: 1

(0 members and 1 guests)
Posting Rules

You may post new threads

You may post replies

You may not post attachments

You may not edit your posts

---

HTML code is Off

---