Registered User
Join Date: Mar 2011
Location: Chesterfield
Posts: 44
1977 CJ7 - Lift for 36" Tires
---
Is anybody running 36" tires, and if so what lift worked? There are a few I've seen that are 4", but they only appear to fit 33's?
Registered User
Join Date: Dec 2007
Location: Illinois
Posts: 3,975
4" will fit the tires, but you will rub the trailing edge of the rear fender if you flex it out good. You can space out your bump stops to keep it from rubbing. You will also want a outset wheel or wheel spacers to clear the leaf springs when turning.
---
80 CJ-5, 74 CJ-6, 56 CJ-5
Registered User
Join Date: Jun 2006
Location: Kamloops
Posts: 4,226
I have 5.5" of total lift and my 35's rubbed my rear quarters pretty good.
---
'84 CJ-17: 17" stretch, locked Toy axles, 5.5" lift, FI, AX15, D300 w/twin sticks, boatsides & junk.
Registered User
Join Date: May 2017
Posts: 22
My buddy has a 6" lift with 35's and no problems wheelin. Not sure what type of kit, but I will ask
Web Wheeler
Join Date: Jul 2009
Location: Bali
Posts: 6,956
Your tyres have 7" greater diameter than stock, so vertically it needs at least 4". However they are also longer by 7" so they do not fit the rear wheel boxes, hence rubbing. Without changing the metalwork, you will need to get higher and then limit travel so it does not hit. Hence 6". If you were to hack metal the lift could be lower, and there would be some advantage in keeping the centre of gravity lower whilst increasing the gap under the axles.

At the front the length of the tyres and width will interfere with the suspension on a small amount of lock. You will need to get the tyres further out and then play with the stops to avoid fouling. You could take off the fenders and go to a tube fender to get better clearances.

You will then need to look at many aspects from brake hose length to pitman arm drop to make it work.
---
BagusJeep lives in Bali.

1981 CJ7 258ci - Bagusjeep
1984 CJ7 258ci - Puthijeep
1981 J20 258ci - Gladys
1951 Willys CJ3A/MB/M38 - Little Willy
1995 Cherokee 4.0 - CHEROKEE
Registered User
Join Date: May 2013
Location: Peterstown
Posts: 1,670
It can be done, it just depends on how much you're willing to cut on it. I ran 37's on 2.5" lift springs for the longest time, but i run tube fenders in the front, and had to do a fair amount of trimming in the rear. It works though. Its a matter of how ambitious you are, and how fond of factory sheet metal you are.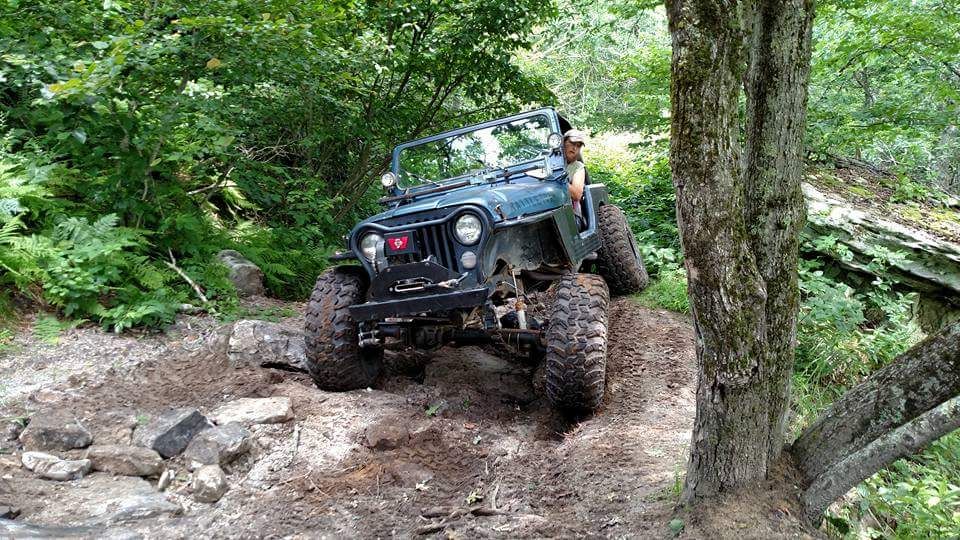 Registered User
Join Date: May 2017
Posts: 5
I'm running a RE4.5" lift and 1" body lift. My 35's rubbed really bad. I cut the sheet metal and put on them flats and have zero issues with hitting the body. I know a lot of people hate the things flares but I think form follows function
Registered User
Join Date: Apr 2017
Posts: 16
I have a 6" and 33's, not even close to rubbing. I plan on putting it back down to stock ride height, not into climbing up that much, and I would have to do a gear change to slow it down. 30 mph in first gear, not cool. I don't know who made it, it came with the jeep.
Currently Active Users Viewing This Thread: 1

(0 members and 1 guests)
Posting Rules

You may post new threads

You may post replies

You may not post attachments

You may not edit your posts

---

HTML code is Off

---