Registered User
Join Date: Mar 2015
Location: Glendale
Posts: 7
Looking for Jeep J10 Bench Seat
---
Hi there...
Looking for a Jeep J10 Bench Seat that won't kill my wallet (saw one on eBay for over $400+$120 shipping). Does anyone have any ideas on where I can look?
Thanks for the help!
Registered User
Join Date: Feb 2004
Location: Wilmington DE
Posts: 157
older Waggys had the front bench seat....maybe a junkyard, then get it re-done???
---
frankrocksjesus.com Want a free cd? PM me!....oh, and im a carpenter, not an auto mechanic, so....
I have some, and not too far East from you. What are you looking for in materials/quality/color? I have some vinyl, one cloth. I am finishing sewing new upholstery on a set of buckets this week, and am planning on pulling a bench out of my '76 to start work on recovering that one. The cloth one is used, but good shape. Kind of a beige color. Then, I have a used vinyl bench, it is like a tan/yellowish color.
---
Tommy
Do you have any pictures? Can you email me some to
[email protected]
? Also, tell me what your asking prices is. Thanks, Lycanthrope!
Registered User
Join Date: Jan 2006
Location: South Shore MA
Posts: 1,180
due to a work injury, i was off my feet for near ten days. still not 100%, but am moving around.
this is one seat i have. needs frame repair and cover/foam repair. $100 as is.
with frame repaired, and new vinyl cover, prolly $250. this is a folding seat.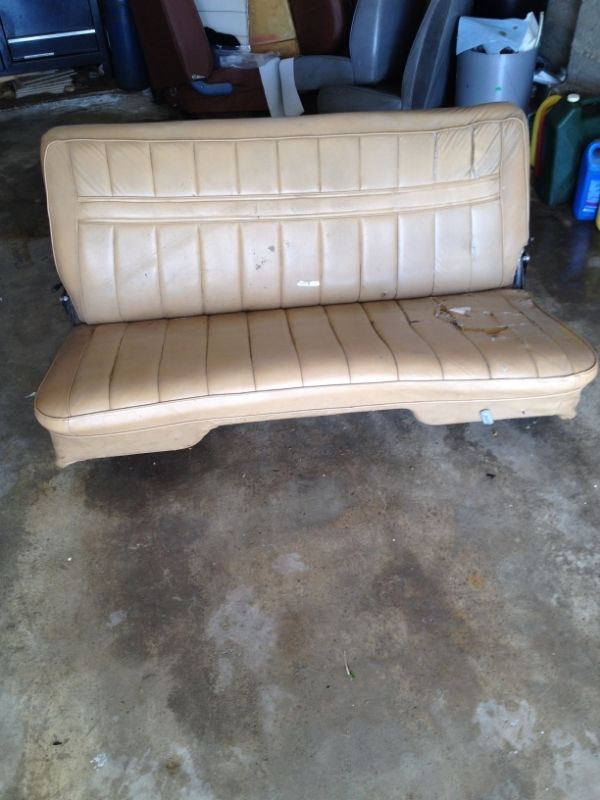 this is a cloth seat, folding. i didnt try to cleaan it up, prolly would look a bunch better with a little cleanup. $125.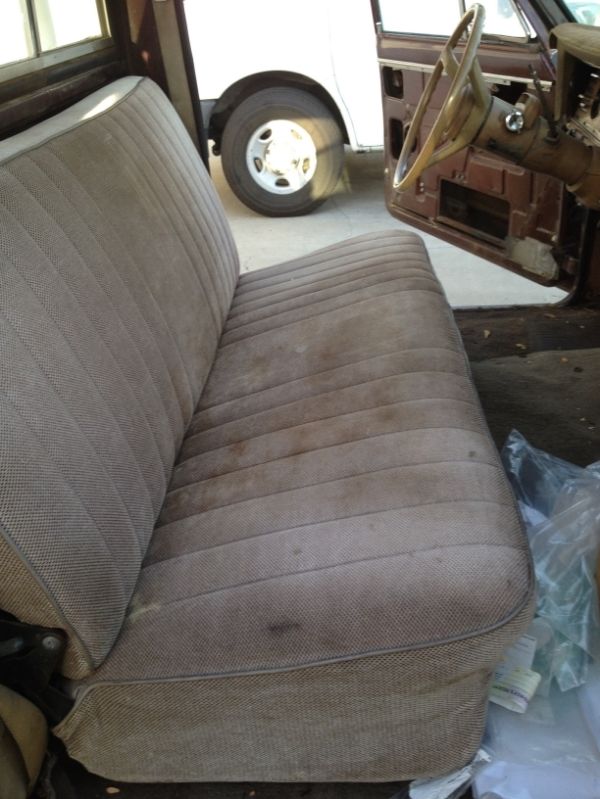 i also have a non-folding bench in my '76, needs some cover repair. i can get a pic if there is interest. $125 as is, $250 with new cover in vinyl. cloth might be available, although i havent done any cloth yet.
i should be finished with this set on monday, and will try some door panels to match. these are going to drew for his high back laredo seats.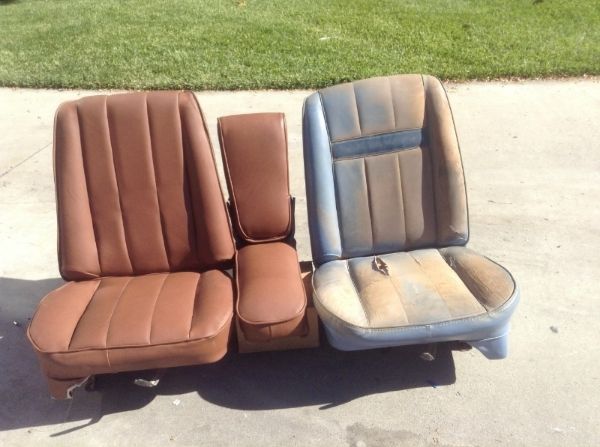 ---
Tommy
Sorry you got hurt, man. Hopefully you are on the mend. Definately interested in that last photo of the first post with the high back split seats. That is what was in there originally and that is what I want to put in there. I am going to be in need of some door panels too...maybe we can chat about that as well since you mentioned something about that? Let me know and I can take a trip out east next weekend.
Are you saying that you have a Laredo j10? Chrome bumpers and wheels, door pulls, carpeted panel behind the seats, rollbar, brush guard? Those were the only models that could get the high back seats.
The high back seats are my favorite, rare, and I search every week for them. I have the black set in the foreground of the pic with all the buckets. I had that set shipped in from Minnesota. The other high backs are locally, from a cj, yj, tj.
I have no interest in selling the two black high backs, I need those for my own trucks.

The original post was for a bench seat. Now, you are interested in buckets?
---
Tommy
I have also a set of low back seats I pulled from a Cherokee. Previously done in black cloth. Driver seat is power. $100.
---
Tommy
Currently Active Users Viewing This Thread: 1

(0 members and 1 guests)
Posting Rules

You may post new threads

You may post replies

You may not post attachments

You may not edit your posts

---

HTML code is Off

---