Registered User
Join Date: Nov 2009
Location: Twin Cities
Posts: 23
Ticking engine compartment
---
A few days ago my 99GC 4.0 started making a noise that reminded me of putting playing cards in bicycle spokes; starts slow and increases as your speed increases.
Sound is from the engine compartment. It's a ticking / consistent flutter.
Brought it to the garage this morning, I received this diagnostic note back:
"Verified ticking noise. Found noise to be coming from upper back part of engine. Verified oil in vehicle is in operating range. Verified using scan tool oil pressure fluctuates from idle at 36psi to 58 psi at 2000rpm. Will need at minimum removed valve cover to visually inspect rocker, lifter and valve seat. Or quote motor"
Sent this to my parents.my dad who is a mechanic (but not of Jeep's. He's old school, classic cars, industrial heavy duty equipment and even snowmobiles). He suggested I get an oil additive for sticky lifters which will probably be about $10. Try that before dropping $2k+ plus on an investigative search.
Have you encountered this, or similar before?
I'm planning to pick Jeep up tomorrow and get a bottle of this additive to try out. I'll be at work all day. Today was stressful; I freaked out when I read "or quote motor".
Registered User
Join Date: Apr 2018
Location: South Bend, IN
Posts: 588
Try a quart of Rislone, it's an amazing product for noisy lifters and valves and will clean up the oil pump intake screen.

I'd get a mechanics stethoscope on the cam sensor/synchronizer, they get really noisy with age and often mistaken for sticky lifters.
Registered User
Join Date: Jan 2020
Location: Near SLC
Posts: 2,664
Valve cover really isnt all that hard to get off, I would say go that far, and see if anything obvious shows up early. Then if you dont find anything, add the Rislone, or Marvel mystery oil and see if you can help it that way. My concern here is the fluctuating oil pressure. Like a plugged up oil pump screen might do...and it could also starve the lifters for oil and make them clatter....
---
'00LMTD-4.7l,242hd,D30,D44A,3.73's,True-trac front,Spartan rear,4" short arm lift,JK'sW/32's
Registered User
Join Date: Apr 2020
Location: TREASURE COAST
Posts: 951
$2k for an "investigative search"? you could rebuild the motor for half that, including the machine work. (rings, bearings, seals and gaskets, cylinder hone & valve seat facing) with you doing the wrench work. your mechanic isn't from somalia by chance, is he?
for a complete rebuild master kit, with new pistons, lifters, timing chain, oil pump and ignition timing module, you're under 600 bucks. example:
https://www.enginepartsonly.com/1999...kit-ek1123m-1/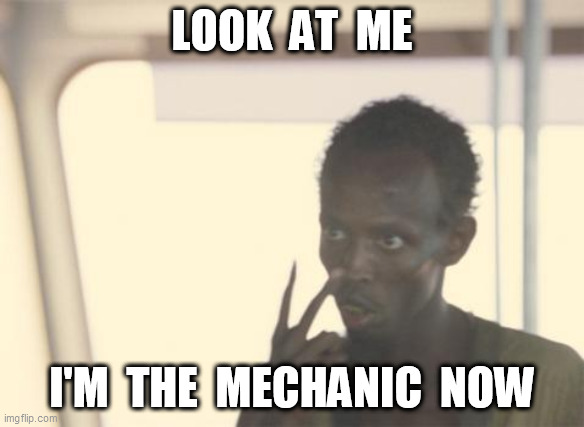 ---
Uphill Slow, Downhill Fast, Tonnage First, Safety Last!
Registered User
Join Date: Oct 2017
Posts: 10,556
" Verified using scan tool oil pressure fluctuates from idle at 36psi to 58 psi at 2000rpm."

A scanner is NOT the preferred method for checking oil pressure.
A mechanical gauge is preferred.
I would also want to see pressure PSI at idle.

And I agree add a bottle of RISOLONE.
---
When I see the price of OEM I think aftermarket.
When I see the quality of aftermarket I think OEM.
Registered User
Join Date: Dec 2020
Location: North of Atlanta
Posts: 51
The 4.0 is known for lifter noise and being that oil no longer has zinc in it doesn't help. My 4.0 had a ticking noise but I changed the oil with Rotella T4 10w30 diesel oil which has zinc in it and a Mopar oil filter and the noise went away. This may not work for you but worth a shot. The oil pressure is in spec and should rise with rpm but I cant say for sure its good with out seeing how its fluctuating and you really need to do the reading with a gauge.
Registered User
Join Date: Nov 2009
Location: Twin Cities
Posts: 23
Thanks. Took a few days, my dad suggested an additive for sticky lifters. I've never heard of that and I stopped at an auto parts store the clerk didn't know either. I ended up finding Rislone that says "noisy lifters & valves" on the front" so I bought 2 bottles. I put one in immediately then waited a couple days as there was no change.

My dad suggested an oil change and have them add the Rislone to replace a quart of oil (or whatever the measurement is). I did that and it has improved some but is still there. The noise is there upon starting and at lower speeds then disappears when on the highway. Does this take a while for the noise to really subside? I've only driven it about 40 miles since the oil change.

Could it take a while to be effective?

I thought about taking it to another place to see what they find; I've had this other garage do a few things for me and they were spot on/trustworthy/didn't recommend things that seemed ridiculously overpriced.
Registered User
Join Date: Apr 2018
Location: South Bend, IN
Posts: 588
Rislone replaces one quart of oil at change out intervals, you'll need to put a few K on it to see improvement.
Registered User
Join Date: Dec 2016
Location: Kelowna
Posts: 2,609
Does the WJ have the same oil pressure sensor as the XJ? I recall those are known for having issues so fluctuating pressure could just be a flakey sensor. For $2k just to diagnose it I'd just run it til something breaks and then rebuild the motor.
---
00 WJ
[x] 07 WK CRD/OME/MALONE 1.5 [x] 00 XJ/OME [x] 97 TJ [x] 92 YJ
Registered User
Join Date: Jul 2010
Location: Central
Posts: 686
Don't mention mileage, but over 200k in the 97-newer 4.0's are suspect to cracking piston skirts.
Seen many in TJ's XJ's and what killed my WJ at 200k before I got it, and left led the previous owner to abandon it at the shop...
Engine I put in had 191k miles at 200k now, its got a little piston slap in it.
Chrysler changed to a lighter weight piston from the Renix/HO years, that are about twice as thick, so they just slap forever in a worn cylinder.
Hate to say it, but typically no mechanic in a can going to fix it,.
Just be listening for it to get worse, and plan on an overhaul.
---
Quit Facebook.
Gab: Jeepers
Mewe: Arkansas Jeeps
my stable:87 XJ, 2k WJ, 88 MJ, 91 YJ, 09 JK...
Registered User
Join Date: Feb 2007
Location: S. Wisconsin
Posts: 47
A WJ owner I met said his 4.0 sounded like a 12 valve diesel when the piston skirt failed. And those 12 valve cummins are LOUD.
---
2001 WJ, 4.0, 242TC, tow, Akebonos, 99K. New fenders and fuel skid
Registered User
Join Date: Jun 2020
Posts: 207
I've started getting ticking in the middle top of the engine myself. I can pull the oil cap off and see the rocker arm going in synch with the noise. I just did some research on this yesterday and sounds like the rocker arm fulcrums are known for going bad on high millage 4.0l even with regular oil changes. You can pull the valve cover and run the engine with different modes of keeping the oil from being thrown around everywhere and watch/feel if a rocker is causing the problem. From what I've read, if one is going bad, you should just plan on doing all new rockers, fulcrums and pushrod as the rest will probably be going bad also. I'm pretty confident this is what's going on with mine anyway, but still gonna pull the valve cover to confirm it. I just rebuilt this engine and put lifters in it, but reused the original rocker and pushrod set-up. It better not be a lifter lol
Registered User
Join Date: Nov 2019
Posts: 90
@
ames
How is your ticking noise? Did the additive help after putting some miles on it?
---
Only one kid in history had ever attempted what Benny was about to, and he got eaten.
Registered User
Join Date: Feb 2017
Posts: 29
Yeah, mine started this noise recently. It sounds like it's coming from near the catalytic converter area. It is not a lifter noise it is a constant fast tick. I guess it's time to start looking into a reman if it's a cracked piston skirt as I have over 230,000k on her.
Currently Active Users Viewing This Thread: 1

(0 members and 1 guests)
Posting Rules

You may post new threads

You may post replies

You may not post attachments

You may not edit your posts

---

HTML code is Off

---