Registered User
Join Date: Sep 2018
Posts: 1
2008 Jeep Liberty HVAC Problem - Emergency Advice Needed
---
Hello everyone, I really hope you can help.
I am moving across the country this Friday with my wife and two children (2 and 11). Unfortunately, the AC in our 2008 Jeep Liberty stopped functioning properly. A 5-day road trip in the summer without proper AC and two children seems like a terrible idea, so I am trying to get a temporary workaround going.
Here is what I have found out and tried so far:
Symptoms
: Cold/Hot air work fine but only blow from the floor or defrost/windshield vents, not the front-facing dash vents.
Info
: This seems to be a common problem with this model. Usually, it is caused by a vacuum leak, bad door actuators, or a stuck blend doors/flaps.
What I've Tried So Far
:
I've checked the vacuum lines and they all seem fine with no cracks or disconnections. I wouldn't say I'm 100% confident it's not a bad line, but they seem ok.
I removed both actuators on the driver's side, they seem fine.
I tried manually rotating the door controls to see if they function. The lower one switches from hot to cold no problem. The upper one does switch between vent settings, but it won't enable the dash vents.
Ideas
:
My guess is that the door providing access to the front vents is stuck since I can select everything else manually after removing the actuators. I've seen videos where those doors get gummed up from melted insulation, etc. I don't have the time or money to get this professionally fixed given the circumstances (I was quoted over 1k for replacing the distribution box). Given more time I wouldn't mind replacing the distribution box myself, but removing the whole dash for the first time every with limited tools and experience right before this trip seems very unwise.
What I really need is just a temporary workaround to get the AC going for the trip, then I can worry about a permanent solution after the move.
Next Steps
:
I bought an inspection camera/boroscope that will arrive tomorrow. I'm hoping this will help me see down into the distribution box and around the driver's side gear assembly better without taking everything apart.
One idea is to use the camera and a length of rigid wire or something to manually get those doors open by going down the vents. Does this seem reasonable/possible? I'm not really all that knowledgeable about how that distribution box actually functions, so maybe I am misunderstanding something.
I'm open to any other suggestions or ideas on other things to try. Like I said, it just needs to work for the trip, not forever. I would really appreciate any advice, thank you so much
Registered User
Join Date: Nov 2012
Location: Philadelphia
Posts: 1,327
Sorry to hear of your situation! I had exactly the same problem. Here is the full fix, which involves a new air distribution box and tearing out the dashboard. I did it myself with hand tools. You will need patience and attention to detail, but you can totally do this yourself if you have a garage.
https://www.jeepforum.com/forum/f292...oblem-4295849/
That said, you can probably temporarily get your forward vents back for your trip if you just damage the current air box a little more than it already is.
You need to reach down the center vents and force the door.
Here's a pic of the distribution box. The defrost door is the top back one, and the face is the lower front one. When they're both closed, the system blows on feet by default.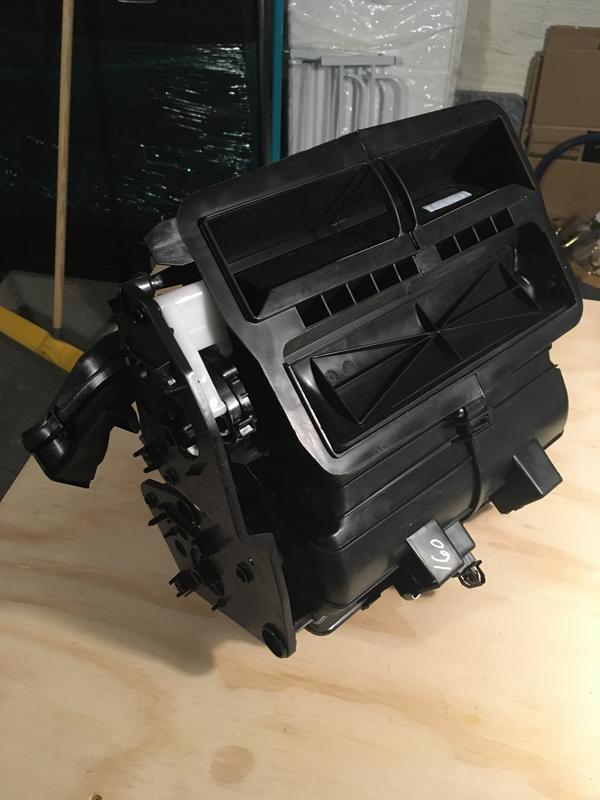 This is what I would do, since you're going to replace it anyway:
1. Turn the Jeep key to "Run", select Face on the climate controls. The actuator will turn (and the back defrost door will close), but of course no air will come out towards the face vents (it will be feet only). Turn the Jeep off, then disconnect the battery.
2. Remove the upper mode door actuator in the drivers footwell because you don't want to damage it when you manually force the mode door.
3. Remove the trim around the radio.
4. Disconnect and remove the radio.
5. Unscrew the black plastic vent funnel (for lack of a better term) that feeds the center vents and remove it. There is a metal radio support that needs to be unscrewed and removed too.
Radio, metal support, and vent funnel thingy removed: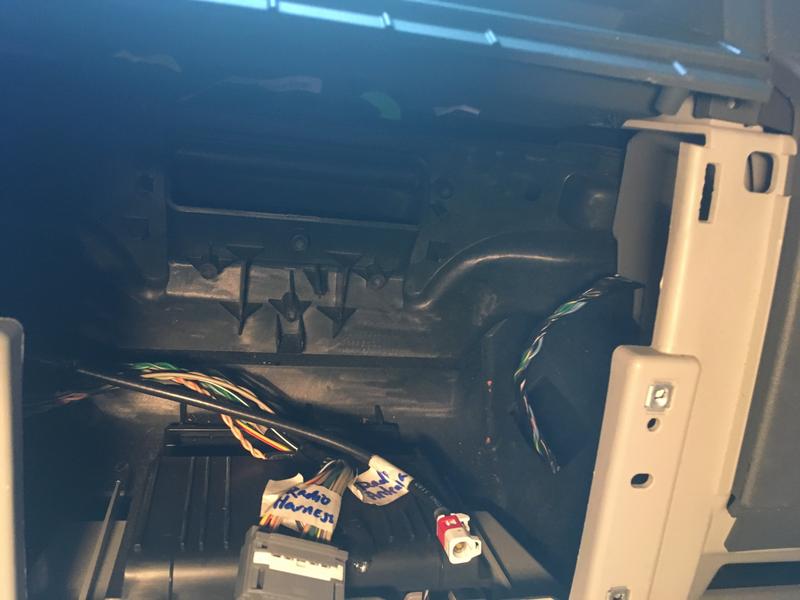 6. Reach down the throat where the vent funnel goes and force the face vent door open. IIRC it should rotate towards you and down.
The door will be stuck because the rubber insulation has degraded into black sticky goo.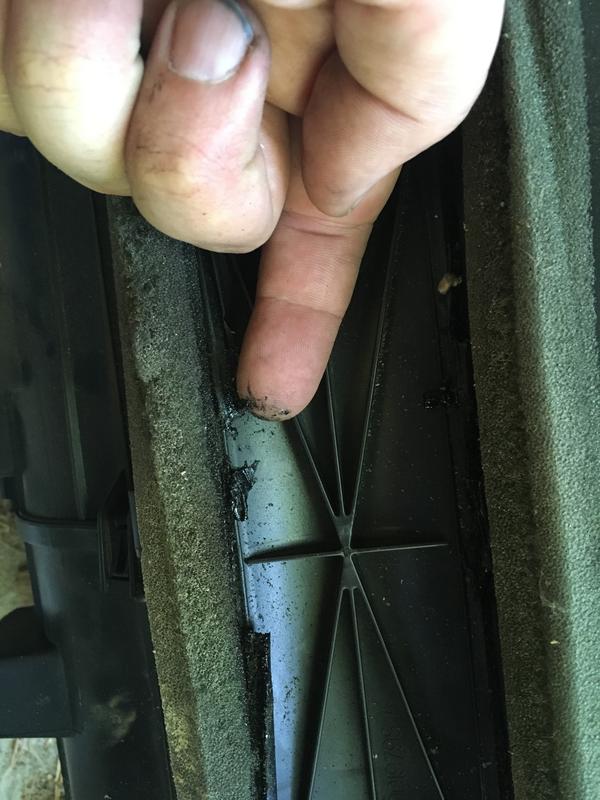 6. Once the face door is forced open, reinstall the vent funnel, radio, and center trim for your trip.
7. Reinstall the actuator. Your climate control system needs all the circuits to be completed to be able to control other functions, like turning on and off the air conditioning. You still want to be able to control the temperature settings even if the mode door setting is broken, so the actuator must be wired. (You can't leave it disconnected.)
8. Reconnect your battery.
If you follow these steps, you'll have face air for your trip but won't have feet or defrost. But hopefully you will have AC and at this time of year no defrost isn't a deal killer. You'll need to replace the distribution box before winter (yourself or at a shop). Doing it yourself will take 2-3 days and cost you approximately $200 for a new air box. If you want to replace the heater core while you're in there, add another $150. It saves a ton of money if you DIY this! You can always ask the forum if you get stuck and there are a few of us who have done this job who could help you out.
---
2008 Liberty Sport 4x4 Automatic
4" JBA Lift & 245/75R16 BFG KO2's
ATH Recovery System & Roof Rack
Registered User
Join Date: Aug 2019
Location: Las Vegas
Posts: 14
Did you check the mode door by the HVAC unit?
Currently Active Users Viewing This Thread: 1

(0 members and 1 guests)
Posting Rules

You may post new threads

You may post replies

You may not post attachments

You may not edit your posts

---

HTML code is Off

---