Roll bar vs Roll Cage
---
Thinking about taking off my roll cage and buying a roll bar, but I wanted to know if there is any difference between the two, am I losing anything by removing the roll cage? Or are the both basically the same? I know they're both for basically not dying if your car flips over, but if they do the same thing is there really any difference besides appearance?
Registered User
Join Date: Oct 2007
Location: NC
Posts: 3,197
What roll cage do you have now? What Jeep?
---
77 CJ-7- AMC 360, Edelbrock cam, MC2100, Fenderwells, CJ T18/D20, Chevy D44/EB 9" rear, Trutrac f/r, 4.11, SOA, 1.25 lift shackles, 35x12.50 BFG KM2s, Shackle Reversal
Web Wheeler
Join Date: Aug 2007
Location: Lakewood
Posts: 6,328
Obviously an actual real roll cage will give passengers a lot more protection than an actual real roll bar.
What Jeep installs on modern models are neither. They're called 'sport bars' and are basically there for aesthetics and do very little in a roll-over.
Roll bar:
Roll cage: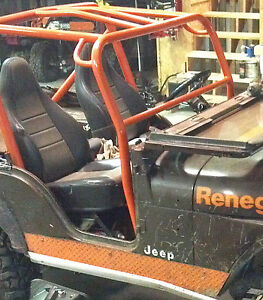 ---
'09 JK Rubicon
'01 XJ Sport
'10 Fusion
Moderator
Join Date: Nov 2015
Location: Wentworth
Posts: 4,516
Roll cage>Roll bar>Sport Bar>Nothing

Factory Sport Bars are designed to be the crumple zone. This means they are designed to crush but supposedly only so far. When I flopped, my Sport Bar deformed almost an inch and it wasn't a hard flop.

A Roll Bar is just that. A single bar designed to support the weight of the vehicle in the event of a roll over. It does not fully enclose the occupants.

A Roll Cage is designed to support the weight of the vehicle and it encloses the occupants in the safety zone.
---
06 KJ
12 JK, 2.5" Teraflex lift, Bilstein 5100's, BFG KM3's 37x12.5/R17
17 WK2 Trailhawk
KN4BBA
Currently Active Users Viewing This Thread: 1

(0 members and 1 guests)
Posting Rules

You may post new threads

You may post replies

You may not post attachments

You may not edit your posts

---

HTML code is Off

---