Registered User
Join Date: Sep 2013
Location: Fort Erie
Posts: 2
Front Licence Plate Holder
---
Just bought a new 2013 Jeep Wrangler Unlimited with a custom front bumper. Unfortunately, I live in Ontario and require a front plate. Any ideas/suggestions/companies that may be able to help me with finding one that looks decent and performs well. I'm new to the forum so please don't be too harsh I tried finding it on the forum but had no luck. Also, if anyone knows of any cheaper sites to find them on that would be great too.
Thanks
Web Wheeler
Join Date: Dec 2007
Posts: 8,204
Do you have a roller fairlead for a winch on the front? Is there a hoop or stinger on the bumper?
Moderator
Join Date: May 2008
Location: Westchester, NY
Posts: 26,535
Quote:
Do you have a roller fairlead for a winch on the front?
There are decent mounts for hawse available also
Registered User
Join Date: Jan 2008
Location: Canuck
Posts: 30
Do what everyone else does..put it on your dashboard
---
2003 Silver TJ Sport, BF Goodrich 30" A/T KO's. RIP 11/2013.|| '03 Gold Wrangler X. Project "Golden Eagle"
Registered User
Join Date: Dec 2012
Location: SEPA
Posts: 130
You mentioned a custom front bumper... is it made of metal? Would 2 self tapping screws do the trick? That's what's holding on my front vanity plate and it doesn't seem to be going anywhere.
---
Quote:
I like Canadians, but man you guys whine a lot! It's too cold, my igloo melted, this beaver pelt is too thin, we only have dial-up, my milk isn't thawed yet, I got deported, we don't like war, JF is prejudice, blah blah blah. Suck it up Nancy!
Web Wheeler
Join Date: May 2008
Location: Mendocino County, CA
Posts: 1,206
You want a winch. You need a winch. You KNOW you need a winch. So get a winch.
Then make a winch rope cover out of your license plate holder.
Gotta mount the front license plate somehow. You want to be legal, right? Gotta get a winch. This is what you tell Mrs. RKells6.
I got your back, Bro!
---
You have to start somewhere to get to the middle of nowhere.


2015 YJ Of The Year

Thanks, but my rig is just a Prince among Kings. You folks gave me the answers to build it!
Registered User
Join Date: Dec 2007
Location: Eastern WA
Posts: 3,339
OP never said if he had a winch or not. But if he does....Maglite flashlight clips fit perfectly on a roller fairlead.
Got mine for $5 bucks about 4 years ago. Just bolt them to your plate.
They have lasted over twice as long as that brand new Smitty XRC8 in the first pic.
........................................... ...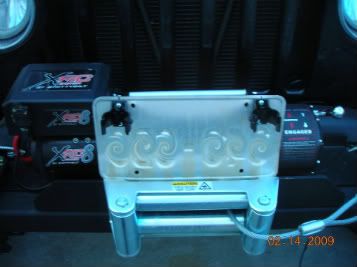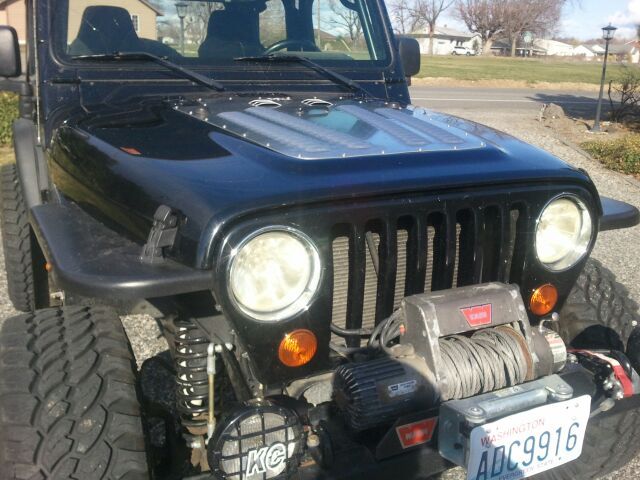 Web Wheeler
Join Date: Nov 2008
Location: Longview, WA (one hour north of Portland, OR)
Posts: 3,999
A couple of properly placed rivet nuts for bolting the tag on would also work. I'm guessing for 1/4" bolts. I did that with my aftermarket bumper before I got a winch (and before I got my tags changed to a state where they only require a rear tag).
Registered User
Join Date: Sep 2013
Location: Fort Erie
Posts: 2
Thanks for all the help, zip tied it for now in the slot for the winch until I buy a winch and then I think I'll go with the flip up holder that attaches to the roller Fairlead.
Registered User
Join Date: Aug 2014
Location: staten island
Posts: 28
Tjdavex! Perfect solution.
I'm glad I stumbled on this thread today.
Thanks for the tip!
Currently Active Users Viewing This Thread: 1

(0 members and 1 guests)
Posting Rules

You may post new threads

You may post replies

You may not post attachments

You may not edit your posts

---

HTML code is Off

---