Registered User
Join Date: May 2012
Location: Cranston
Posts: 19
The Ongoing Story of Bessy
---
Hey Jeep nuts! (Just kidding).
Okay, so I have a Black, 1995 Jeep Cherokee SE, 2-Door, 2-Wheel Drive, 5-Speed Manual Trans. This Jeep was my Moms from 2004 until March 9, 2012 when she handed it down to me. As many people know, money is hard to come by nowadays. So in October of 2009, we were forced to leave the state of California on a wing and a prayer. Leaving, Bessy behind in an Oxnard, CA state transport station parking lot
. We boarded our bus, and watched her fade in the distance as we got on the freeway. Me being only 13 years old at the time, I was heartbroken because it was promised to me by my Mom as my first Jeep. She was fine there overnight until my Uncle came to get her and drive her to his ex-wife's house. When we got to Rhode Island, (I of course made sure that it was safe and sound).
Don't literally cry when I tell you what happens next, three years pass until January of 2012. It's a cold winter day, and my Mom gets the email. "Joan, we have to do something about the Jeep and it has to happen now. I have no place to store this thing when I move, it's your car and you should have it. If you can't get it out of here, I'm going to have to bring it to the scrapyard."
I was pretty much going out of my mind, (literally on the verge of crying, call me a baby.) Pretty much my Mom a month later, finally set up auto shipping
. I was worried that, Oh my god it's been sitting there, not started, not driven, just sitting idle in the same place for three years. (The tires were almost flat, the carrier had to pump air into them.) So I sent my FIFTEEN YEAR OLD FRIEND, (Same age as I am.
) over to inspect everything before the carrier got there so nothing went awry on that morning. My friend told me everything was in good looking order, and that it didn't look any different than when we left it. Thank god that was the case. It started right up, not one single issue and drove onto the carrier, dusty in all its glory.
When the carrier got here in Rhode Island, which me and my Mom both got texts at around 1AM I didn't sleep that whole night, just sitting there with a stupid grin on my face, just saying..."OMG OMG OMG OMG OMG OMG". It rolled around to 12PM and we get the call, in these exact words, "Hi Joan? This is the CAA Transport Representative, I have your Jeep Cherokee. I am in Rhode Island, please come and pick it up. The address is **** Plainfield Pike, in Cranston." It happened there, where I insanely ran around the parking lot screaming, "YES! YES! YES!!!! ITS HERE! OH YEAH, ITS MAH BIRTHDAY!!" No I am not joking. The people in the apartment complex were laughing hysterically at me as I ran around, and did a friggin' dance. So my Mom gave me the fifty dollars to run up and book a flatbed tow for it. We both hopped in the tow truck and we were on our way, after being separated from our pride and joy for THREE long years. Here we came...Pulling into the Walmart parking lot, and there it was. I saw it in the distance...That Black, Dusty ole' box sittin' up there as proud as ever. The car carrier dude started it up, and it rolled down proud as ever...Finally in its owners hands again. With my Grandma at home, probably just as excited as we were, I got her on the phone and she said, "Yayyy!!!" My mother forked over $950.00 for a Jeep Cherokee with 242,000 miles on the clock with the family for nine years. She was finally home. We threw her up on her tow truck, and away we went. The family was complete again!!!
She was put down in her parking space at our complex and after all the insanity of the Jeep finally getting home, I did some crying, Mom did too, and not sure about Grandma. (She never cries!) She was just probably so happy she had no words!
Bessy now resides with us in Rhode Island after all that insanity over three long years. (If you live in RI, you might even see her!) There will be so many more updates for her as I do things and get my license. Thats when the fun begins, no wheeling fun because she's two wheel drive...But, I'm sure I'll find something to modify on her.
Thanks guys so much for reading the story of, Bessy. I will attach some Photobucket links of the day we picked it up and when it was on the car carrier so you can see what I saw.
[IMG]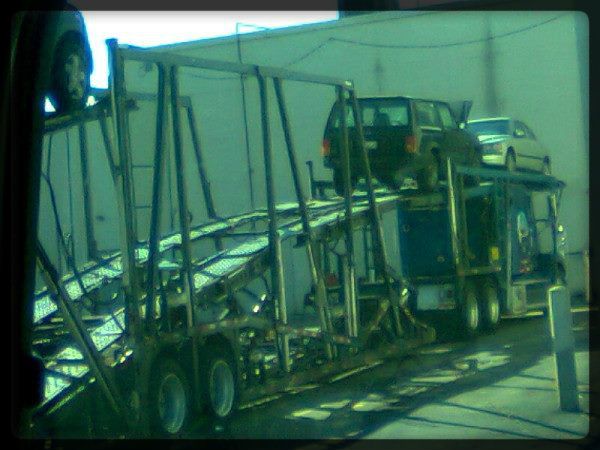 [/IMG]
[IMG]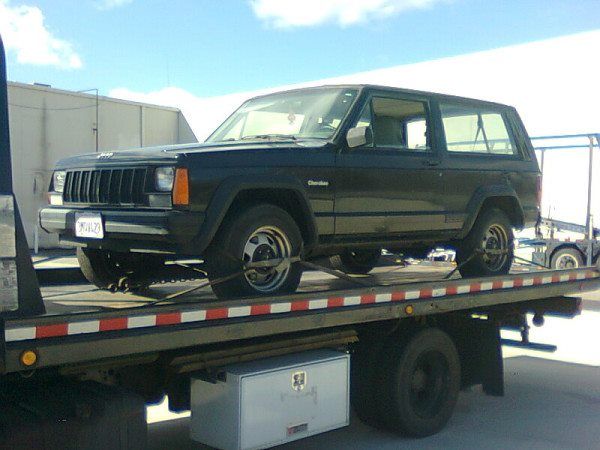 [/IMG]
[IMG]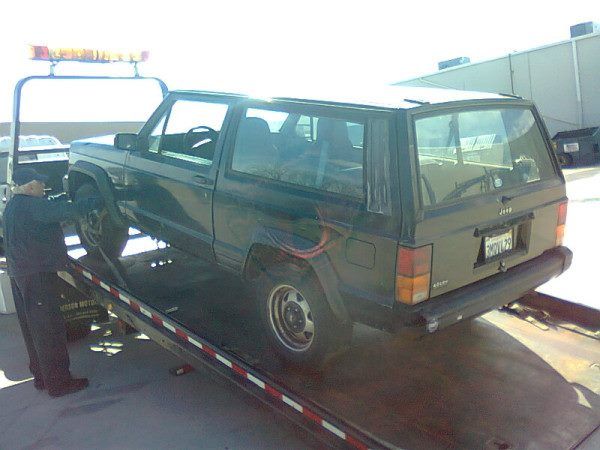 [/IMG]
Registered User
Join Date: Jun 2011
Location: Warwick
Posts: 113
Nice story u have there! Im in warwick RI!
Thanks!! Really? I'm over here near Park Avenue, in Cranston!
Registered User
Join Date: Jun 2011
Location: Warwick
Posts: 113
Good luck at the dmv in cranston, you could be there for hours, I'd recommend going to wakefield.
Believe me I have been do the DMV in Cranston. I know, it sucks. Went there just for my Photo I.D and it took an entire day. Ugh, how can a state so small, take so long?
Things Done since March 9, 2012
---
Okay, it is June 28, 2012 and I'd like to tell you the things I have done to Bessy since March 9th.
_____________________________________
Mechanical:
1. Battery w/ New Cables and Terminals
2. Oil Change w/ Oil Filter
3. Air Filter
4. Steering Stabilizer Bar
5. Rear Hatch Struts
6. New Power Steering Fluid
7. A/C Re-Charge
____________________________________
Cosmetic:
1. Basic Exterior Wash
2. Basic Interior Cleaning
____________________________________
I know that isn't a lot for that time span, but I'm only fifteen. Still a learning duckling here! LOL!
Currently Active Users Viewing This Thread: 1

(0 members and 1 guests)