Compcrasher's 98 XJ Restoration/Build
---
How did I end up back here guys?
Story time, Story Time!
Got the family ZJ at age 16. I never really liked that thing, we scrapped it last year because it just wasn't worth fixing. I also owned a WJ for a good period of a couple years (build thread:
https://www.jeepforum.com/forum/f197/...j-ltd-1106034/
). At one point it was lifted and had some offroad goodies, I had OME springs with bilstein shocks, ARB bumper up front, tire carrier out back, overland sliders, 32s. But that Jeep was always a constant fight with death wobble, part after part just to keep it drivable. So eventuallly I fixed it, took off the lift and got tired of it, traded it in and bought a 3 series. I've been happily driving that for a year now.
Oh yeah and somewhere right around the "never really liking the ZJ" phase I bought an XJ, whoops, forgot about that one. I really consider it my first car I ever owned, it was all mine and I was wholly responsible for it. Until I got the WJ, the XJ was my chariot. Through high school, on crazy road trips in high school, DD'ing for buddies, driving on a couple beaches. I went through all my silly high schooler phases with this Jeep. At one point I had two subwoofers in it and a ton of offroad lights and I thought I was hot stuff. Fast forward 6 years, I'm older, more mature, and know a hell of a lot more about working on cars. Meanwhile, my brother has gotten his license and I let him drive my XJ while I'm away at college, just so it doesn't sit. The XJ degrades and apparently starts "stalling randomly" on him so it gets parked. Little to my knowledge, it sits over grass for over a year
when my parents moved, it was driven to a nice spot under a car-port over a concrete slab and it has been sort of time capsuled since. Of course before the deep-sleep I did a lot of prep work, ran fuel stabilizer and fogged the cylinders, did some anti-corrosion stuff... okay okay enough story time heres what we're working with...
The XJ is a stone white quasi-Sport-limited-hybrid thing that I made when I was in high school. Its got some lights on the outside, but otherwise pretty stock. Inside its got WJ front leather seats on manual rails, rear 60/40 leather out of a ZJ, with holes drilled through the floorpan for the brackets. I need to re-evaluate the safety of this and decide if adding a reinforcement plate will be adequate or if I will need to go back to the original long bench seat. I swapped in a limited XJ wood-grain fascia around the radio/climate, swapped in the full-length overhead console, homelink in the headliner right by the mirror, autodim mirror out of a ZJ, Auto headlights from an aftermarket module, a bunch of cute little features I thought were cool. It used to have a remote start but I have since ripped that out because of parasitic draw.
Now I'm sort of after clean, well-kept, and maybe some tasteful mods that will let me take it down to Rousch with my buddies. I want to start by getting it drivable, more on that later. After that, I need to address the rust situation. It sat over moist grass for too long so there are some rough parts of the Jeep, but the overall unibody is intact. The big one is the passenger side rocker, its gone. I got so frustrated I went in there with tin snips and cut the whole rocker (inner and outer) out. It will look bad from the pics but I think she can be saved. After the rust situation is under control I want to start replacing wear items and make her run and drive great. Replace the steering and suspension bits, cooling system, tune-up, etc. I want a good foundation so when I decide to lift it, I am less likely to run into any weird issues (like when I lifted my WJ with 120k miles on original damn near everything). Okay. That was a wall of text. Next post will have updates and current pictures. Here are a couple from before she sat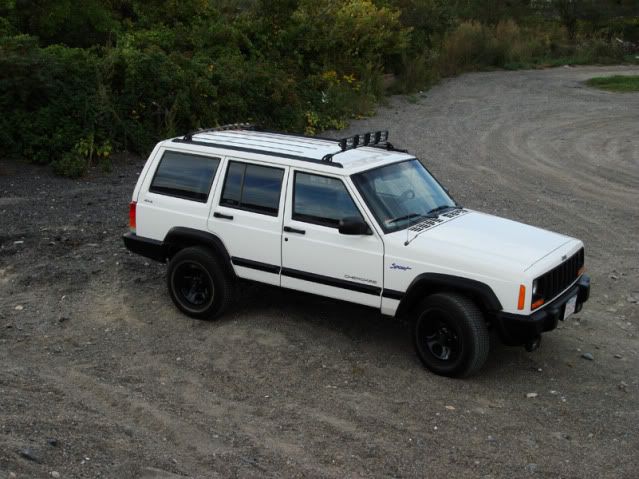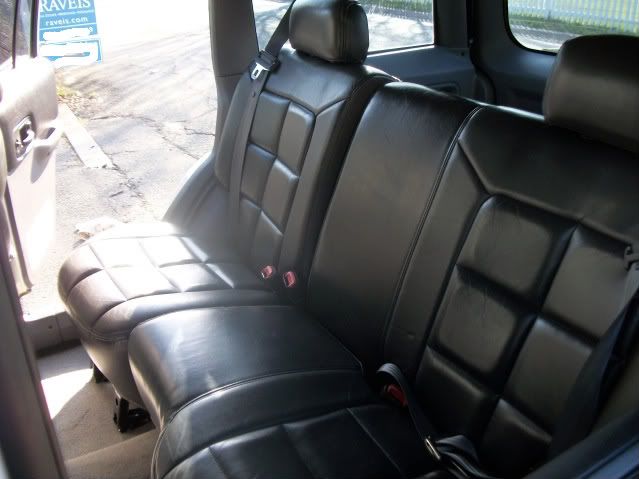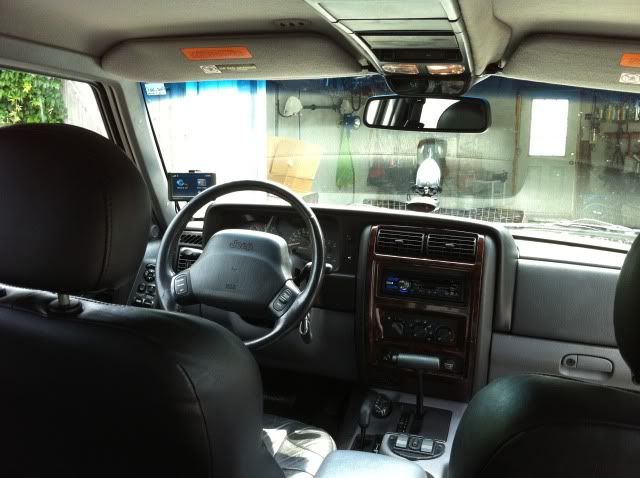 ---
98 XJ Sport | i6 | AW4 | 231 | Stone White | Agate Leather

SOLD 01 WJ Ltd | i6 | QT2 | Moog HD steering | Tow Package | Boston Acoustics Audio | RB1 | Lou's Catback | Stone White |

Matt
Registered User
Reserved for more pics, maybe to move history down here at some point.
---
98 XJ Sport | i6 | AW4 | 231 | Stone White | Agate Leather

SOLD 01 WJ Ltd | i6 | QT2 | Moog HD steering | Tow Package | Boston Acoustics Audio | RB1 | Lou's Catback | Stone White |

Matt
Registered User
Alright, these pictures are from this weekend, bit of a time hop. Loosening the idler pulley, found out the idler pulley needs to be replaced, the bearing is shot.
All other pulleys seem to be in good shape. Alternator is a reman and has maybe 10 miles on it right now, fixed it right before the deep sleep. Also need to do something about that temp sensor. Theres an aftermarket gauge in the car because the one on the original cluster broke when I tried to install (wait for it, wait for it) electro-luminescent glow gauges way back when. I now know this is not a good solution and will need to get a new cluster (or find a way to fix the gauge) and put just the original temp sensor back in.
AC system has been evacuated, and here I am starting an AC delete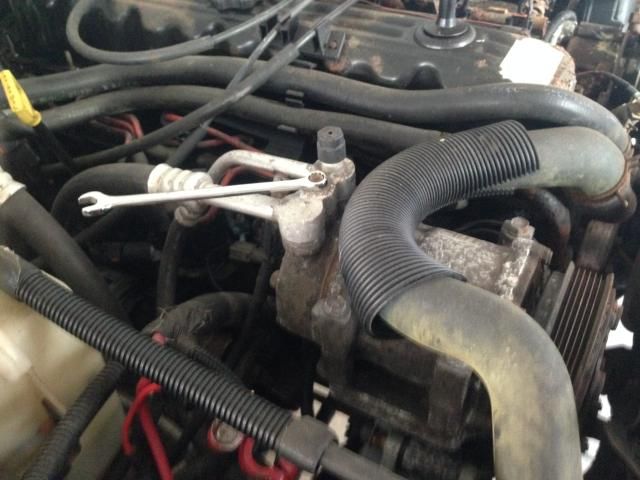 When I was driving back from prom, I got into an accident that punched in the condenser and radiator. I repaired it all myself with a new bumper and radiator but never bothered with the condensor. But now, the bearing on this compressor is making some nasty noises, much like a bad idler pulley, so it needs to go. At some point I might replace all the lines (once I can figure out those damn fittings)
AC compressor out:
Mocking up the AC delete bracket:
But my AC delete bracket never came with the short mounting bolts to attach it to the bracket, and the adaptor sleeves dont fit nicely. Knowing this is a pretty important part to have lined up properly, I've taken measurements of the bracket and will get proper bolts. I will also either cut down the sleeves they give or I will turn my own sleeves on one of the lathes in the machine shop I have access to. Joining our Baja SAE team and learning how to machine parts has really opened a new window in that respect. From subwoofers and auto headlights to self-fabricated Jeep parts, yup college can change people.
A bunch of parts I found in my shed that will fit on the XJ: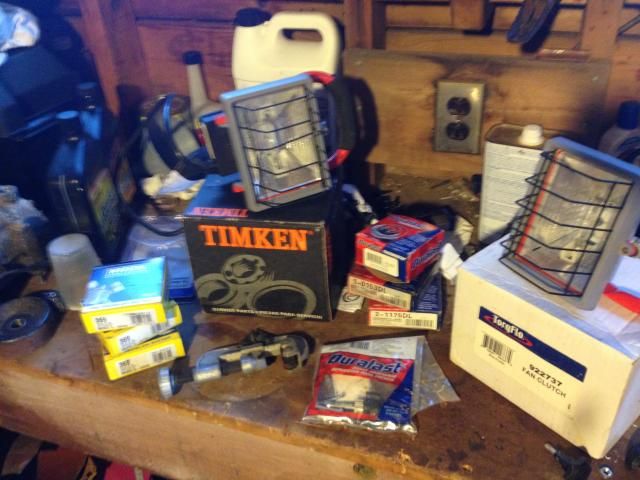 Timken wheel bearing (for the drivers side, passenger side has already been done) Catch, one of the 12-point 13mm bolts on the driver's side has been rounded off by my ingenious buddies back in high school. I am going to probably take an angle grinder to the ear where the threads are and just break the bolt free and tap it out. Torqflo fan clutch (doesn't need it but hey, shiny parts), bunch of u-joints, some brake hardware, and a pipe cutter for... brake lines... more on that later.
Okay, so this is a huge drivability issue...
A couple years ago I decided to just start up the XJ and go for a drive, after it sat for 2 years. Yeah it didn't go over so well. I'm guessing somebody took the wheel off at one point and didn't torque it because a couple minutes into my drive, the wheel started wobbling and whattaya know it fell right off. I could only see two studs. When the tow truck guy arrived, I managed to get the wheel sort of back on, enough to let it roll. And as he loads it up on his flatbed he tells me he smells fuel, and I look underneath and the damn Jeep is dripping fuel from the rear axle area. So I also went looking for that leak today and I think its got to be either the regulator or the plastic line between the regulator and the stainless line, ordering the plastic line to start.
Took the rotor off, found the studs!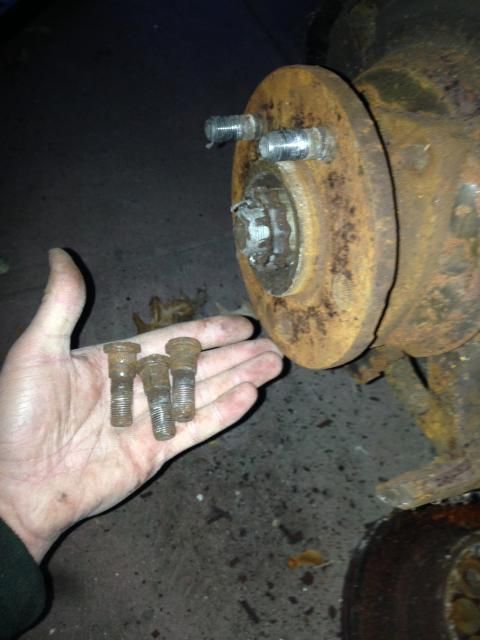 Pressed them back in place so that this could be a rolling chassis again:
These studs were binding up between the hub and the rotor and making it difficult to move. The threads are pretty chewed up and I wouldn't trust them to drive on. No worries, I have that new in box Timken to replace this hub. Will need a full set of lugnuts though.
Then I noticed this rotor isn't too happy: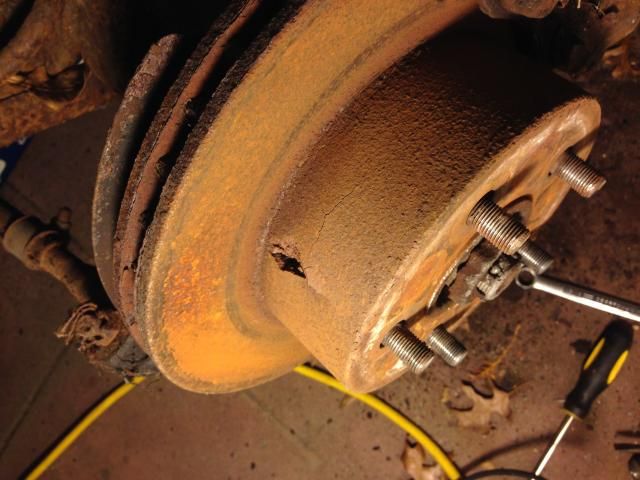 Must have happened either when the wheel fell off or due to one of the studs bouncing around loose under there as we tried to load the Jeep on and off the tow truck. No matter, the rotors are done anyways and I'll be ordering some new centric ones off rockauto among other things.
So. Even though its still stuck at my parents house, the XJ shows hope. I will be returning either in a couple weeks or in January hopefully. My roommate is going to help me tow it out of my parents place to our garage up at school where I can work on it. I hope to have it running and driving by February.
---
98 XJ Sport | i6 | AW4 | 231 | Stone White | Agate Leather

SOLD 01 WJ Ltd | i6 | QT2 | Moog HD steering | Tow Package | Boston Acoustics Audio | RB1 | Lou's Catback | Stone White |

Matt
Registered User
The bottom 12-point 13mm was rounded off (thanks to some failed wrenching 5-6 years ago) so I decided to take a more direct approach
Which worked out quite nicely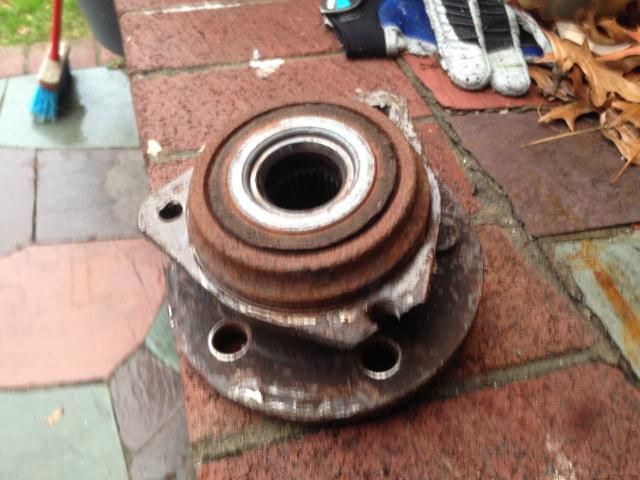 [And heres where the progress goes backwards]... But I destroyed my dustshield in the process of trying to get the hub out
And accidentally cut a bit too far into the knuckle
And have been trying to get the remnants of the cut bolt off since. Tried hammering it, drilling it out, pressing it with the steering knuckle and heres where it is now
The head finally snapped off the backside when I used an irwin EZ-grip on it
But that didn't let the bolt free at all. And it looks like trying to use the steering as a press to get the bolt out has failed and I might have blown the box just now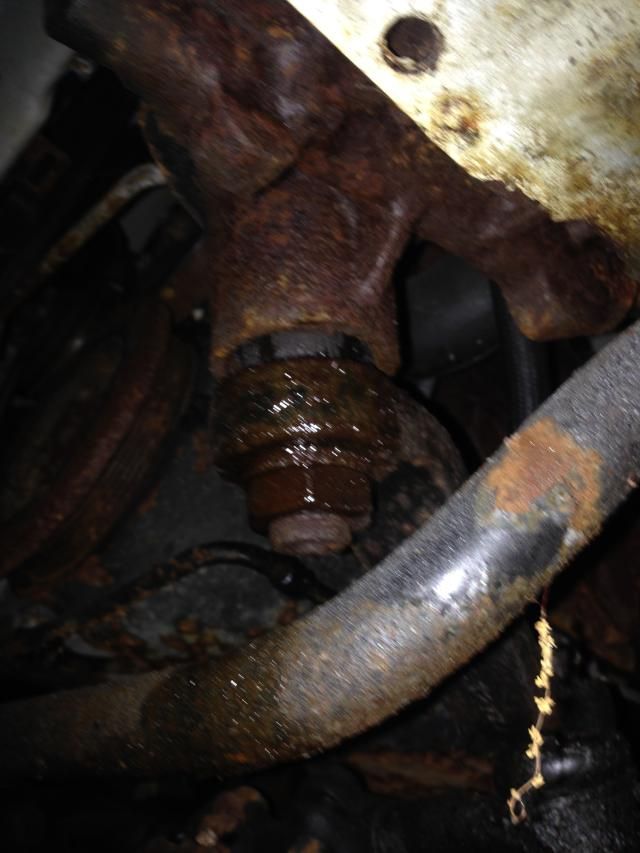 So we're taking a break for today. I've written off this knuckle already. Tomorrow, its off to the junkyard for a new drivers steering knuckle, new bolts for the bearing hub, and maybe a new steering box if I've actually blown it.
---
98 XJ Sport | i6 | AW4 | 231 | Stone White | Agate Leather

SOLD 01 WJ Ltd | i6 | QT2 | Moog HD steering | Tow Package | Boston Acoustics Audio | RB1 | Lou's Catback | Stone White |

Matt
Registered User
Steering box seems to be okay, I think I just overstrained the box and blew a little fluid past the seals. So I headed to the junkyard and took apart an older XJ:
Tried to clean it up a bit and give it some rust coating and paint
But I'm held up because I cant get the TRE nut off the old knuckle without spinning the stud. Will have to chop the nut off but this needs to stay a rolling shell so I put the new hub on the old knuckle and pulled it tight with 2/3 bolts. It seems to be pretty sturdy. Jeep will need a 400mi trailer ride to its new garage where I can work on it in the bad weather. When it gets there I'll try and hit that TRE with some impact tools and see if it comes free otherwise I'll order a new one. I'll get around to cleaning up the whole front axle at some point too.
Oh yeah, and because I won't put the chewed up lug nuts to wreck these new threads I ordered a new set of acorn style 1/2-20's from American Muscle. For wheels and tires I've got a set of ZJ canyons with some almost new rubber on them (cheap cooper all seasons but I just couldn't let them go when I junked the ZJ). Those wheels are oxidized and peeling so these lugs will stick out like a sore thumb but I couldn't care less how it looked. More updates to come
---
98 XJ Sport | i6 | AW4 | 231 | Stone White | Agate Leather

SOLD 01 WJ Ltd | i6 | QT2 | Moog HD steering | Tow Package | Boston Acoustics Audio | RB1 | Lou's Catback | Stone White |

Matt
JF Admin
Join Date: Sep 2006
Location: 3rd rock from sun
Posts: 14,396
Welcome back to the XJ world!
---
***Chris***
"You can set my jeep on fire and roll it down a hill,
But I still wouldn't trade it for a Coupe DeVille."

To view links or images in signatures your post count must be 10 or greater. You currently have 0 posts.


To view links or images in signatures your post count must be 10 or greater. You currently have 0 posts.

Currently Active Users Viewing This Thread: 1

(0 members and 1 guests)