Registered User
Join Date: Jul 2011
Location: Omaha
Posts: 48
Lowered Comanche project
---
Picked up an 88 comanche for a parts hauler / daily this last weekend. 4.0, 2wd (ax15) longbed. Seems solid, needs a few things, paints faded, but I like it. I'd love to build it into a pavement pounder, From the research I've done, it seems like lowering blocks in the rear and cut coils from something else (F series?) Are the way to go, I want this thing to be low, stiff and stick to the road like glue.
I'm thinking f series coils cut down ( read somewhere when cut they're good for a few inches of drop) to give a high spring rate, Adco cherokee thick front swaybar, double the leaf pack up in the rear to stiffen it up, or add full size truck leafs with the same spring arch, and fit a cherokee rear swaybar to it. finally lower it with blocks to achieve the desired height. At that point it should be low, and stiff enough. Maybe bob the bed a little bit, then I'll throw some mustang rims with sticky tires and call it good.
Like so: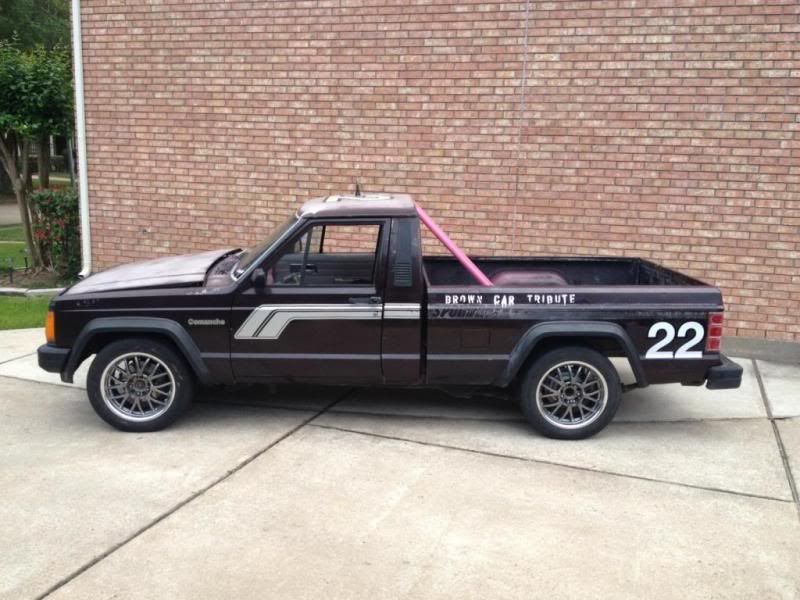 Anyone have anything to add? Something I've overlooked? Anything at all?
And just to pre-empt the naysayers, I already have a lifted, 4x4 cherokee. I don't need another off roader.
So, 150+ views and no replies, alrighty then...
Anyway, made some progress last weekend. Fix the weird driveline vibe issue it had. Traced it to a destroyed U joint in the driveshaft (axle end). Pulled the cap off and the needle bearings had been turned to dust and ground up, nasty. Got a new greasable joint in and everything is smooth as silk now.
Also got my coils in the mail from Amazon (prime is amazing!) I grabbed these:
http://www.amazon.com/dp/B000C55URG/..._26725410_item
for reference. They're constant rate, so I should be able to cut as much out as I need to achieve the desired height, without any weird springrate issues.
I also found these bad boys on the local craigslist. They're 2000 Cobra R rims. Hopefully they'll fit, I'm going to check fitment tomorrow night most likely.
Member
Join Date: Jun 2009
Posts: 374
Quote:
Originally Posted by
JeepWranglerNation
View Post
Viewed.. Yes.. but I have a feeling most viewing.. would rather see this lifted then lowered.. But I'll grab some popcorn.. and sit a spell.
I figured as much, like I said, I have a lifted cherokee already. I don't need a gas sucking behemoth as a daily.
Got the wheels and tires mounted up tonight. Having read up about the ZJ guys throwing these and the bullitt rims on their vehicles, I was prepared going in. There's a little lip, maybe an 1/8 inch, that has to be ground down/off for the wheels to fit. Got after them with my die grinder and finished it with a pencil grinder and flapper wheel, wheels fit perfect now, and best of all, NO issues with rubbing, even at full lock! However, it most definitely needs to be dropped an inch or two, it looks kinda strange with all that wheelwell empty. Hopefully get to that this weekend
Registered User
Join Date: Jan 2011
Location: Carson City
Posts: 1,027
I'm all for lowering it, and making if faster
---
'76 CJ5
430ci E85 SBC/single plate system
th400/Coan converter/DTS 9" rear
Family grocery getter
Registered User
Join Date: Apr 2012
Location: Racine
Posts: 3,346
Quote:
So, 150+ views and no replies, alrighty then...
I'm watching. There's just not much to say. I do see that someone swapped 97+ side mirrors onto it at one point, painted the wheels, and that it probably had polished aluminum/chrome trim, grill, bezels at one point that were painted over as well.
Addco also makes a rear sway bar by the way. I don't have much wisdom in the ways of lowering such a vehicle properly, so that's why I haven't really commented. KJ's have a 17" wheel with the same bolt pattern (5x114.3), and KK's have 17" and 18" wheels with the same bolt pattern that you can fit perfectly. Magnum/Charger/Challenger use 5x115 bolt pattern that I've seen some Jeep guys use, but there's a debate about how safe interchanging that pattern is. I know of a few guys with 18" Charger wheels that have had them for years with no problems. I don't recall if Mustangs are 114.3 or 115.
---
Build Thread -- https://www.jeepforum.com/forum/f177/whats-chrokeese-build-thread-2525690/
I ended up going with the SVT Cobra rims, they're slick and required only a little customizing to get them to fit. Some pics...
Getting them test fitted, before buying.
After getting them mounted, needs lowered BAD.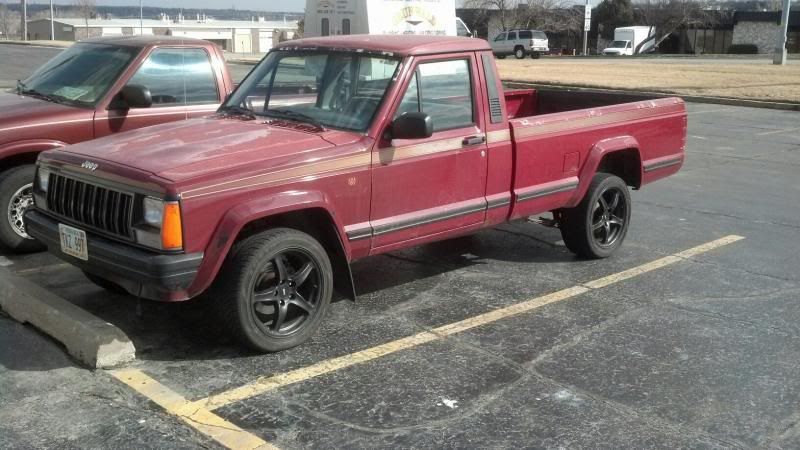 And a front shot, they're SUPER wide.
Turns out I thought they were the staggered rims, but they're actually just 17x8 all around. Super sticky
Working on lowering it this weekend.
Senior Member
Join Date: Oct 2011
Location: Iowa City
Posts: 601
Looks good. How did the lowering go? Any pictures of it lowered. Man I want a Comanche.
---
CB Engineering
CB-engineer.com
2014 WK2 EcoDiesel - CBE Parts
2008 3.0L CRD WK LTD - GDE Tune 3.07 gears
2007 3.0L CRD WK LTD - Go Fast Parts

To view links or images in signatures your post count must be 10 or greater. You currently have 0 posts.

2005 KJ CRD - GDE Tune
Registered User
Join Date: Sep 2013
Location: Pensacola
Posts: 175
Needs more meat in the back. A bit higher profile and fatter for sure.
---
1999 Grand Cherokee Limited, 4.7L V8, QT II, AWD, Brush Guard, 31x10.5x15"s. BB otw.
Sorry for the long wait, I went to change the belt 2 weekends ago, and this happened. Metric 9.8 bolt and I snap it like a toothpick, never done that before...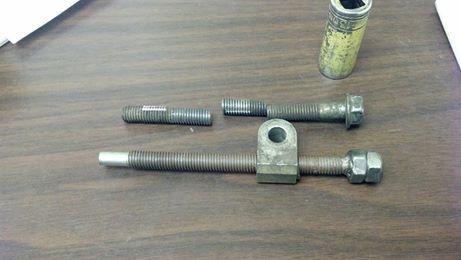 Well it turns out they no longer make that bolt for the pre 96ish cherokees. And no one had any in stock near me, so I had to improvise. Turns out the newer cherokee use the same bolt thread pitch, it's just about 6" longer than the earlier one. So a little snip with the angle grinder, a pair of nuts and a welder and voila! New bolt, factory length.
Anyway, after a belt change, fluid change and basic maintenance weekend, I actually got around to lowering it. Ended up cutting about 2.5 coils off the front ford springs and using 3" blocks ( for the time being) to get the rear down.
Total drop: 3" rear / 1.5" front. Looks much better, could probably come down another inch or so all around, but for now I'm happy. Looking into a company called Eaton Springs out of Detroit, they can custom make damn near anything. Think they can do a 1-5" drop and anywhere from stock springrate to incredibly stiff. Probably going to go for 4" drop with +50% stiffness.
I'm also toying with the idea of a 5.3 turbo swap, which would mean a new tranny, rear axle and probably wider tires, So I may hold off for the time being on grabbing the springs, just in case I need to fab up a 4 link or something...
Registered User
Join Date: Sep 2013
Location: Pensacola
Posts: 175
I would drop the front more if possible and get a nice rake going. Besides that more meat in the back. That would look real sweet.
---
1999 Grand Cherokee Limited, 4.7L V8, QT II, AWD, Brush Guard, 31x10.5x15"s. BB otw.
Senior Member
Join Date: Oct 2011
Location: Iowa City
Posts: 601
Sucks about the bolt, but good thinking.

Looks good. I might go just a bit lower in the front, but should handle pretty well. Should be fun blasting around town.
A turbo 5.3 would be pretty crazy in a Jeep like yours. I would turbo the stock motor and that should be plenty of power for this light of a Jeep.
Keep up the good work.
---
CB Engineering
CB-engineer.com
2014 WK2 EcoDiesel - CBE Parts
2008 3.0L CRD WK LTD - GDE Tune 3.07 gears
2007 3.0L CRD WK LTD - Go Fast Parts

To view links or images in signatures your post count must be 10 or greater. You currently have 0 posts.

2005 KJ CRD - GDE Tune
Currently Active Users Viewing This Thread: 1

(0 members and 1 guests)
Posting Rules

You may post new threads

You may post replies

You may not post attachments

You may not edit your posts

---

HTML code is Off

---