York On-board air
---
York On-board air
When looking into adding an on-board air set up to your Jeep there are a few options, the best being a York A/C pump used as an air compressor. The reason for this is because they pump a large amount of air, are very reliable, and are oiled internally. By using a York you can not only air up tires, but you are also able to use air tools on the trail, hook up an air horn, air lockers, and blowing up the air mattress for camping (my wife's favorite). So lets get started:
The first step is to research what you want. There is a large amount of information on this project and after reading a few write ups you should understand what you will be doing. This is not a very difficult project, and it is very satisfying to know you built it at the end.
Here is a list of items you will need:
York compressor
Serpentine clutch
Longer serp belt
Mounting plate
3/8 ID hose, capable of withstanding at least 150psi and 300 degrees F
4' of soft copper tube
Coalescing filter, to remove oil (don't go cheep on this, get a good one)
Check valve
5 or 6 port manifold
Pressure gauge
Pressure switch
Safety release valve
2.5 gal tank
Quick disconnects
77' Bronco fuel filter
Rocker switch
Wire
Various hose fittings, Teflon tape, and tools
Here is my first schematic I made, so that I knew I understood what was going on, in the end my actual design differed slightly from this, but you get the idea:
Once you do your research make one for yourself so you know you are ready to start.
The first item you will need to research is the York itself. There are three types, the 206R, 209R, and the 210R. Any one of these will work, but the best is the 210R because it moves the most amount of air. The "R" means it is a right hand suction, and because we will be laying the York on its side you want the suction port to be on the top. If all you can find is a "L" then it will work. When you find a York this information will be on the front, stamped into a metal tag. You can usually find a York in a Junkyard for cheep. I got my first one for $5, but it is more likely that you will pay more. You will want to look for early 80's Volvos,
here is a lit of other vehicles as well,
http://www.dakuda.com/jeep/tech/yorkchart.html
when you find one, cut the hoses as far from the York as you can, this way you can re-use them. Then check if the York works, place your thumb over one of the cut hoses and turn the inner portion of the clutch on the York a few times. If you remove your thumb and there is pressure then that is good, if not then find another one. Don't worry about checking the clutch because you will be using a different one that you will need to buy. Using the V-belt clutch that comes with the junkyard York creates some issues that I will not be covering here. Once you find one that works pull it out, with the steel mounting surround and take it home. You should also look for an early 90's Buick and take the air box for later.
You now need to get a serp clutch. If there is a big rig trucking yard close by, then you can get one off an International (you can also get air horns and tanks there). If you don't have one you will need to find a clutch online.
This is the cheapest I found them, Serp clutch MEI 5030
You may also be able to find them on E-bay for cheaper than that, Seller ID is Truck Parts Plus, search for MEI 5030 one wire.
Once you get home you will need to make room under your hood. If you have a 97' 4.0 like I do, you will need to move the stock air box. There are a few options for this. The first is to use the stock air box, but relocate it. Stu Olson's site has a good write up on that, Relocate Stock TJ Air box.
The next option is to use an air box out of a 1990's Buick. You can find my write up for that here, Buick Air box install.
The last option is to cut the stock air tube and just stick a K&N air filter on there. It has been shown that by using a K&N filter you may be letting in smaller particle of dirt, so I recommend using the Buick air box.
Next you will need a mounting plate. If you have a 97' 4.0 with out A/C then you can make one with ease. If not I suggest purchasing one fromBrad Kilby.
Here is how I made mine. If you got your York from a Volvo and you took the steel mounting surround then you can easily make the mounting bracket.
Since the mounting plate that came out of the Volvo already has holes for the York all you have to do is drill some to mount it to the engine.
This is what it looks like:
But first you need to have the serp clutch mounted to the York. To do this, remove the center bolt, remove the washer, then take a 5/8" x 2" long coarse bolt and screw it in the center hole until the V-belt clutch pops off. You will need to keep the clutch from spinning. The easiest way is to do this before you take it out of the Volvo, if you didn't do it then you can use a screw driver to help get some leverage. They make a tool for this, but since we are doing this on a budget it is not needed. Once you get the old clutch off put the new one on.
Now you can measure the distance from the mounting holes on the York to the inside edge of the serp belt (the edge of the grooves on the serp clutch). Then go to your engine and measure the distance from the mounting holes there to the edge of the current serp belt. Subtract these numbers and you get how far apart the holes need to be.
The holes should look like this:
You will also need to cut the semi-circle in the right of the picture for spark plug clearance.
Once your plate looks like mine you can mount it. Here is the hardware required,
3/8-16 x 7/8" Flange Head Bolts (4)
3/8" Flat Washers (4)
M8 x 1.25 x 25MM Socket Head Bolts (2)
M8 x 1.25 x 25MM Hex Head Bolts (2)
5/16" Flat Washers (2)
Thanks to Brad Kilby for this info, and you can thank him by purchasing his coalescing filter (the ones he sells are the best you are going to find, don't get a cheep one, you will not like it)
When you put the plate on torque the four metric bolts to 21ft lbs, here is mine:
Now the York can be installed. Just place the York on the plate and start threading the bolts in. The back one by the engine is hard, but keep at it and it will go in. Tighten the four bolts evenly.
Install the new serp belt next. The one I used was 96" long. Or approx. 4" longer then the belt would be if you had A/C. You may need to try a few belts before you get it exact. To loosen the belt on a 97' there is a bolt above the idler pulley under the power steering pulley. You will also have to loosen the bolt on the pulley itself. When you go to tighten it back be carful not to bottom out. If you continue to turn the bolt with too long a belt you will snap the bolt (I know from experience, whoops).
Here is a routing diagram:
And here is my York installed:
After your new belt is on you can continue.
You will have to decide where you want to get your air from. I first drilled a hole in the air box and pulled from there, but because I am using a 210L (so my suction port is on the bottom) the ending would pull a bit of oil in to the air box. So I opted to put a filter in the grill and pull cold air from there. When the Yorks are being used they get very hot, so if you can use cold air that is best. Here you can see the small filter behind the grill,
Next item is to work on the discharge line. If you saved some of the hose when you pulled your York you can just clamp your copper tube to the end of that. The copper tube is used to cool down the air before it gets to anything that might get damaged. After the copper put the coalescing filter. This will remove most of the oil and water in the air. Then attach the check valve to keep the pressurized air from leaking out of the York. After the check valve you will go into the manifold where the air will be spilt up. On the manifold have the pressure switch, pressure gauge, and the safety relief valve.
From the front of the manifold send a line to the front of the jeep and attach a quick disconnect.
From the back of the manifold attach a ball valve so you can isolate the front disconnect incase the tank is damaged or any hoses are damaged. From the ball valve run hose to the underside of the Jeep to the tank that you will mount under the driver's side.
From the back of the tank run a hose to the rear of the Jeep and connect to another quick disconnect
Optional: From the front of the tank run a line of hose back to the engine compartment then into the cap where it is branched off to an interior pressure gauge and an air horn control valve. Then from the control valve run some line back into the engine and to the air horn.
To help with the oil issue go buy a fuel filter from a 77' Bronco and I just took the bolt from the York into ACE hardware and started testing what would fit. I found that a 3/16" cap would fit the bolt so I found a 3/16" connector, a 1/8" female elbow and then the fuel filter. With a little Teflon tape everything fit together nicely.
This is said to help vent the crankshaft and prevent the York from throwing as much oil.
Now it is time to do the wiring. Simply attach one end of a wire to a fuse in the fuse box that only comes on when the key is turned on, then connect to your rocker switch mounted on the interior, if it is a lighted switch make sure to ground it, then from the rocker switch go through the fire wall and connect to the pressure switch, from there connect to the York. My pressure switch is adjustable, right now it is set to come on around 90psi and off at 120psi.
Completed:
This was a very satisfying project and I am glad I took it on, I ended up spending about $500, more than I wanted too but I am happy with the outcome. I love having on-board air. Thanks for reading my write up.
Here are some links that helped me:
http://www.jedi.com/obiwan/jeep/yorkair.html
http://www.jeepaholics.com/tech/OBA2/
http://longhornoffroad.com/pages/wri...ba/yorkoba.htm
http://www.madxj.com/MADXJ/technical...AirNoVBelt.htm
And many more.
__________________
Now you know, and knowing is half the battle. G.I. Joe!
Green Jeep Club Member #174
GO COUGS!
Registered User
I would suggest making plugs out of QD's for the exterior QD's mud and dirt will jam into them and they become useless on the trail. I have ran into it.
I would also suggest always use the brass only QD's. I bought some high quality ones that used a coated steel collar and it didn't last long, my cheapy brass ones have lasted much longer.
Hardlining the system with brake line whereever possible is also best, I kept blowing hoses or springing leaks when I needed the system the most. If you need to go from frame to body though make sure to have a rubber section of hose in that area, also use good quality hose. Cheap hose will harden and crack quickly.
---
94 V8 YJ, SOA, H1's, 37's, HP D44, D60, 4.88's, winch and some other goodies
1946 CJ2A, 225 V6, T98 D18, Warn OD, D30/D44. Dual winches mild lift & 34's
1966 M416 1/4 ton Military Trailer Expo Trailer
Full Page Club member #004
Green Jeep Club Member #005
Registered User
Join Date: Nov 2006
Location: Marysville
Posts: 138
one of those rubber boots for a cane work really good for keeping the dirt and water out of the QD's. Just my .02
---
SOLD! 93' YJ,CJ front clip, Now have a stock 96 XJ waiting to be lifted
Registered User
Join Date: Feb 2008
Location: Columbus
Posts: 1,360
maybe I am a dummy, but does this mod sacrifice air conditioning?
---
Ohio4x4.com
Guest
Join Date: Oct 2004
Posts: 1,498
You can run a York setup and retain your factory A/C with Kilby bracket kits or make your
own.
Registered User
Join Date: Oct 2009
Location: derry
Posts: 81
doin definatly i need on board air i break stuff and air tools would be sick to have when im stuck a mile or two into a trail
Registered User
Quote:
maybe I am a dummy, but does this mod sacrifice air conditioning?
It can go either way. Many people ditch it just because it can be harder to package.
I still have to work on mine some more, but have to finish re assembling the jeep. When I disassembled to do SOA I started relocating everything again.
---
94 V8 YJ, SOA, H1's, 37's, HP D44, D60, 4.88's, winch and some other goodies
1946 CJ2A, 225 V6, T98 D18, Warn OD, D30/D44. Dual winches mild lift & 34's
1966 M416 1/4 ton Military Trailer Expo Trailer
Full Page Club member #004
Green Jeep Club Member #005
Registered User
Here is the current state, I have not painted the brackets, or attached the lines to the frame yet.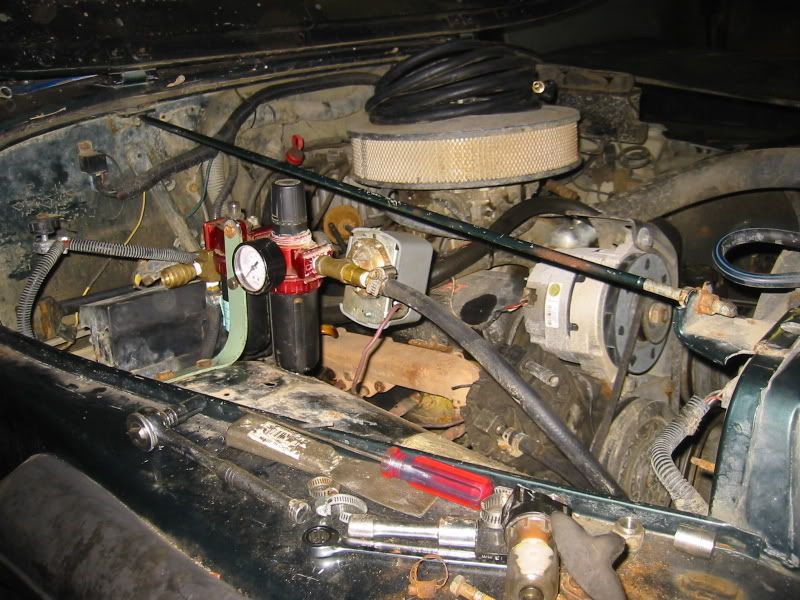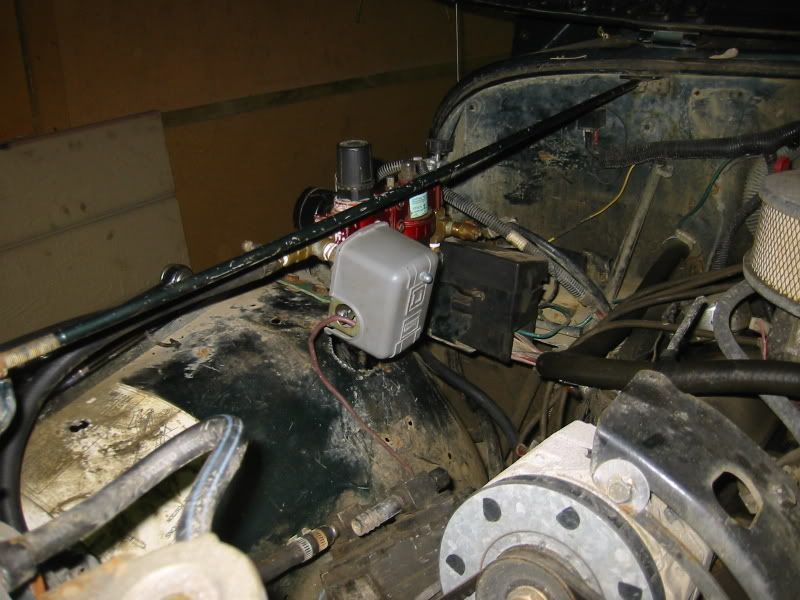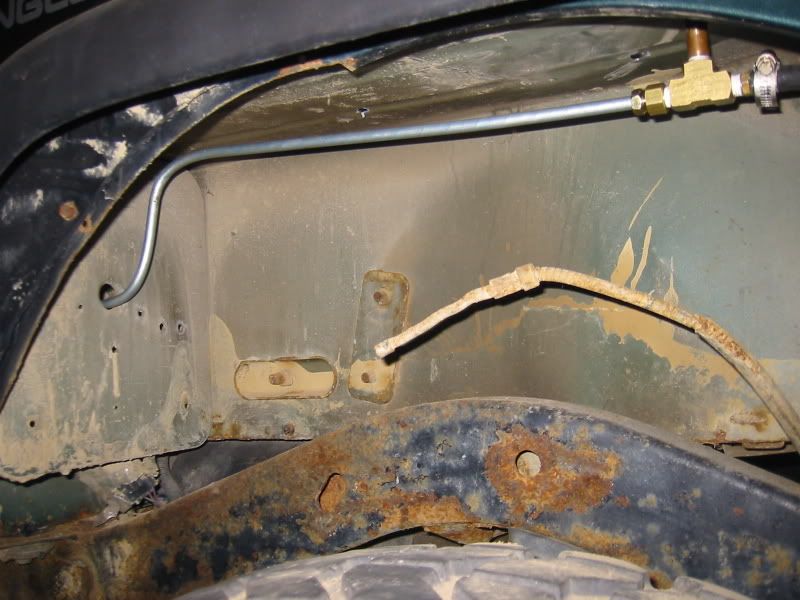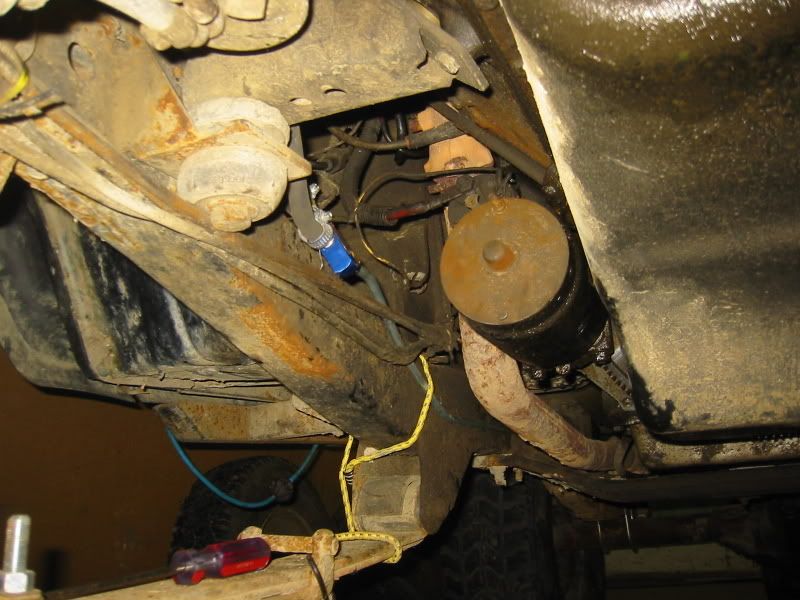 This gauge will eventually go bye bye when I get my dash mounted pressure gauge.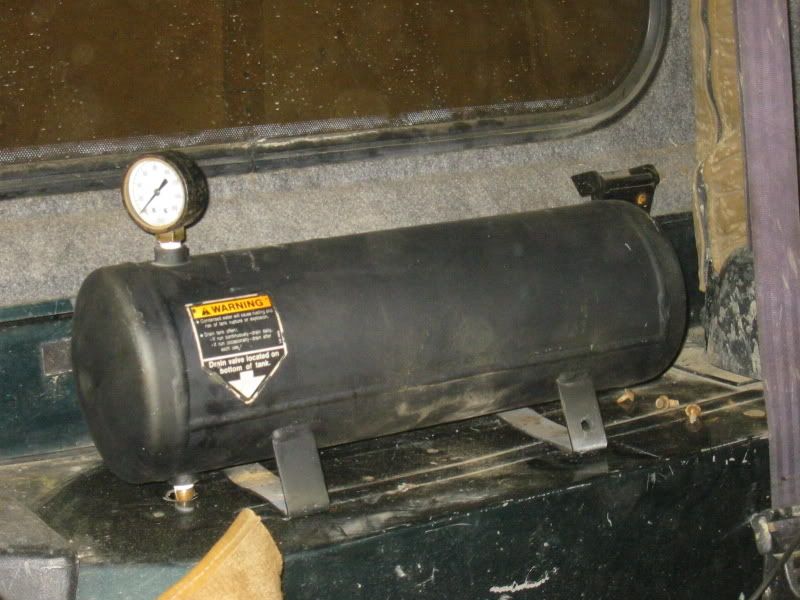 ---
94 V8 YJ, SOA, H1's, 37's, HP D44, D60, 4.88's, winch and some other goodies
1946 CJ2A, 225 V6, T98 D18, Warn OD, D30/D44. Dual winches mild lift & 34's
1966 M416 1/4 ton Military Trailer Expo Trailer
Full Page Club member #004
Green Jeep Club Member #005
Registered User
Join Date: Aug 2009
Location: Buckley, Wa
Posts: 13
Great information, very useful.
Registered User
Join Date: Aug 2009
Location: Buckley, Wa
Posts: 13
Great thread, used a lot of this for mine on ford 5.0 in my cj7
Web Wheeler
Join Date: Sep 2007
Location: Florida
Posts: 3,302
---

To view links or images in signatures your post count must be 10 or greater. You currently have 0 posts.

Currently Active Users Viewing This Thread: 1

(0 members and 1 guests)
Posting Rules

You may not post new threads

You may post replies

You may not post attachments

You may not edit your posts

---

HTML code is On

---