Guest
Join Date: Oct 2006
Posts: 527
Removing door molding on 97 XJ
---
Let me start off by saying that this absolutly cost free mod is one of my favorites. Heres what was used-



- Skinny plastic object (I used a plastic light cover)

- Duck Tape

- Clear Box tape

- Soapy water

- Muscle Power

- Salvanise, To get off the little tiny bits of glue left behind (not necessary)
---
| | |
| --- | --- |
| I started of by just pealing off the molding by hand. No heat gun was needed as the trim came off fairly easy. Here's what was left after pealing the molding off by hand. | |
---
I then used the soapy water and just cleaned the area off, there was alot of dust and dirt under the moldings. This also loosened up the 3M adhesive still left on the car.



I put togather the item i was going to use to very easily push the adhesive off with. It was the skinny plastic peice with 1 layer of duck tape over the edge and then a layer of the clear box tape. I needed the clear box tape over the duck tape b/c the duck tape would rip easily when pushed along the car and scratch the paint. The duck tape was just an extra reinforcemnet so that the tape would not rip. Here's what the tool looked like.
---
It was a little time consuming to do both sides but the end result was well worth my time. I think ti came out really good.



After all the adhesive was removed i used some salvanise (removes scratches and stains) to really clean the area off for a nice finish. The salvanise also removed some of the over spray that i had when i originaly rattle canned my trim. Here's the final results.


---
It's drying in the sun right now and then im going to have to wax the area around where the molding was b/c the salvanise stripped soem of the wax in that area.



Hope you liked it.



(still need a little more cleaning tho after looking at the pics)
Registered User
Join Date: Feb 2010
Location: PA
Posts: 935
Awesome writeup, I'm going to do this tomorrow!
Member
Join Date: Aug 2008
Location: Stuart, Florida
Posts: 224
Great mod! Just did ours in 3 hours. Next need to open up wheel wells for 33" tires.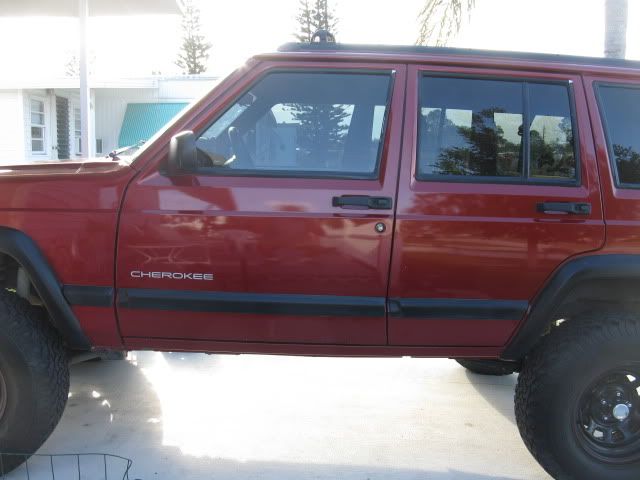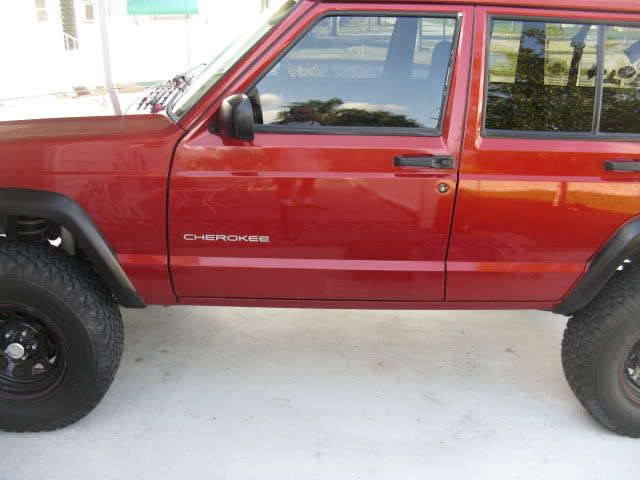 ---
Rubicon-a point of which any action taken commits the person taking it to a further course of action that cannot be avoided!
Web Wheeler
Join Date: Oct 2009
Location: Virginia Beach
Posts: 2,387
We used goof off and a flat razor blade..
---
- HM1(SW/AW)Ret USN Dec 23,1992 to Dec 31, 2012
I drive an XJ, and all of my power windows work :)


2000 Pontiac WS6 - DD
DD (Mine) Sold - 98 XJ Moss Green
(His) - 92 YJ December 2013 YJOTM

Sold - 95 ZJ
Sold - 97 XJ Red
Sold - 98 XJ


USN Jeep Club Hull #36
NAXJA #3700
Quote:
WTF is Clockspring??? my Jeep has digital clock
Registered User
Join Date: Mar 2011
Location: hampstead
Posts: 28
i need to do this to mine some time, just pulled the molding off, never could get the rest off, not a bad way to do it. would of never though of this
Registered User
Join Date: Jun 2011
Location: Warren
Posts: 24
theres a rubber wheel that body shops use works like magic. 100 times easier that a razor and goo gone
---
31s on stock lift
Registered User
Join Date: Jun 2012
Posts: 15
Registered User
Join Date: Apr 2012
Location: East Moline
Posts: 63
I considered doing this to my 2001, but I'm afraid to. I fear that sticky residue will not come off. I worry because there is no play at all in those pieces of trim, they are on there good. Unfortunately they don't look good. I have a heat gun that worked great for decals and emblems, but I don't know if it's the same type of adhesive. Has anyone had any luck removing these with a heat gun?
Registered User
Join Date: Aug 2009
Location: South of St. Louis
Posts: 751
Wow that really changes the look and for cheap!! Nice work.
---
Registered Nurse Jeep Club Member #1 (I think...)

Verse 36: And He said to them, "But now, whoever has a money belt is to take it along, likewise also a bag, and whoever has no sword is to sell his coat and buy one.
Registered User
Join Date: Jun 2012
Location: lennon
Posts: 377
Thanks so much for this post, I always looked at my faded gray plastic and said "Hm... I wonder how hard it would be to get this ugly plastic off" and for a while I was actually going to sand / paint them since I didn't want to damage my jeeps exterior. Anyways I followed your tut, and I love the new look on my jeep, thanks a lot!


here are pictures for before / after:
Before:
After:
Currently Active Users Viewing This Thread: 1

(0 members and 1 guests)
Posting Rules

You may not post new threads

You may post replies

You may not post attachments

You may not edit your posts

---

HTML code is On

---