Wiper Motor to linkage
---
Anyone here have any pics of how the wiper motor is attached to the linkage for the wipers. I need to to know how the actual motor is attached to the small linkage part (around 6 inches) thanks....
Registered User
Do not remove the nut holding the metal arm to the motor. I will find my manual and take a pic, its simple once you see it in writing.
Too late Gunshw301! I did a YJ tub swap on my cj, used the YJ windshield frame that had no motor. Bought a used motor on ebay. I have the metal arm that attaches to motor though...

Damn! That was a fast reply! Thanks.
Registered User
Sorry, I am in the process of moving my wifes stuff into the house, so I have no idea where that book is right now. If i remember right there are ball and plastic cups that hold the assembly together. You have to pry on them some how to get them to pop off. I did this years ago so its a little fuzzy now, but it was really simple when I figured it out. Just dont remove that nut, its impossible to put back on right, then it will just come loose again. I had to weld mine back together because the splines stripped when the nut backed off....basically its a pain.
Registered User
Grab one of the haynes manuals if you can. I know some guys say they are junk compared to a shop manual, but I have had most of my problems solved by either it or the forums. The write up in the manual was good enough for me to get things back together. Unfortunately I bought it after I had things torn apart, the very first thing in bold is dont remove that nut.....I had already figured out why.
Registered User
ha, found it, give me a sec and i will post some pics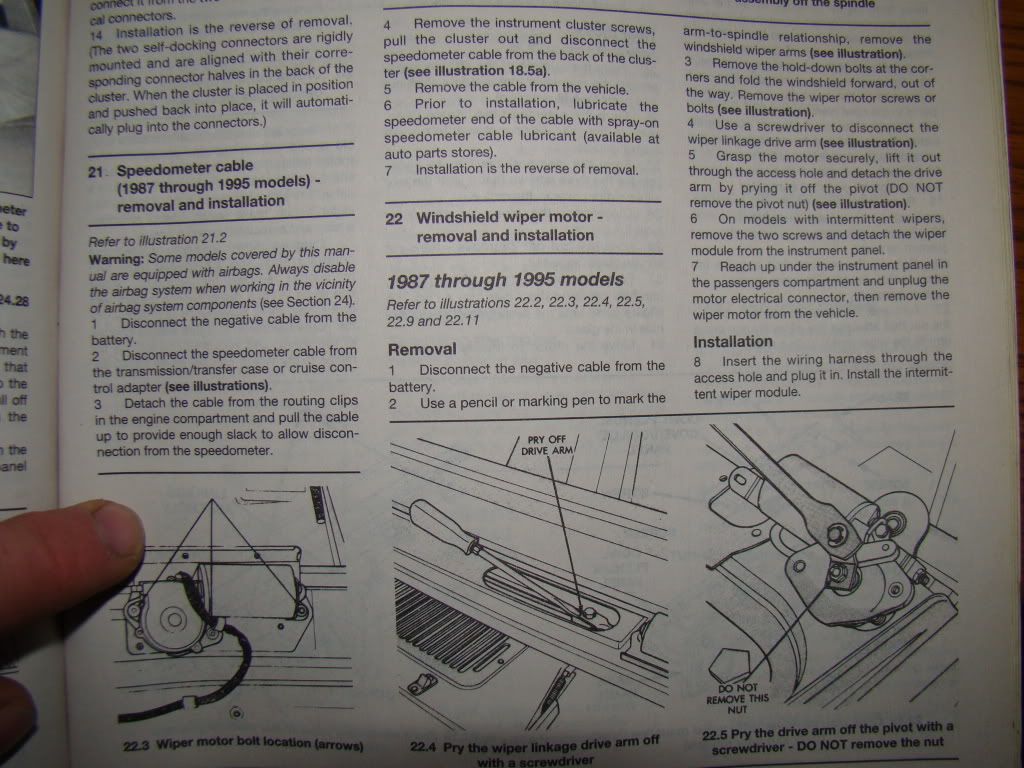 Hope thats what you were looking for, good luck with your project.
Thanks so much, I'll keep you posted.
Any ideas on what to do if the nut was removed? I bought the wiper motor on ebay....
Registered User
Do you have the metal plate? If so, look up a picture of the motor for sale on line. Line up the plate as best you can from the picture and place the plate on. Then tighten the crap out of it the best you can. Now one of two things will happen. 1. It will stay there and work. 2. It will work for a short period of time and then slowly stop working. If number two happens, then the splines have worn away because the plate became loose. If this happens, line the plate back up on the shaft and place a couple good tack welds to the shaft.

Thats what I had to do and its been working great for years now. Just try to line it up the best you can. If its off a little it will be okay, mine is a tad off and the wipers dont cover the original area, but its livable.
Registered User
I should clarify. Weld the plate to the splined shaft and not use the nut.
I have to check if I have the plate, this has been a tub swap and everything else that comes with it! What if I do not have the plate? Fab one?
Registered User
It should be easy enough to make. It wouldnt have the splines unless you have a way to do that, but the weld route would work just fine.
Currently Active Users Viewing This Thread: 1

(0 members and 1 guests)
Posting Rules

You may post new threads

You may post replies

You may not post attachments

You may not edit your posts

---

HTML code is Off

---