Registered User
Join Date: Oct 2013
Location: San Francisco
Posts: 9
Replaced rear output seal, transfer case still leaking
---
I went through the process of replacing the rear output seal, but I am still getting small drips. I didn't replace the rear bushing, is it worth going in to swap that out?
I also noticed that the shaft looked a little worn. I drove around with a OMU lift without the transfer case dropped for a little while, could this wearing be due to that? I really hope I don't have to replace that...
Registered User
Join Date: Oct 2006
Posts: 2,751
The part of the slip yoke that rides against the seal may be grooved from wear and dirt.
You can try to use some emery cloth to smooth it out.
If it still leaks and the slip yoke is smooth then it may be time to replace the bearing sleeve in the tail housing.
---
Baystate Jeepers
Deep Woods Extreme
New England 4 Wheelers
from here it gets rough
Join Date: Dec 2007
Location: Beyond Honolulu
Posts: 5,815
If you're leaking out of the seal still you have a few things to consider, one of them is indeed the bushing, since if it is wallowed out the seal will not be able to compensate for this. Another thought for the seal is that the prior seal could have worn a groove into the output shaft and it won't seal. You can either try driving the seal in deeper, or less deep so that the lips of the seal contact a fresh/clean surface of the shaft. In a variety of applications, it is possible to find different "thickness" seals in these situations. As an example, I recently replaced the front main seal on a 22RE crank. The original is 12mm, but due to crank scoring, I found a 7mm thick seal that seated deeper, and on a fresh/clean surface of the crank. Problem solved.
In the photo below, you can see the two seals, and the only difference is that one is way thinner. I do not happen to know a part number for your application though.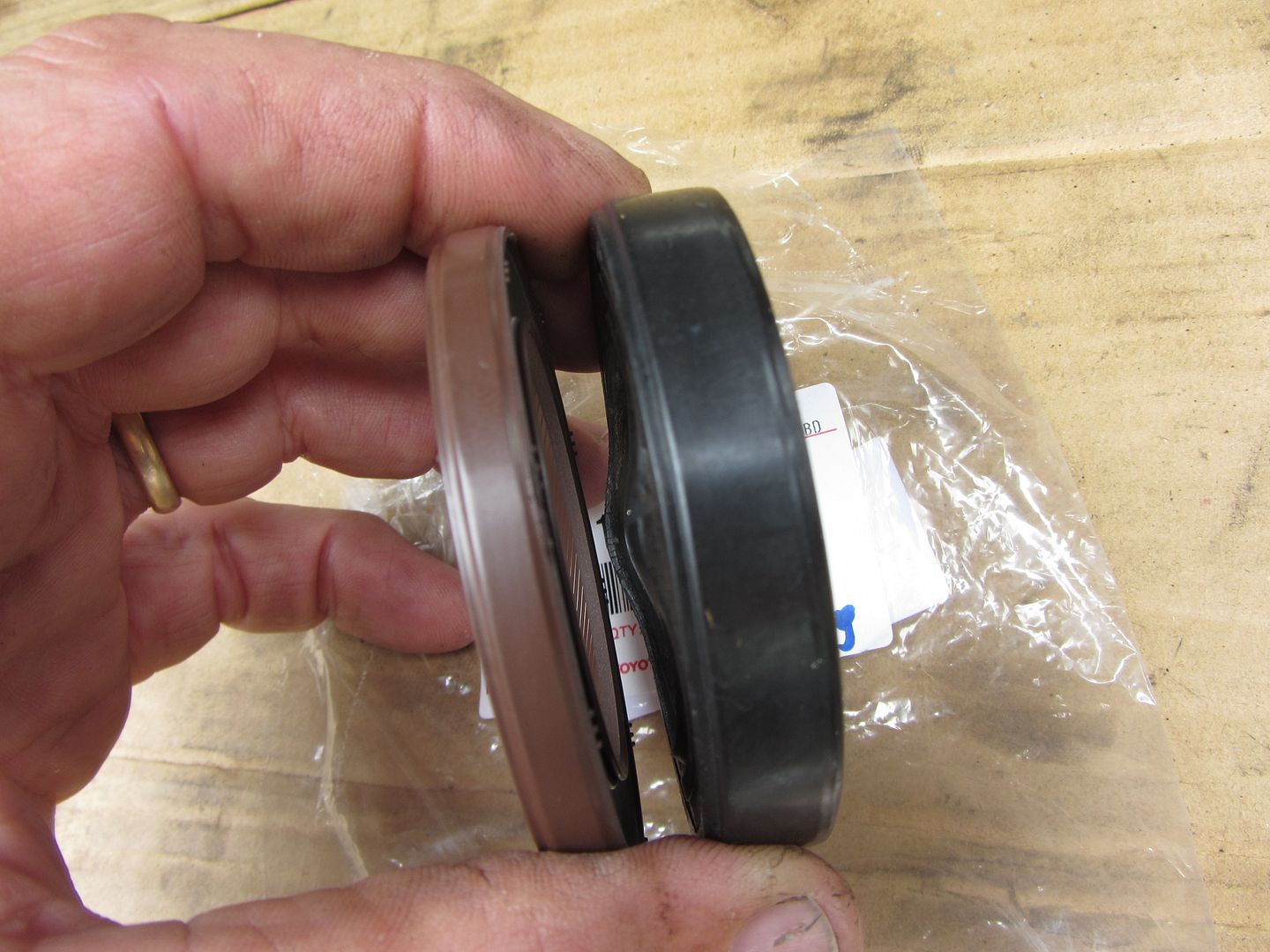 ---
....I'm not smart, but I can lift heavy things.......
Fill out your PROFILE, and don't forget to look in the FAQ for writeups
I'm stuck on da Rock
To view links or images in signatures your post count must be 10 or greater. You currently have 0 posts.
Quote:
We will be going Metric every inch of the way.
Quote:
yes I'm a some guy and have always put gasket sealer on my surfaces before mating
Quote:
You should go to Pirate. I hear they are real smart over there. You'd fit right in.
Registered User
Join Date: May 2010
Posts: 1,022
I had the same issue when I first purchased the Jeep. I changed just the seal and polished the yoke best I could but still had a slight drip problem. This time I installed a new bushing and seal... problem solved.
---
Owning a "Renegade" means being "Different"!

"The greatest danger to American freedom is a government that ignores the Constitution."
-Thomas Jefferson
Registered User
Join Date: Mar 2009
Posts: 1,305
Exactly what's been said... Replace the bushing and you should be set. Also, check for wear and/wobble on the shaft... It could be flexing the seal slightly if it spins uneven or wobbles slightly but my $ is on the bushing.
---
93 YJ, 6 cyl,3.5" BDS,1" Prothane BL,1/2" booms, 33" Mickey Thompson MTZ on MT Beadlocks.

Do your part for Leukemia research - help find a cure.

To view links or images in signatures your post count must be 10 or greater. You currently have 0 posts.

KCCO
Currently Active Users Viewing This Thread: 1

(0 members and 1 guests)
Posting Rules

You may post new threads

You may post replies

You may not post attachments

You may not edit your posts

---

HTML code is Off

---