XJ Bumper end cap lights pic?
---
Hey guys, somewhere on here I remember seeing a guy (yeah you know who you are!!!) who mounted some circular driving lights into the part of the bumper end cap that "bulges" on the gen2 XJs. I really really want to give it a go but I'd like to see the picture again or PM the guy. Anybody know which Jeep I'm talking about?
---
98 XJ Sport | i6 | AW4 | 231 | Stone White | Agate Leather

SOLD 01 WJ Ltd | i6 | QT2 | Moog HD steering | Tow Package | Boston Acoustics Audio | RB1 | Lou's Catback | Stone White |

Matt
Registered User
Join Date: Nov 2008
Location: Lubbock
Posts: 375
No idea, but I'm curious now
Registered User
Join Date: May 2008
Location: Victoria
Posts: 3,555
You might be talking about Stevieboy (
Jeep Space - stevieboy
). They are Delta Tech lights and can be had on Quadratec among other sites.
Nicest XJ I have ever seen.
If not this one, I am not sure which ones you are talking about?
---

To view links or images in signatures your post count must be 10 or greater. You currently have 0 posts.
- 2005 Jeep Grand Cherokee LTD 5.7L WK -
To view links or images in signatures your post count must be 10 or greater. You currently have 0 posts.



____=__=
l l ,[_____],
l---- L -[]lllllll[]-
()_) ()_)--o-)_)
Registered User
Join Date: Nov 2008
Location: Marblehead, MA
Posts: 6,245
stevieboy has a beautiful XJ, his photography is great too. His are mounted in the center bumper the ones I saw were set right in the plastic part of the endcaps and it looked factory which I thought was very cool.

mind sending me a link for the lights? the ones I saw were flush mounted and looked like they had a trim ring designed for their purpose. The point is to have a clean factory-looking install
---
98 XJ Sport | i6 | AW4 | 231 | Stone White | Agate Leather

SOLD 01 WJ Ltd | i6 | QT2 | Moog HD steering | Tow Package | Boston Acoustics Audio | RB1 | Lou's Catback | Stone White |

Matt
Registered User
Join Date: Nov 2008
Location: Marblehead, MA
Posts: 6,245
heres a real quick photoshop I just did to hopefully jog someone's memory the spot is perfect behind the plastic bulge is just foam so you can dig/cut/pop it out and the light will have a good place to sit. Low profile is probably the best I haven't measured clearance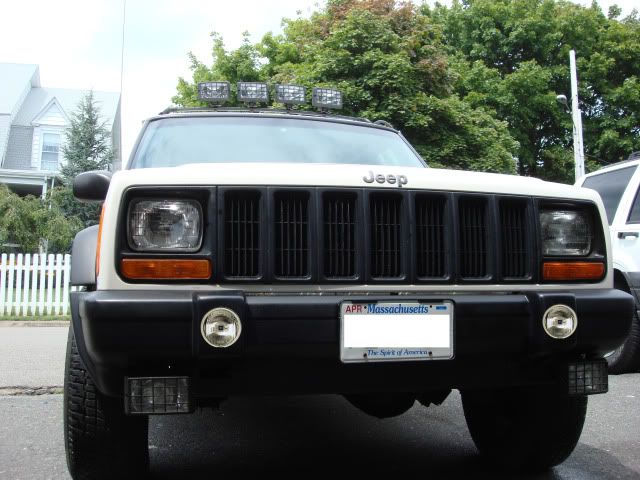 they would look just as good in the center of the bumper in the metal part to either side of the license plate but it seems like there would be no way to accurately get holes cut through the steel bumper
---
98 XJ Sport | i6 | AW4 | 231 | Stone White | Agate Leather

SOLD 01 WJ Ltd | i6 | QT2 | Moog HD steering | Tow Package | Boston Acoustics Audio | RB1 | Lou's Catback | Stone White |

Matt
Currently Active Users Viewing This Thread: 1

(0 members and 1 guests)
Similar Threads
Thread
Thread Starter
Jeep Forums
Replies
Last Post
LIghts in bumper?

Spokes

XJ/MJ Cherokee Non-Technical Forum

22

04-17-2009

09:37 PM

lights on the bumper

lathan888

XJ Cherokee Technical Forum

10

12-13-2008

02:07 PM

New Bumper and Lights

SCFishinGuy

XJ Cherokee Technical Forum

7

02-24-2007

10:39 AM

Fog lights in bumper

Overcranked

XJ Cherokee Technical Forum

5

01-28-2006

07:20 AM

Bumper lights

charlie_merrifi

XJ Cherokee Technical Forum

5

01-02-2006

08:15 PM
Posting Rules

You may post new threads

You may post replies

You may not post attachments

You may not edit your posts

---

HTML code is Off

---