Registered User
Join Date: Nov 2015
Location: Lufkin
Posts: 3
bendix brake replacement. front brakes sticking!
---
Ok so I bought a 1991 Jeep Cherokee Briarwood edition. The bendix burned up immediately so after much research i stripped it out. I replaced it with conventional brakes. The problem is the fronts brakes build pressure but wont release unless I bleed one of the calipers off. Here is a list of parts replaced:
new master cylinder
new brake booster
replaced proportioning valve with one from wrecking yard.
new brake lines hard and soft to drivers side front
new brake calipers driver side and passenger
I initially replaced the ABS system with conventional brake booster and new master cylinder. Went for a test drive after bleeding the brakes, after a few pumps on the brake pedal it built pressure on the drivers side caliper. so i replaced the calipers thinking they were bad.
replaced calipers and bled brakes.
went for test drive and after a few pumps it did the same thing. seized up on drivers side only.
i disconnected the drivers side brake line from the proportioning valve and put a plug in the proportioning valve.
test drove it and after a few pumps on brake pedal the front passenger side brakes locked up. bled it off and came home thinking it was the proportioning valve.
went to the wrecking yard and got another proportioning valve. i put it on and it seemed to do fine. i drove it to work and my wife drove it to her parents house twice. no problems aside from a somewhat spongy brake pedal which i was going to address later with a brake fluid flush amongst other things of troubleshooting.
i thought the caliper seizing issue was over.
then last night my wife drove it to town. she went to three different stores.
as she was leaving the store she noticed the pedal was stiff. she drove it a little ways then called me. she waited for me and i came to her and bled off the pressure. then she drove it home. i cant see what the problem is.
sorry this is so long but this troubling me. i tried to fill you all the way in so that hopefully some of you cherokee geniuses can help
me.
please help!
Registered User
Join Date: Aug 2010
Location: Parrottsville
Posts: 560
Look for the indents on the slides. The pads will get stuck in the indents and not relax.

Likely not the caliper at all.
Registered User
Join Date: Aug 2010
Location: Parrottsville
Posts: 560
Here is a pic of mine after repair. If you have the indentations you'll have to fill them with weld and then resurface.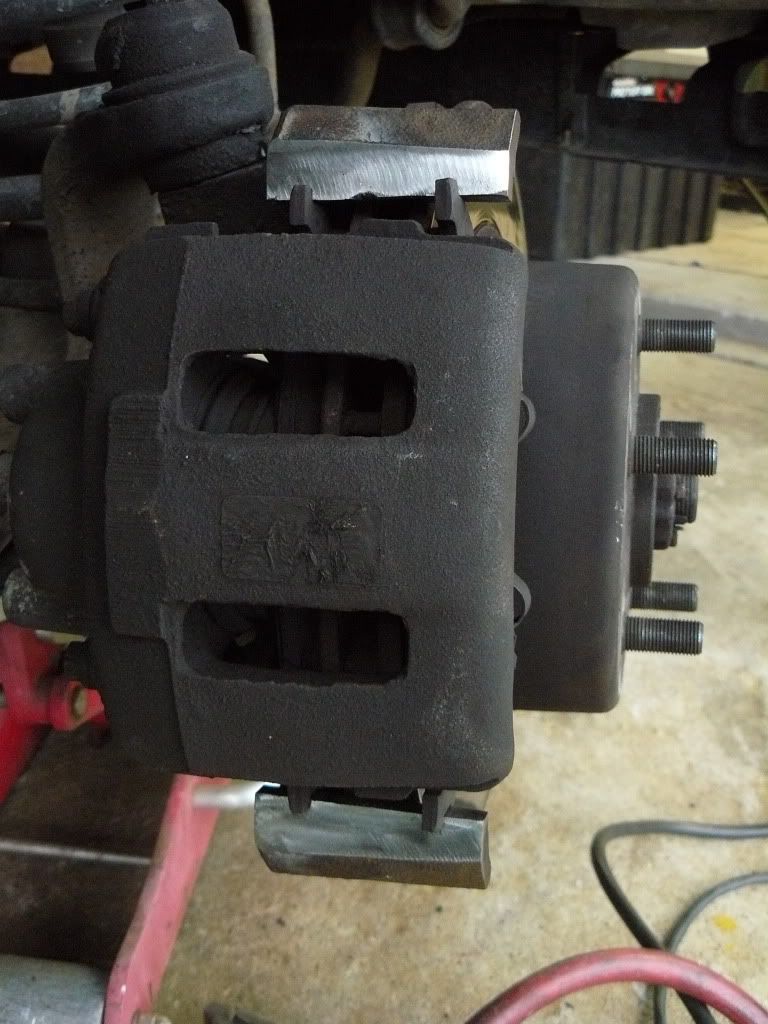 Registered User
Join Date: May 2010
Location: CHS, SC
Posts: 309
I had a similar issue and it was due to the soft line collapsing in both front brakes. I saw you replaced one side, maybe replace the other.
---
2005 WK Hemi QDII
1999 XJ OME MD, 245/75/16 ST MAXX, ARB Bull Bar, Aussie Locker F&R
Registered User
Join Date: Nov 2015
Location: Lufkin
Posts: 3
---
Thanks guys I will check both of those things tomorrow and get back to ya'll.
Registered User
Join Date: Sep 2015
Location: casper
Posts: 107
i would check the calipers with piston fully pushed in, then see if the pads simply slide free on the caliper surface as installed. they could always be filed a little to guarantee free movement. also check the caliper is not binding in any other way.

the next item for me would be replacing rubber hoses to calipers, as was mentioned can and do internally collapse causing a restriction that keeps pressure on even when off the brakes.

if no luck still I would separate the master from booster and check spec on booster pushrod that presses into master cylinder when applying brakes. not so long ago I bought a old car fixer upper that the genius mechanic had adjusted that rod out to compensate for weak brakes, instead of doing a pad slap. so never assume the weirdest possible problems wont happen. if the hydraulics are clear and the mechanicals are all OK, that pushrod between booster and master cylinder must be verified as it certainly will cause brakes not to fully release, and you can bleed and test good but then get the smoking brakes after driving, like you said.
---
Last edited by wyowalsh; 11-19-2015 at

07:43 PM

. Reason: add text
Registered User
Join Date: Nov 2009
Location: SouthWest Georgia
Posts: 690
Also, verify the MC. I know it is new, but new parts come out of the box defective all the time.
---
4-wheeling: because football, basketball, baseball, and golf only require one ball!


Confidence: The feeling you get just before you fully understand the situation!
Currently Active Users Viewing This Thread: 1

(0 members and 1 guests)
Posting Rules

You may post new threads

You may post replies

You may not post attachments

You may not edit your posts

---

HTML code is Off

---