99 xj steering gear box and pump upgrade options?
---
looking for option ideas on upgrading the power steering gearbox and pump. looking for easier turning
Registered User
Join Date: Apr 2015
Location: Globe
Posts: 394
There isn't really much out there other than remanufactured or the super expensive PSC.

Sent from my SM-G975U using Tapatalk
---
NP242/skidplates/RC4.5"LA kit/33x12.5mudclaws/15x10rim/sliders&flares/trussed-locked8.8/winchbumper
Registered User
Join Date: Aug 2015
Posts: 3,286
I know somebody that put a WJ steering pump in their '00.
I don't know why. He runs regular tires like me, mine is just a DD, but said the steering was hard too.
Bottom line it was nothing but problems and went back to an XJ one.
Could be user error. Who knows.
Real Jeeps have dents
Join Date: Apr 2002
Location: out in the garage - Minneapolis
Posts: 29,257
Define "easier turning" and expound upon why it would be necessary ?
---
"We the people are the rightful masters of both Congress and the Courts,
not to overthrow the Constitution but to overthrow the men who would pervert the Constitution" Abraham Lincoln, 1859.
Registered User
Join Date: May 2018
Location: Queens NY
Posts: 922
The Saginaw box Jeep uses is considered the "better" box over at G-bodyForum.com. It only came on the F-41 equipped G-body cars like Monte Carlo SS, Grand National, 442, etc. But you could get it as an option on lesser models. read:
https://www.motortrend.com/how-to/up...teering-cheap/
Here is a chart with some specs.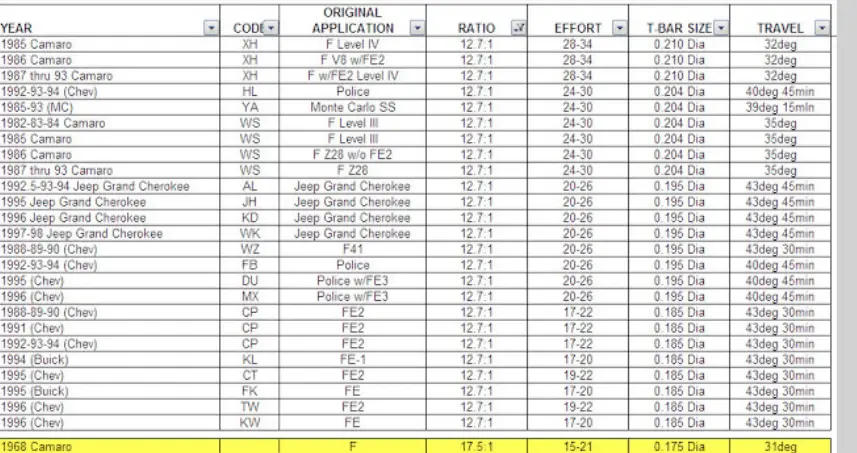 ---
Mark in Queens- Home of Spiderman and the Ramones
Registered User
Join Date: Mar 2011
Location: roseland
Posts: 828
daily driver , lots of turning when driving and i plow with it . just seeing if i can make it like butter
Currently Active Users Viewing This Thread: 1

(0 members and 1 guests)
Posting Rules

You may post new threads

You may post replies

You may not post attachments

You may not edit your posts

---

HTML code is Off

---