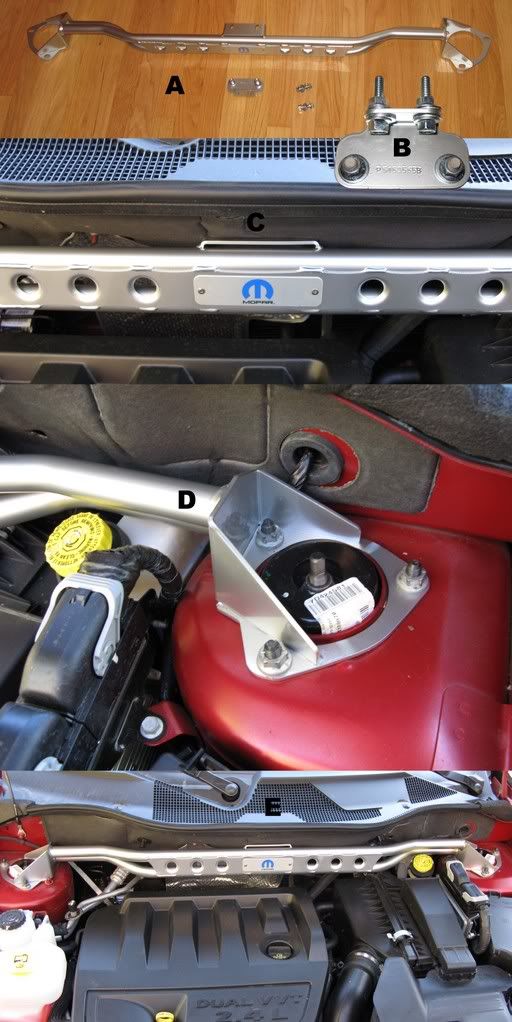 A. Strut Tower Brace Kit
B. Close up of Firewall Bracket
C. Mounting location of Firewall Bracket.
D. Strut Tower mount
E. Brace installed. The windshield valance (directly under "E") is removed to allow access to the blindside of the firewall.
The instructions were easy to understand. Only the firewall and firewall insulation required drilling and cutting, respectively. The brace is made of steel and is nicely finished with aluminum-colored paint and a Mopar decal plate. The brace did not interfere with any of the engine components. There is approx. 1.5" between the brace and the stock airbox, if that matters to someone with a cold-air intake mod(???). Job time: 1.5 hours.
What the instructions won't mention:
Figure C shows (not too well because I did a good job) a cut I made to the firewall insulation. This allows the Firewall Bracket (Figure B) access to the firewall mounting holes. The mounting holes need to be drilled, so the brace assembly will have to be removed after the holes are marked. I used a dab of grease on the bolt threads prior to final torque. When the brace is fully installed, the bracket should be hidden for a clean appearance.
I did notice a bit more lateral stiffness but don't have enough road time to make a final performance evaluation. I'll run it for a week and post my thoughts.