Registered User
Join Date: Aug 2008
Location: canada
Posts: 4
No Bus Jeep Compass 08 sad day...
---
well i messed up bad lets put it this way, i drove the jeep into A DITCH filled with water half the engine was sumberged for over 40 min i turned the car off immediatly and got it towed back to my house and now, it sits battery is dead or shot or needs to be cleaned i think. and when i try to start it when its being boosted it says no bus on the odometer reading... windows wont go up or down and only locks or lights work. i dont know what 2 do, the fuses were under some water so they look shot... i dont know much about cars but anyone got any ideas? or give me an estimate on what you think a fix is going to cost ty vm
08 compass btw iam a dead man
Registered User
Join Date: May 2004
Location: Erie, PA
Posts: 1,819
Call the insurance company and drop it off at the dealer. Unless you have access to some sophisticated equipment tracking down all of the problems water can cause it will be a nightmare.
---
Hers - 2011 Dodge Durango Crew
Mine - 2003 Jeep Wrangler X
1998 Jeep Cherokee Classic
Registered User
Join Date: Aug 2007
Location: Northeast USA
Posts: 644
ouch. dunno if insurance will cover it but if it does the dealer might be an option. if they dont.. well..

may be just everything is still wet, if you can wait I would just open the hood, disconnect the battery, pull the cover off the fuse box, pull all the fuses and let it dry out. for like a couple days. seriously.

might want to unplug any connectors that were under water and let them dry out also. you could spray around with WD 40 (Water Displacement formula 40).

it will probably cost big bucks for a dealer and all they will probably want to do is replace everything.

give it a couple days. modern electronics are fairly robust and once dry they may be OK as long as it wasnt salt water (that ditch wasnt the Atlantic was it?)

what may of happened is you got the data bus wet (shorted) and the various computers cant communicate with each other. once the bus is OK, you may be fine.
---
2000 Cherokee Sport 4.0L Selec Trac - mine - for occasional wheeling
2007 Patriot 2.4L FD I 4x4 - wifes - doomed to rarely leave the street
Registered User
Join Date: May 2008
Location: Ontario
Posts: 95
Your insurance should cover it. A friend of mine did the same thing a few years ago with his wife's car. Even the dealer couldn't guarantee that they could fix it properly so the insurance just bought them a new car. At least phone them and tell them what happened.
Registered User
Join Date: Jul 2008
Location: Tampa, FL
Posts: 105
take apart the fuse box and all connectors attached to it, or any other connector that you think got wet. Put some dielectrical grease in the plugs and try that. Moisture got into the fuse box of my dodge and I did that, then it ran just fine
Registered User
Join Date: Aug 2008
Location: canada
Posts: 4
ty iam going to try that tonight.
Registered User
Join Date: Jun 2008
Location: Utah
Posts: 270
drop you cell phone in the ditch and see how well it works . the dealer may want to replace all the parts that were wet you do want them to warr there repair dont you? If your insurance dont cover it get new insurance it's an accident is it not? thats why you have insurance
Registered User
Join Date: May 2007
Location: Indianapolis
Posts: 446
so any luck? i know it's not a Jeep, but years ago i had a 74 Camaro and ran it down a street that was flooded. the car was going downhill and water was up to the firewall, with the headlights shining UNDER WATER! weird......
anyway, pushed the car up out of the water and after a couple hours, started the car and drove it home. never had a problem after that either.
UNFORTUNATELY todays cars (and Jeeps) are a little more sensitive and have A LOT MORE ELECTRONICS. i agree with the guy that said 'take it to the dealer and turn it into your insurance co'.
good luck.
Registered User
Join Date: Feb 2004
Location: Albuquerque
Posts: 8,821
at least you didnt do this: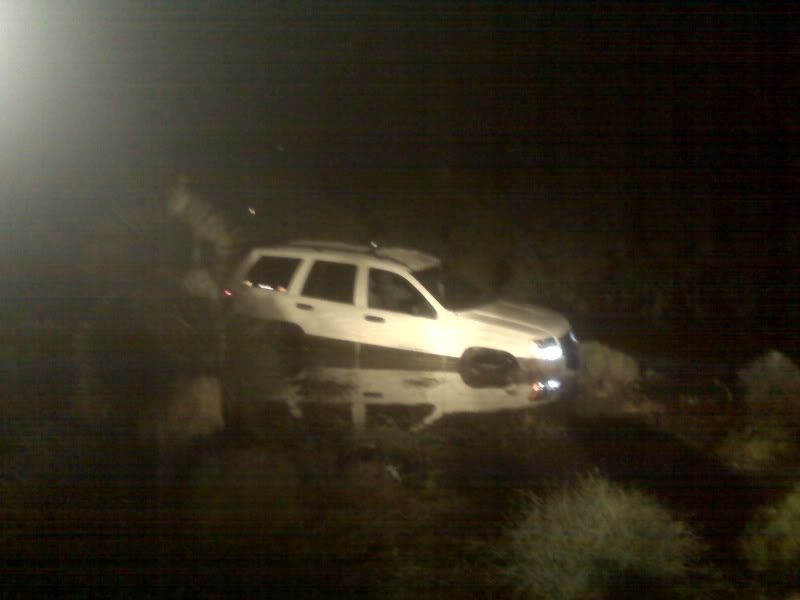 Also, if my image server were up, i'd totally post my nobus graphic... but its down.
Alas. :'(
---
Installing HID's in stock housings is bad.
To view links or images in signatures your post count must be 10 or greater. You currently have 0 posts.


"When you see someone who needs help, help them. When you see someone who needs a hug, hug them... Help those who can't help themselves." -Sgt Andrew Tingwall, NMSP. End of watch 6-10-2009
Currently Active Users Viewing This Thread: 1

(0 members and 1 guests)
Posting Rules

You may post new threads

You may post replies

You may not post attachments

You may not edit your posts

---

HTML code is Off

---