Dealer already had bumper end caps off. Thanks, guys.
That color just kept calling me.
Bordello red seats.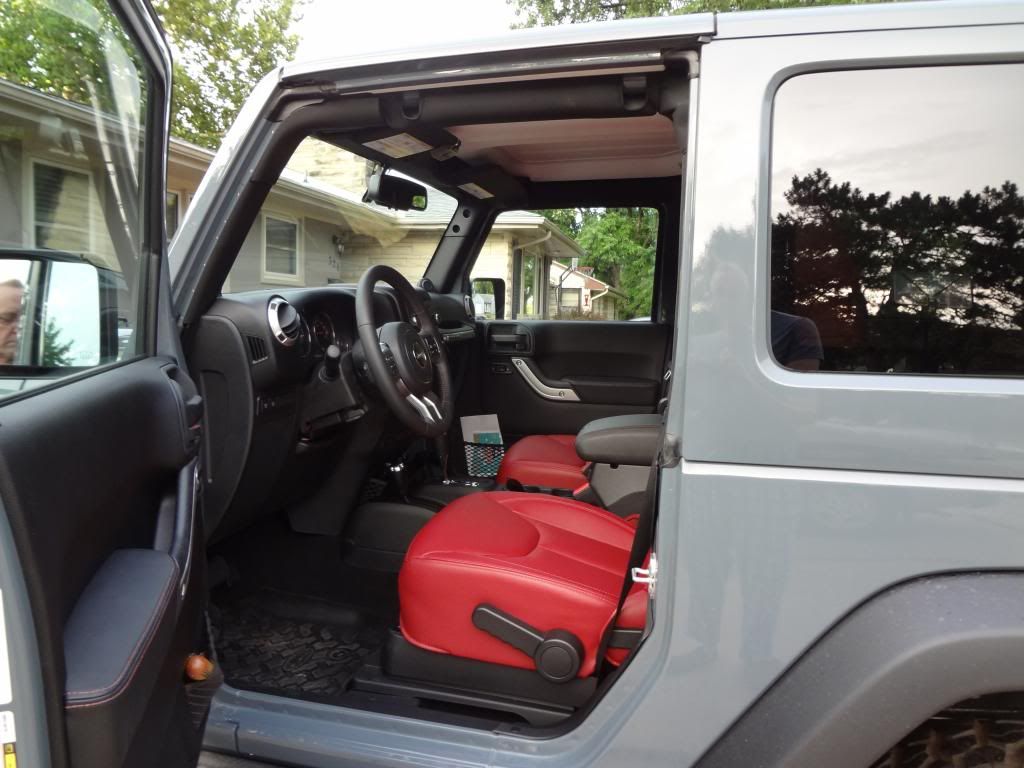 My first Jeep.
I kept my 2012 Sahara 9 months and it was only fitting that it gave birth to a Rubicon. My wife and I had been living in Bangkok and I returned in 2010 to go to work while she finished out her teaching contract. I had bought a honking big extended cab GMC Sierra 1500 pickup truck after I came back to the states. It was a fun truck and I put almost 25,000 miles on it exploring New Mexico. However, my wife is short and just couldnít handle the big thing on Santa Fe streets. Iíll admit it was like driving an aircraft carrier.
So, I traded it in on a GMC Terrain (her car). While at the GMC dealership I mentioned that I wanted a Jeep. The sales lady said she had a friend at a Jeep dealer down in Albuquerque and could get one for me. I went online looking for a yellow Jeep and it was brought up to Santa Fe the next day. It was overpoweringly bright but the color grew on me. However, it definitely needed some contrast rather than being all Dozer. A week after I bought it we moved to Kansas for my new job. The windshield was cracked on the way to Kansas (less than 500 miles on it) and I watched as it extended halfway across the windshieldÖbummer!
I did like you guys suggested; drive it for a while and cruise this forum until I figure out what I need/want. I had decided on a stock Rubicon JK and mod it or a 10th Anniversary that would require less mods. The 10th Anniversary won out.
Iíve had it two days now and thought it appropriate that I transfer my stubby antenna, ultimate floor liners and VPD trash can and cup holder from the Sahara to the Rubicon. Notice the body color top? Normally I would have wanted a black top for contrast. However, the Anvil color looked good. I did notice that the window sticker said the top was black so I asked the salesman about it. Mine originally had a black top but a guy getting another 10 A wanted a black top so they switched. It was alright as I wound up with a body color top which normally costs $1,700 plus for the $595 cost of a black top.
Know whatís coming next?
Iím not telling, ha, ha!